An Open Letter to our Customers and Friends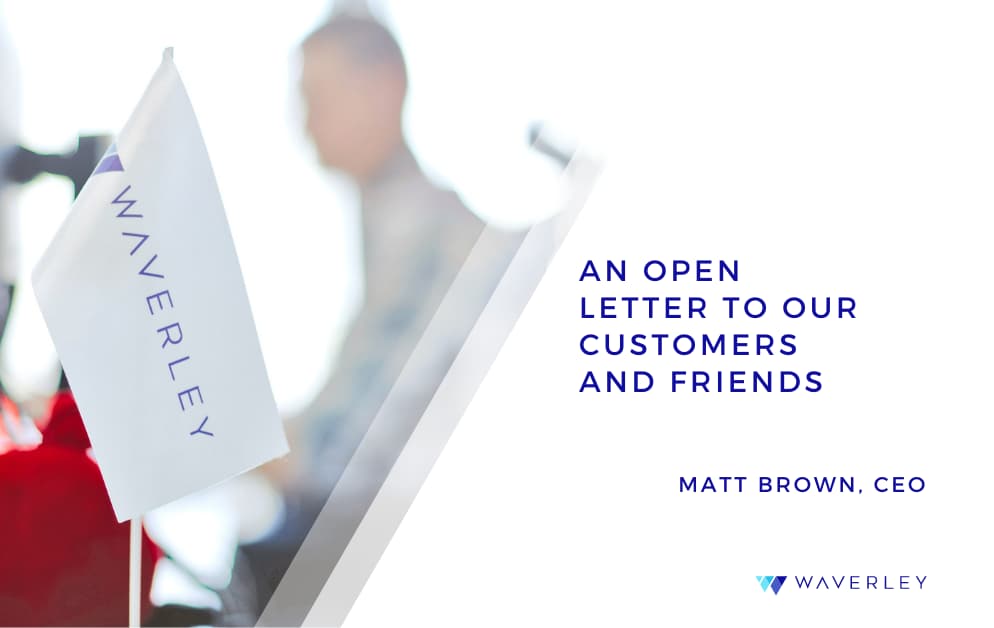 Waverley wants to address any concerns you might have regarding the current military tensions between Russia and Ukraine. We want to reassure you that we are evaluating the situation and have started to take action.
We are updating a comprehensive business continuity plan to protect your assets, our team and their families, and to continue providing services to you with the lowest level of interruption possible. This plan has been carefully considered with input from all departments of the company and we've put considerable effort into gathering information and discussing options that make the most sense. Furthermore, we are evaluating and testing our continuity plan daily as circumstances may change.
First of all, we want to assure you that all of your intellectual property and project infrastructure are safe. Waverley uses a cloud-first, best practices-based system infrastructure to protect your data and assets as well as our own software project technical integrity. Some elements include:
Source code in a cloud-based repository
Cloud-based continuous integration and continuous deployment infrastructure
Infrastructure-as-code
Cloud-based data storage
Cellular-based backup internet access
World-wide IT support to ensure security and connectivity
We also want to assure you that we have a plan to evacuate our people in the worst-case scenario. To address this possible risk as well as other risks Waverley has a Business Continuity Plan in place that covers several scenarios including relocation of people and assets including: 
A Detailed Evacuation Plan, updated daily if necessary
Multi-pronged approach to supporting our team during a time of stress
Continuous connection and support among staff from all our locations
Ability to host employees in other Waverley Locations (Lviv, Bolivia, Vietnam, Montenegro, Italy, Turkey and USA.)
Ability to Ramp-up and staff in Vietnam and Bolivia to off-set resource needs
Ability to work remotely without security compromise
After seeing the analysis of several major news reports regarding the Biden/Putin video conference that took place on December 7th, we are encouraged by the United States and European response to Putin and feel that this matter will be resolved through diplomatic means.
Waverley's care for your engagement with us and our commitment to our amazing people is second to none. We're doing all we can to navigate the risk and look forward to a safer and more reasonable future where we can work out differences without confrontation. In the meantime, please support your team with your prayers and words of encouragement, and please don't hesitate to contact Waverley with any questions or additional concerns. 
Matt Brown
Chief Executive Officer