Bitfury and Waverley Software Announce Partnership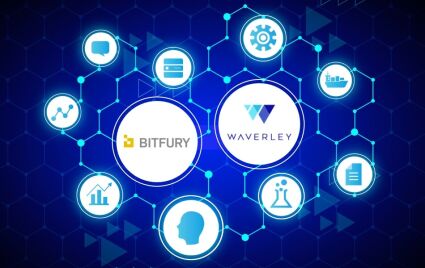 Bitfury partners with Waverley Software to jointly deliver Blockchain solutions to clients worldwide
We are pleased to announce a strategic partnership between The Bitfury Group, one of the largest Blockchain solutions providers, and Waverley Software, a renowned full-cycle Silicon Valley-based custom software development firm. The two leading Blockchain developers will collaborate to jointly deliver unique encryption software, GDPR-compliant Blockchain-based systems, and Blockchain applications to businesses and organizations globally.
aAfter Bitfury announced a new product to comply with the latest rules for EU citizens personal data storage, Waverley was one of the first companies shortlisted to implement this solution for a great number of companies that may be affected by new regulation.
The partners will help clients benefit from safe data access management by means of customizing and integrating the Exonum, Crystal and Lightning Peach frameworks that Bitfury developed. This will enable organizations to simplify and secure some of their sensitive operations (like maintaining government registers, protecting and verifying medical records, managing retail supply chains and easily conducting finance audits) while saving the time and expense that would be spent on developing solutions from scratch.
"With their robust portfolio of technology products, Waverley now becomes our exclusive integration partner in the US and Europe, helping to drive forward the integration of our Blockchain products. The combination of our expertise and experience enables new, more powerful solutions, like highly accurate Blockchain data investigation and innovative Blockchain-based GDPR-compliant systems," said Valery Vavilov, Founder and CEO of The Bitfury Group.
These joint efforts will help customers to reduce internal and external operational costs, minimize the audit time and legal expenses, secure the operational risks and increase a lot of business process workflows.
The Bitfury Group is one of the largest full-service blockchain technology companies in the world. The company develops and delivers cutting-edge software and hardware solutions necessary for businesses, governments, organizations and individuals to securely move assets across the blockchain. The Bitfury Group is also dedicated to advancing the blockchain community.
The Bitfury Group has created a number of frameworks, allowing to perform the essential Blockchain operations, which can easily be customized to serve the needs of organizations across industries. The frameworks have already helped multiple companies and governments to reduce development costs and time.
Exonum by Bitfury is dedicated to the creation of custom decentralised private or public blockchains, ensuring data transparency, auditability and unrivaled security. A special Byzantine Fault Tolerant consensus algorithm helps prevent failures and makes the system resilient against node crushes. The Rust programming language used to create the framework allows Java-binding and Exonum's light client helps protect clients against MitM attacks.
Crystal Blockchain is a universal all-encompassing Blockchain investigation tool. It provides a usable and comprehensive view of the blockchain ecosystem helping to detect suspicious activities. Advanced analytics helps to estimate the risks of fraudulent transactions. The tool is secure and can be deployed to any in-house system in compliance with the company's internal security policies, with the analytics findings easily integrated into the existing software tools.
The Lightning Peach framework was created specifically to bring simplicity and convenience to the Bitcoin payments. It is a second-layer protocol built on top of Bitcoin Blockchain which enables instant micropayments and better performance for public blockchains by creating off-chain payment channels.
"Waverley is excited to join forces with Bitfury, a powerful international Blockchain provider, to be able to faster and more efficiently address the needs of organizations, such as data decentralization, ensuring data authenticity and immutability, clear and transparent transactions, data protection from falsification and other ways to store and protect sensitive data in low-trust environments," said Matt Brown, President and CEO of Waverley Software.
To learn more about the integration process and read the case studies, please visit our Blockchain Integration page.