IoT TechWave: Waverley's First IoT Meetup in Kharkiv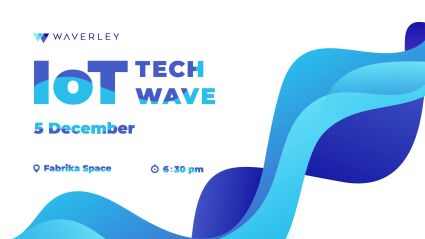 Hosting events at Waverley Lviv has become an established custom in recent years. Meanwhile, our Kharkiv office hadn't hosted an event since 2012 despite being Waverley's biggest development lab. This silence was broken on December 5th, 2019 with the first in a series of TechWave events.
The first meetup, IoT TechWave, focused on our core expertise: the development of products for the Internet of Things. After years of experience in software development, our portfolio includes groundbreaking products for Smart Home, Wearables, Robotics, and Energy Management. It was a joy to share our excitement for these projects with the audience and give them a chance to see a demo – an actual setup of a smart home managed by voice control.
Over 40 engineers gathered at the Fabrika Space to listen to our professional speakers.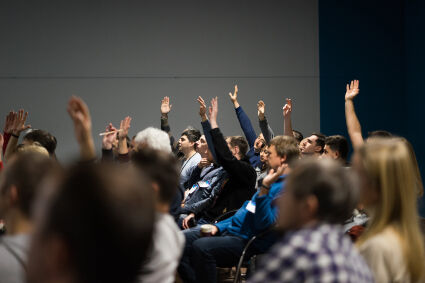 Sergey Rossokha, a Solutions Architect and CTO Office Representative at Waverley with over 18 years of experience in commercial software development, put on his storyteller's hat for the event. He shared in detail the adventures of a software architect designing an IoT project and taking it from the early stages through to implementation.
The audience also heard from Sergey Korol, a QA Automation geek and Java fan with over 10 years of experience in software testing who made a presentation titled "Voice-Controlled Smart Home: Myth or Reality?" A QA Automation Lead at Waverley, Sergey showed the audience how to set up voice control over the Smart Home. In this high-level, hands-on tutorial, Sergey walked them through:
– How to integrate ESP8266 micro schemes with the rest of the devices.
– Why physical interaction with existing appliances can be inconvenient.
– How voice interfaces can help improve our lives.
– A detailed comparison of Alexa, Google Home, and Self-Hosted ASR.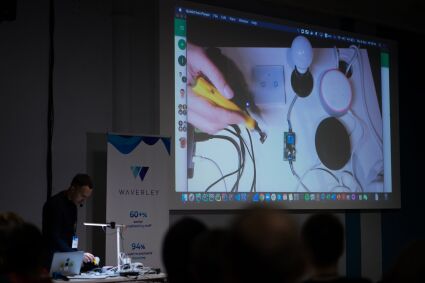 The audience's engagement with these presentations was extensive, their interest evidenced by many excellent questions that reinforced our conviction that IoT products are on the rise and will continue to shape the technologies of tomorrow.
We are delighted that our first TechWave event was so warmly received by the Kharkiv tech community and truly look forward to seeing you at our next events. We are thrilled with how this series is shaping up and will be announcing future dates soon!