Reforming the CTO Function at Waverley: Why and How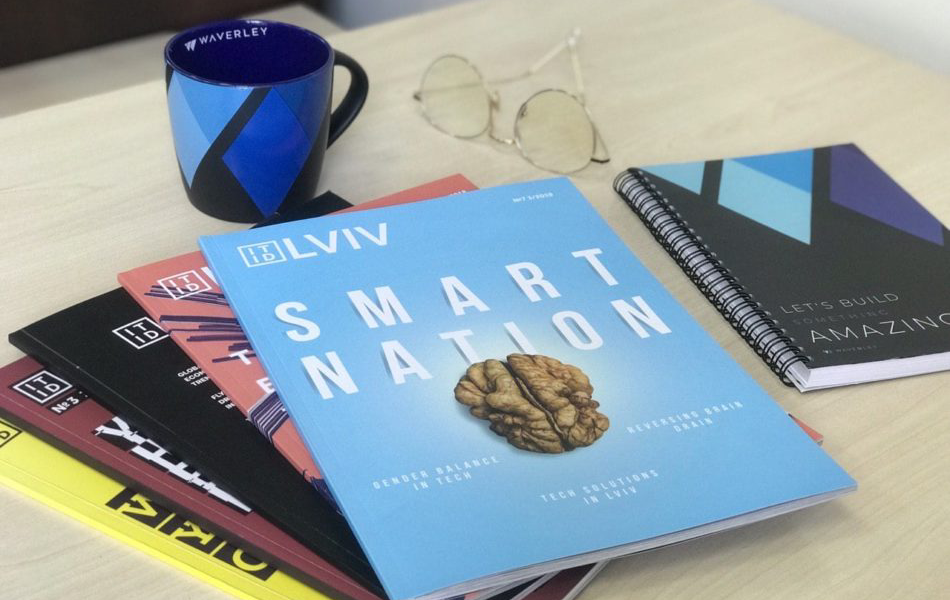 Why Waverley chose to have more than one CTO and what came out of it.
A recap of the interview Waverley gave to the ITID magazine (March edition).
Professional development and growth have always been among the core values at Waverley Software. With engineers in Ukraine and Vietnam regularly leveraging learning opportunities to keep up with the industry pace, and Waverley's Chief Software Architect Nikita Tretyakov keeping the finger on the pulse of technological progress in the heart of Silicon Valley, we've always been eager to discover, test and master new tools and technologies.
In the summer of 2018, Serhii Rossoha was appointed Chief Technology Office Representative in Ukraine. A seasoned Full-Stack Engineer with over 16 years of experience, Serhii was among the first to join Waverley when the company opened its development center in Ukraine in 2012. With proven experience across a variety of projects, as well as profound knowledge of the best software development and project management practices and methodologies, Serhii was ready to face the mission ahead. The challenging but crucial tasks included strengthening the company's technological expertise and encouraging the adoption of new tools and directions for growth.
To support and streamline these activities, Serhii joined forces with other professionals at Waverley. Together with Waverley's CTO in California, Nikita Tretyakov, Waverley's Senior Engineering Manager Tania Ivanova and other team members, Serhii formed the Waverley CTO office. The newly created structure is open to anyone at Waverley who is willing to contribute to the company's growth and who has ideas about how Waverley can more quickly and effectively adapt to technological progress.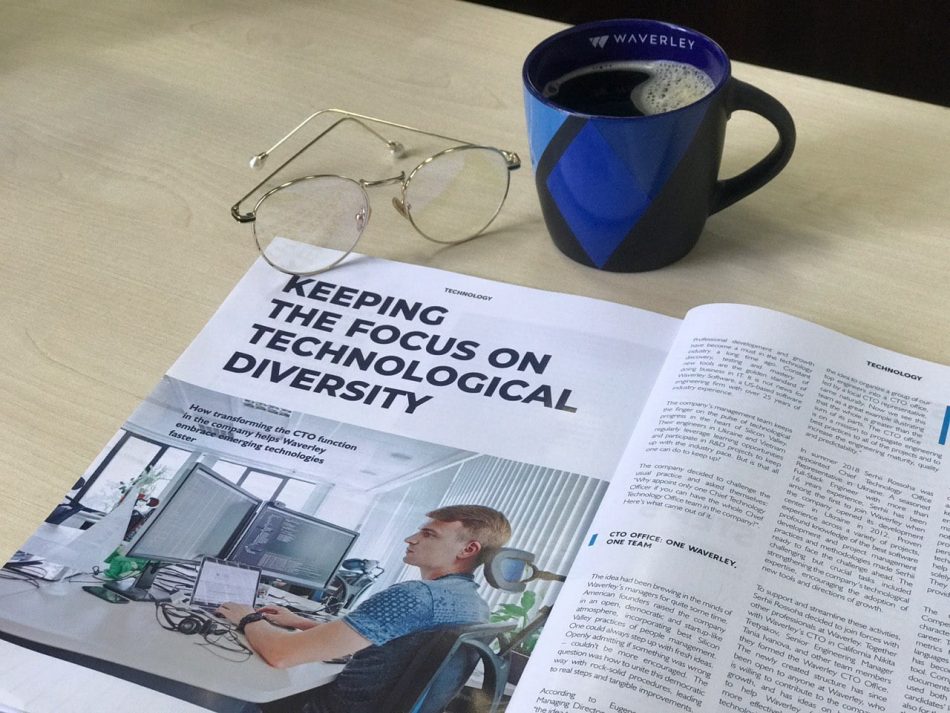 Step 1: Driving Engineering Excellence
The CTO office structure works with engineers to establish engineering maturity. The team ensures opportunities for career development as well as personal and professional growth. The CTO office keeps track of industry events that engineers might find useful and manages reimbursement. Having not just one person, but a whole team allows for an individual approach toward each person's career development steps. A technical and experienced team is of great help to the HR department, which was once solely in charge of professional growth. The CTO Office team devises necessary certifications and provide crucial technical guidance.
The CTO office has created a Competency Matrix – a set of skills that characterize every tier of an engineering career. Together with technology-specific metrics for each of the programming languages with which the company works, it has become an invaluable assessment tool. Compiled by top engineers, these documents are templates that can be used both during interviews to assess candidates' levels of technical expertise and for internal assessments to simplify the process of regular Performance Reviews.
Step 2: Setting the Right Project Baseline
The CTO team also supports the Sales and Marketing teams in fostering the pursuit of new directions and unlocking new domains. Their joint expertise can lead to faster, more accurate estimates for new projects and detect prospective areas into which the project can grow.
The team has also selected subject-matter experts for various technologies and domains, and their expertise can be called upon for any projects or during sales negotiations. Their responsibilities include:
Mentoring newcomers, teaching them company standards and processes, passing on the tech requirements, sharing the company knowledge base and informative resources
Introducing and integrating CTO-defined standards in competency and projects
Providing on-demand consulting in their areas of professional responsibility
Supervising regular Performance Reviews, helping find optimal competency goals
Assisting with Pre-Sales and estimation work
Conducting tech interviews or assigning alternative specialists to interview candidates
Expertise Health Evaluation – ensuring that the company has the means and resources for this particular area of expertise to thrive
Step 3: Adopting New Technologies Faster
Together with the Vice President of Engineering and Managing Director of Waverley Ukraine, Eugene Bogatyriov, the CTO office drives continuous improvement in engineering quality. This requires implementing the latest findings in technology, operations and problem-solving approaches. With the Chief Architect in the heart of Silicon Valley and a team of enthusiasts in Ukraine and Vietnam, the CTO office is like a powerful net, staying on top of industry trends and rapidly assigning the testing of new tools.
The newly created structure investigates emerging technologies by evaluating their feasibility for existing projects and pointing out their possible benefits and shortcomings. In addition, CTO office representatives conduct regular meetings with project team leaders to discuss current technological needs and trends.
Having more than one person on the job creates a new approach toward R&D initiatives, with more ideas, more objectivity and more attention paid to the research aspect of software engineering. Quality above quantity.
Step 4: Handling Risks Before They Appear
The CTO office team provides on-demand consulting services. It already conducts project audits, reviews the architecture and assesses compliance with standards and best practices according to the Waverley Project Health Checklist. This helps to predict and prevent many issues and, as a result, avoid unnecessary expenses.
To ensure that we produce top-notch code, projects at Waverley are subject to the community's scrutiny. This means that in addition to the usual analysis (CI, static analysis, unit tests), regular peer reviews are conducted.
For a company that is spread out both geographically and culturally, like Waverley, maintaining common standards is vital. That is why the team is working to establish the right level of communication between various offices, seeking to leverage the experiences of colleagues from another part of the globe.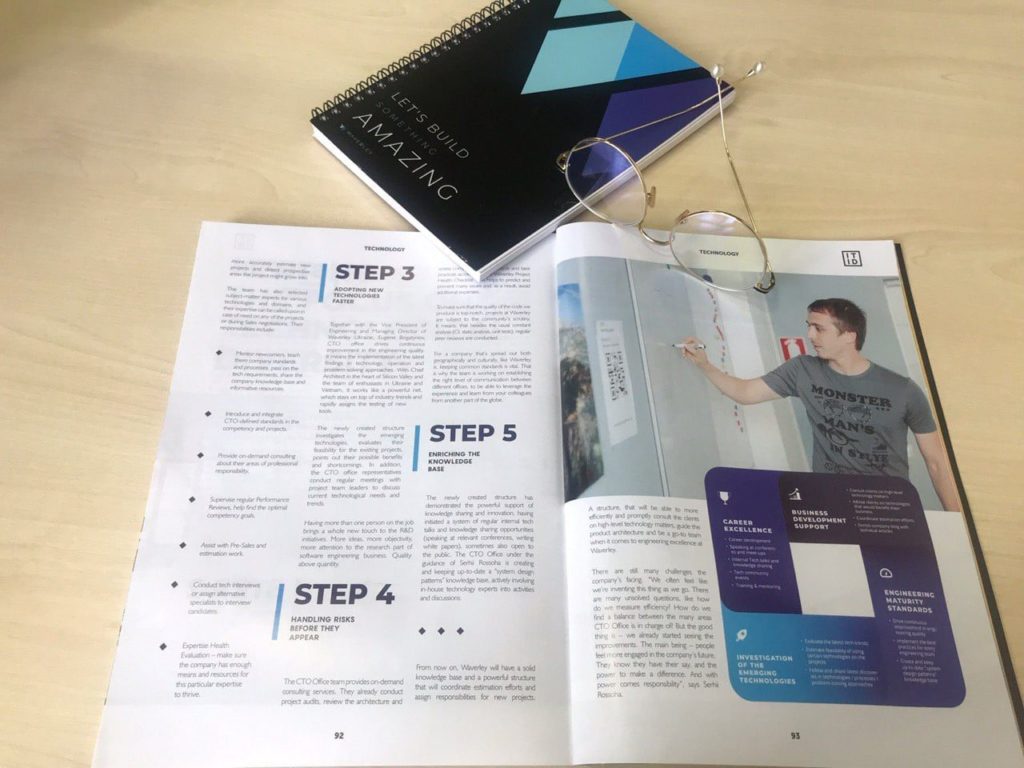 Step 5: Enriching the Knowledge Base
The newly created structure strongly supports knowledge sharing and innovation, having initiated a system of regular internal tech talks and knowledge-sharing opportunities (such as speaking at relevant conferences and writing white papers), some of which are open to the public. The CTO office, under the guidance of Serhii Rossoha, is creating and maintaining a "system design patterns" knowledge base, actively involving in-house technology experts in activities and discussions.
Conclusion
From now on, Waverley will have a solid knowledge base and a powerful structure that coordinates estimation efforts and assigns responsibilities for new projects. It is a structure that will foster more efficient and prompt consultations with clients on high-level technology matters. It will also guide the product architecture and serve as a go-to team for engineering excellence at Waverley.