Rich Sadowsky Becomes Waverley's New CTO
Rich Sadowsky joins Waverley Software as Chief Technology Officer in Boston, MA.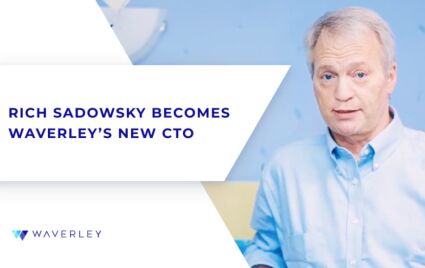 Palo Alto, CA: Waverley Software is thrilled to announce that Rich Sadowsky, Waverley's former customer and a friend of many years, will join the company as Chief Technology Officer. Based in the greater Boston area, MA, Rich will oversee Waverley's technical operations across all our offices globally. His responsibilities will include:
1) making sure our company meets and exceeds the tech industry's quality standards
2) directing team development and education to keep Waverley at the forefront of emerging technology and able to advise our customers of the best technical or architectural choices affecting the products and services they plan to offer
3) assisting our customers and helping them maximize growth through our signature discovery sessions that often lead to tech breakthroughs
4) facilitating and cultivating new, high-impact business partnerships all around the globe
From the breakthroughs in development tools in his early years to major contributions to award-winning software at Symantec to the thrilling startups of the last decade, Rich keeps delivering quality software on aggressive schedules with limited resources. His proven performance in the US startup ecosystem, deep knowledge of the latest technology trends around the world, and decades of software engineering excellence are a great addition to Waverley, strengthening our technical capabilities and ability to deliver outstanding results to our customers.
"I've been a Waverley client for 7 years while working with Jibo and Plannuh.
In my twenty five years of experience as an advisor to tech startups, I have developed exceptional team building skills. As both a business and technical executive at Waverley, I will be very intentional about fostering win/win partnerships." Says Rich Sadowsky, CTO at Waverley Software.
About Rich Sadowsky: Rich is a seasoned software executive and innovative architect with over 35 years of experience in tech. The 7th employee at Jibo, a social robotics startup in Boston, he spent 5 years growing the company, eventually becoming Head of Privacy and Security. Rich also spent 6 years at software giant Symantec Corp where he Invented, designed, prototyped, and championed the integration of LiveUpdate technology in the mid-1990s, and was awarded 3 US Patents for innovations that greatly simplified the user experience. As Chief Architect at Affectiva, Rich worked on the first two generations of their Affdex web affective computing platform. He was named among Computerworld's 2002 Premier 100 top IT professionals, received both Jolt and Editor's Choice Awards, and wrote many US and foreign patents. He also won the Symantec CEO Star Award twice.
Matt Brown, Waverley's Founder, President, and CEO, says: "In the short time Rich has been with us, I've already seen the positive impact of his keen insight on our operations and relationships with our customers. His deep experience with technology, process, and people— both internally with the team and externally with clients—is a great asset to our company. Rich is both passionate and reasonable, a unique combination that is already proving invaluable to Waverley's efforts to be the best in the business."
Rich Sadowsky, Waverley's Chief Technology Officer says: "I've gotten to know Matt Brown and other Waverley team members and seen first hand the spirit and culture of the company. They consistently produce outstanding work by leveraging the best people from technology hotspots across the globe. I've worked on some of the most interesting and exciting products over the years. It is a great honor for me to work with a company that I respect so much for their performance and high integrity."

About Waverley: Waverley Software is a software engineering company headquartered in Silicon Valley with development centers in Eastern Europe, Southeast Asia, and South America. For almost three decades, Waverley has been solving complex software challenges for clients from startups to Fortune 1000 companies. Our ability to provide comprehensive, integrated software engineering services starts here: by assembling a multidisciplinary team of the most highly skilled software engineers, designers, and project managers from around the world. We play in all categories, but our specialties are Social Robotics, Enterprise Productivity Tools, Home Automation & Security, Healthcare, Blockchain/Smart Contract, Automotive, Machine Learning/AI, DevOps/GitOps, and the Internet of Things.