Waverley TechBreakfast #5: Going Big with MobX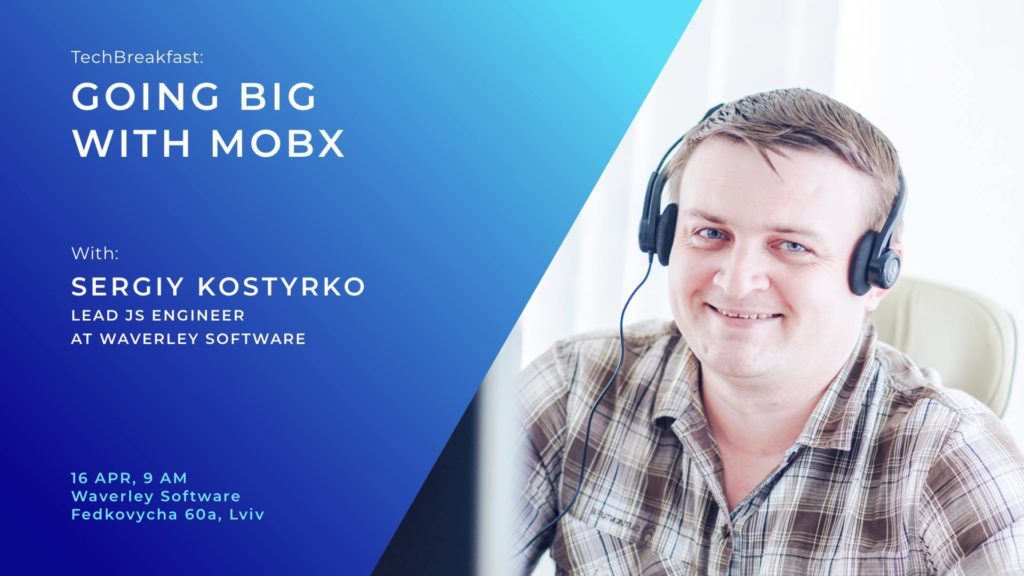 On April 16th, the Waverley Lviv office hosted a traditional TechBreakfast event. This time, the event focused on JavaScript and gathered mostly front-end engineers. Our guest speaker from the Kharkiv office, Sergey Kostyrko, Senior JavaScript Engineer and JavaScript Competence Lead at Waverley, shared his experience with MobX in a presentation entitled "Going Big with MobX".

Sergey has over 10 years of experience in software development. For a long time, he worked as a full-stack developer on eCommerce projects (PHP/JS). Recently, he began working exclusively on Web/Mobile development with the help of JavaScript.

In his presentation, Sergey focused on the differences between Redux and MobX and how to choose between them based on the project's needs. Sergey used his own project – an app for financial analytics – as an example. The project team dealt with a large amount of data, real-time updates and the need to perform all day long. Therefore, the state management tool had to help fulfill all these needs.


Sergey explained the advantages of MobX that his team leveraged while working on the project. These advantages included a single source of truth, the ability to make changes through pure functions, unidirectional data flow and the observability of MobX. He compared the features of MobX with those of Redux in terms of a few categories: single store vs. multiple stores, immutability vs. observability, and learning curve and performance. 


Illustrating the presentation with his own cases, Sergey also shared tips on how to start working with MobX on the project, as well as what to be ready for. Most importantly, he told the audience how his impressions had evolved – and which lessons he had learned – after he had worked with MobX for a year.


It appeared that most of the audience members either worked with MobX themselves or were considering trying it out, so all this information came in handy. Listeners were interested in finding projects that would perfectly suit MobX as well as learning hidden tricks for best applying MobX to a project.


The next Waverley TechBreakfast is coming up soon! For information about the topic and the date, follow our Facebook page. Have a nice day!