Clutch Names Waverley Among Global Top100 B2B Service Providers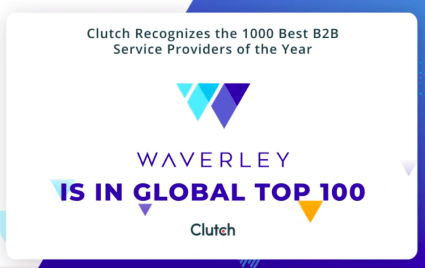 Every year Clutch, the leading B2B ratings and reviews platform, recognizes the 1000 Best B2B Service Providers. Clutch 1000 is the most exclusive award offered by the platform. The list highlights companies that have rankings within the top 1% of all companies on Clutch, and Waverley is in TOP 100!

Clutch is a B2B reviews platform that uses a unique ratings methodology. The ratings are based solely on customer reviews and feedback, collected by means of filling a questionnaire or answering a set of questions during a call with a Clutch representative. Clutch has two sister sites, The Manifest (a business data platform) and Visual Objects (a company portfolio website).

In light of our impact on the technology sector, we've been named amongtop 1000 B2B service providers globally according to Clutch! In reflection of those scores, we've been ranked a fantastic 4.9 out of 5 stars! Please take a look at what our customers have to say in a recent review below: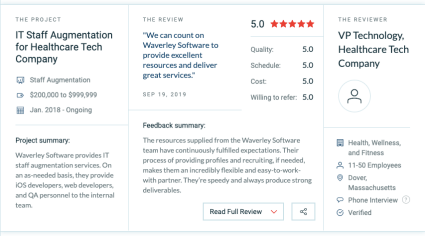 Client happiness is what truly drives us, helping us go above and beyond. Every client has a specific need and a specific type of software development challenge. Waverley has many years of experience and the expertise to meet those needs and overcome the challenges. We do our best to get to know each client, how they operate the company, how best to communicate, and then we add our experience and process. Together we can build something that can't be achieved by one or the other alone. A true partnership is one where you're better together.

Matt Brown
Waverley's Founder and CEO
We are grateful to Clutch for collecting our customers' feedback and sharing it with the world. And we are thankful to our customers, who took the time to speak about their impressions from working with us and made this award possible.