Waverley Listed in Top B2B Service Providers in Ukraine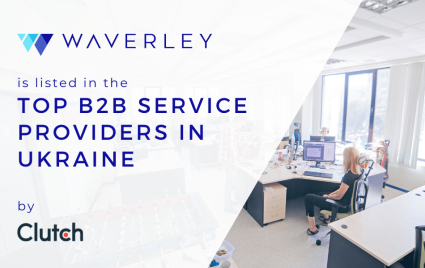 Great news! Clutch has listed Waverley Software as one of the Top B2B Service Providers in Ukraine. It is our great honor and pleasure to be recognized among the best software development companies in Ukraine — software services giants such as Intellias, Infopulse, Intellectsoft, Agile Engine, MobiDev, Shakuro, and others.

Clutch.co is a world-wide trusted independent platform providing its users with detailed company profiles and comprehensive client reviews. Their ranking system helps companies around the world find ideal business partners with the right technical expertise and relevant industry experience at the most convenient location.

Clutch collects and thoroughly analyses the review data to produce unbiased real-world company ratings in specific markets. The platform regularly updates its Top B2B Service Providers lists, informing the world's tech community about the best-performing and credited companies in different countries and industries around the world.

Software development services outsourcing is now one of the most advanced and promising business areas in Ukraine. It is constantly growing and engaging well-educated, talented, mature software engineers from all over Ukraine.
We are happy to work with over 100 highly skilled and experienced software developers in two major Ukrainian cities — Kharkiv and Lviv. Engineering teams at Waverley Ukraine are experts in software architecture, mobile and web development, embedded software development, Data Science and Blockchain. We create products for Robotics, FinTech, Healthcare, Smart Home and other industries. Our software engineers solve technological dilemmas for companies from all around the world, either complementing their IT departments as team extensions or creating end-to-end software solutions from idea inception to release and support.

Waverley Software is proud to have this amazing team of professionals in Ukraine. Their passion for technology and a proven track record of innovative projects have been recognized by multiple awards and client reviews. With this recent Clutch rating, we have proven, once again, that we occupy a top position in the software development services marketplace.