Waverley Ukraine Status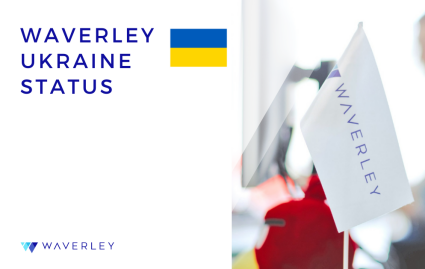 Dear clients and friends of Waverley,

We are sure you have concerns and questions about the Waverley team in Ukraine during this war that Russia started against the people of Ukraine. We will try to predict your unknowns and answer them here.
Waverley has done and is still doing everything in our power to help evacuate our people from Kharkiv, Kyiv, and other cities in danger, providing them with transportation, accommodation, and everything else necessary. 95% of our team members are in safe places – in Romania, Poland, and in the West of Ukraine; they have resumed work. We track everybody's locations daily, as well as their current needs. Banks and the internet are up and running.
Waverley would like to remind our customers and friends that all of our engineering teams globally (in Latin America, Romania, and Vietnam) are willing and ready to help with any engineering needs. The teams in those offices work as usual to not only handle the existing projects but also be able to provide support to those projects where the performance was in any way affected by the current political situation in Ukraine. Our customers' business continuity is among our key priorities that is why Waverley offers access to all our engineering resources globally to ensure seamless project delivery.
Many of you have been asking about ways you can support Ukraine in this battle for democracy and freedom. Here are a couple of things you can do:
1. Remember about your outstanding bills and address them in a timely manner. Your regular payment for our services ensures the ability to survive and help their country for our Ukrainian team members. Plus, our company keeps donating to the needs of the Ukrainian Armed Forces – your payments make this happen!
2. Ban, block, and report people and communities spreading fake and propagandistic information coming from Russian communication channels. Spread and share real information about the events in Ukraine from reliable and official Ukrainian and international sources.
3. Raise people's awareness, initiate and join peaceful demonstrations against the war in Ukraine in your cities and invite your friends to come along. Show that what is happening at this very moment in Ukraine is NOT okay! https://www.stopputin.net/
4. If you are willing to provide financial support to Ukraine, you can follow this website with the list of trusted donation recipients.
5. If you are willing to help Ukraine by supplying provisions and other much-needed humanitarian help, you can follow the Nova Poshta Global initiative by bringing the supplies to one of these delivery hubs.
Please join us to pray for all Ukrainians. They are under tremendous stress and enduring an experience that most of us can hardly imagine. Please do not hesitate to reach out to any of your US-based Waverley connections if you have additional questions.
Thank you for your support.
The Waverley Management Team