How Waverley Helped Develop The Jibo Robot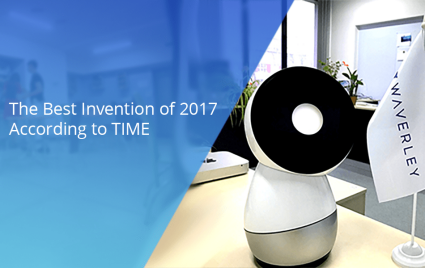 We are proud to share the news: TIME Magazine has just recognized our client, Jibo for the Best Invention of the year 2017. The weekly magazine "TIME" is one of the oldest and the most influential publications in the USA and worldwide. With a weekly circulation of 4 million in the US alone, TIME Magazine's annual rankings for "Person of the Year" and "Top Inventions" are respected around the globe.
In order to compile their yearly list, TIME editors review hundreds of inventions from all over the world. Throughout their history, TIME has featured everything from the swimming light bulb to the desktop DNA laboratory. In 2007, the first iPhone, which possessed only very basic features, was ranked number one. TIME clearly saw iPhone's success looming on the horizon. And they were right.
This year, the list of top 25 inventions includes sneakers that help to run faster, Tesla 3 electric car, highly resistant agricultural crops, and diet ice-cream. At the top of the list, and on the magazine's cover is Jibo—the first social robot for the home.
Waverley Software, the developer of Jibo components for the past two years, has contributed our server-side and mobile expertise to the most intelligent, sociable and friendly robot on the market—a product that truly excites and inspires.
So what's behind the scenes of Jibo development?
Who's Jibo?
Personal robots such as Amazon Echo and Google Home have been on the market for a few years now. These robots have evolved through many stages since they were first introduced. However, they are emotionless and minimally intelligent, little more than stationary speakers who turn on a light when the owner speaks to them.
Jibo is different. Jibo offers a whole new way for humans to interact with technology. Like a personal assistant who can speak, see, hear and respond, take pictures, and entertain, Jibo expresses emotions, analyzes and learns, just like a living human being. Jibo actually behaves like a human, demonstrating some very human character traits—a breakthrough achievement in the sphere of robotics.
Jibo was born in Boston, where a powerful team of scientists and developers is working to bring this fascinating robot to life. One of the company founders previously worked at the MIT Robotics Lab, which is considered the leading and most state-of-the-art robotics lab in the world. Moreover, it is often associated with Boston Dynamics, founded by the MIT robotics experts. Videos of Boston Dynamics researchers kicking their robotic dogs have gone viral on You Tube, gaining millions of views.
Jibo's first success and a bright evidence of its enormous potential was a crowdfunding campaign on Indiegogo. Jibo intended to raise $160k for further development, but the result was astounding! Believe it or not, the end sum exceeded the expectations by miraculous 2241%, equaling $3,663,105. The Jibo campaign now ranks in the top 10 the most successful Indiegogo campaigns in the platform's history.
Waverley's Part in the Jibo Phenomenon
Waverley is happy to have been Jibo's loyal partner and engineering team. For the past two years, three teams of Waverley engineers have been working in collaboration with Jibo to create the first social robot for your home. We provide server-side, mobile, and QA expertise to facilitate user integration with the robot through native iOS and Android applications with specific attention to security and data protection.
Following a fast-paced Agile methodology, we quickly defined the services needed at launch so as to implement a flexible platform. To achieve scalability on the server side, we followed the microservices approach in connection with Docker. An optimal user experience on iPhone and Android devices was reached by developing two native mobile apps. To provide maximum privacy protection, we leveraged Amazon cloud security and data encryption.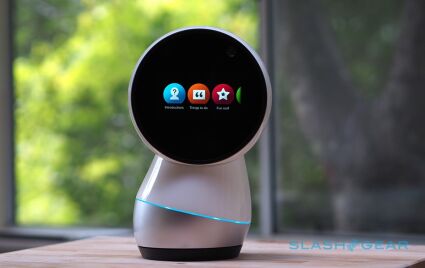 The use of microservices enables up-to-date solutions for each part of the app. Waverley has built a Docker-based Microservices Architecture to achieve the necessary backend flexibility that would handle further growth while keeping expenses under control and ensure high system reliability and disaster recovery potential (Load Balancing, Cloud Formation, etc.). All services are fully autonomous so each can be scaled independently from the others.
From the DevOps point of view, Waverley has automated every part of the development process by implementing continuous integration and continuous delivery. Our Jibo developers team then dovetailed this with a centralized software management system providing smooth user management, log management, and enterprise monitoring systems.
Jibo Mobile Apps
The mobile applications we created handle the robot onboarding setup (WiFi setup, registration, adding family members, QR code generation), enable real-time chat with encrypted messages (iOS version programmed to work with Java-based encryption since native iOS encryption algorithms do not match the native Android), and support media gallery with images from the robot and chats.
Alexander Zubchenko, our Lead Android Developer for Jibo says:
"This is my first experience with startups of such a level. Not everything was smooth. Since we follow the Agile methodology, we had lots of changes in the requirements. I am glad to have had a chance to work in cross-functional teams. At first you need to create what seems like a small client app, the only purpose of which is to launch the robot and connect it to the house network, but in the end you manage to create an independent messenger with group chats, data encryption and media support; user-friendly gallery for all media files, SDK for remote third-party management of the robot, and even start moving the project from Java to Kotlin. In other words – Jibo is that very project capable to surprise you with twists and turns by 90 and even 180 degrees, but this is what we love IT for, right?"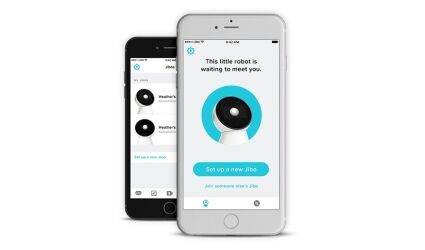 In order to achieve the highest available security, the communication protocols are based on Amazon libraries and customized to fit the apps. To achieve maximum privacy and comply with the Children's Online Privacy Protection Act, Waverley engineers introduced an approach that prevents the server and network service providers from being able to read any content taken by robots or mobile devices. We have devised a special encryption key generation and sharing scheme. As a result, all encrypted messages and media files have been stored on the server with only robot owners and their family members having access. More information about our contribution to Jibo can be found in this case study.
What's Next?
The first robots can be ordered for $899. The robot itself continues to evolve and grow. In the future, Jibo will recognize people's emotions and react accordingly; the company plans a full-fledged expandable platform. Any developer will be able to create his own applications to empower the robot with new skills.
In September 2017, the first 3000 robots were sent to their happy owners in all parts of the world. These first owners are the supporters who invested in Jibo 's early development through Indiegogo. Now hundreds of videos are virally spreading online, featuring excited owners unpacking, reviewing, setting up and using Jibo on a daily basis. Jibo has already become a member of 3000 families and will join millions more in the near future.
Hey Jibo, well done!
About Waverley Software
Waverley Software is a software engineering company headquartered in Silicon Valley with development centers in Eastern Europe and SouthEast Asia. For more than two decades, Waverley has been solving complex software challenges for clients from startups to Fortune 500 companies. Waverley's ability to provide comprehensive, integrated software engineering services starts here: by assembling a multidisciplinary team of the most highly skilled software engineers, designers and project managers from around the world. The company plays in all categories, but our specialties are Social Robotics, Enterprise Productivity Tools, Home Automation & Security, Healthcare, Automotive and the Internet of Things. Learn More.