Why Should Your BA Understand Business Model Mechanics?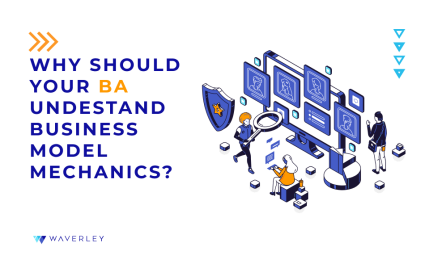 Several months ago, I completed a course on business model design. It covered a broad range of knowledge that could rather apply for product owners, than outsourced business analysts who mostly engineer requirements. However, I strongly believe that business analysts could bolster their capability to drive their customers' businesses in the right direction by having a proper understanding of the business model companies choose. Additionally, they can contribute even more by knowing how to retain customer loyalty and boost profit in different business models. In this article, I'd like to share my knowledge and experience in applying the laws and principles of business model mechanics to the software development process.

In order to see how business models and software development work in synergy, let's start with considering the concept of the business model step-by-step.
What is a Business Model?
The term "business model" is a representation of the components that construct a business. This is the underlying mechanism of a company's functioning and the basis for building a business plan and business strategy. In other words, a business model describes what value a company provides to its customers, by what means, how this generates revenue, what else it could possibly do, and so on.
The knowledge of elements constituting a company's business model and how they interact with each other helps business owners and business analysts clearly understand how an enterprise works. With a defined business model, an established business can be better informed of its strengths and weaknesses, ways of growth and scaling, advantages over competitors, relationships with customers and partners, innovation opportunities, or even transformation needs. For startups and business ideas, drawing their business models will help create a tangible image of the future enterprise, understand what better to start with, and set feasible steps to deal with on each business development stage.

Business models are not just about services or products that businesses are trying to sell to their customers. Various types of business models are about the processes and philosophies that stand behind each service or product: from manufacturing to distribution, from marketing to the values they promote. The existence of a variety of business models enables such market phenomena as competitiveness, unique value proposition, and a variety of choices. For example, compare the innovative business models of Airbnb or YouTube based on the booming sharing economy and global digitalization, and the traditional business models of the Hilton hotel or cable TV providers. Basically the same products – accommodation and video content – but sold with different approaches and sets of values, each flourishing at the same time.
Key Components of a Business Model
Typically, the design of a company's business model consists of integral components that are common for successful businesses.
Value propositions are the actual benefits that customers may expect to gain from using a company's goods or services. This also includes what makes a company's products or services stand out among its competitors. Your unique value proposition(s) defines the aim of the entire business: what do we do and why?
For example, Waverley Software delivers software product development and team extension services as well as many of its competitors. Among our key value propositions are experience, level of expertise, service quality, and flexibility in terms of a team's composition and location. We aim to not just create random software, but provide our customers with solutions that can make a difference for them and their businesses – this is our value proposition and competitive advantage. By knowing exactly what we can offer, we can better understand to whom and how to deliver that.
Target customer segments or target market is the audience a business is going to deliver or delivers to. Knowing your buyer persona is one of the well-known basics for any selling or marketing activity, right? One's target market may be pretty modest and narrow at first but can broaden with time as the company's business model evolves, it matures and enriches its experience and skill-set.
For instance, Waverley started by developing mainly mobile apps for early-generation mobile systems. This is a pretty narrow customer segment, especially for the period 30 years ago. Now, we deliver a broad range of software products. In view of the digital era we live in today, our customer segment includes a variety of businesses or startups requiring a digital solution and is rather broad in terms of industry verticals and company types.
Distribution channels are the ways in which a company sells and markets its products or services. This business model element is highly dependent on the type of product or service you deliver as well as your target customers. For sure, one won't be set to buy a pricey technology device while doing grocery shopping – that's why you won't find a TV set or a laptop selling in a local supermarket. However, one might want to buy a pack of batteries for their remote control in the household appliances section while shopping for food after work.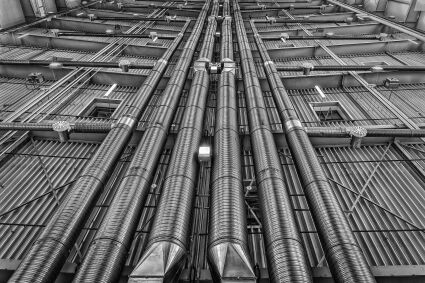 Analyzing Waverley Software's business, our range of services is definitely not the one that can casually cross one's mind while grocery shopping or strolling along the street. Thus, an office in a mall or city center would not make sense. On the contrary, our target customers are business owners willing to do research, receive a consultation, and build trust with the future vendor before making any decisions. These conditions prompt that our firm's business model should rather be centered around online space without location bias, a network of sales representatives, and personal communication.
Customer relationships is the key business model component in building customer loyalty and trust with clients. It is your way of retaining current customers and attracting new ones. Try to think about which channels you use to communicate with your target audience – commercials, social media posts, digital ads, fliers, events – in the modern world, there's a myriad of ways to reach out to your prospects and clients. This aspect also includes a range of 'smarketing' tricks and methods, starting with special discounts and loyalty programs and ending with how you literally communicate with your customers through social media and customer support, for example. In fact, even the most innovative business models completely reliant on software algorithms or only serving as mediators, are still highly reliant on customer satisfaction and feedback, in the end.
For tech companies such as Waverley and alike, customer relationships spin around direct communication: dedication and commitment to our clients' projects, the ability to take responsibility for both success and faults, and, of course, provide timely technical support or problem solutions. Our clients often pay special tribute to the proactive approach, care, and ease of communication on the part of our team members. However, apart from this, we need to pay attention to our prospects' digital experience – by keeping our website content up-to-date and relevant, for example – an element so important nowadays and often neglected by big old-established companies with traditional business models.
Core capabilities and resources include the company's physical, financial, and intellectual assets that it relies on when operating. They are crucial in the process of business model generation, as these elements define the company's ability to occupy its place in the market and remain sustainable. By knowing its core capabilities and competencies well enough and having control over its resources, a business can better adapt to fluctuating market demands and trends or embrace industry changes more easily, thus gaining a competitive advantage.
The core capability of Waverley Software, for instance, is expertise in a variety of modern technologies and the software development process. This makes our people – developers, QA engineers, project managers, business analysts, designers – everyone who participates in project delivery, our key asset. Taking care of this asset by stimulating their professional growth and interest in modern IT market trends is the company's input into its business model sustainability.
The cost structure of a business defines its fixed and variable expenses on the operation which directly impact the formulation of product or service pricing. Reaching cost leadership in the market by reducing these expenses to the minimum and retaining high, or at least plausible, quality of products or services at the same time is the ultimate goal of many business owners. This can give a business a competitive advantage of the lowest prices and let it win more customers. Alternatively, a company may reach higher than average profitability by increasing the margin instead of targeting for lowest prices.
For example, software development companies try to optimize their cost structure by lowering their expenses on their key resource – the engineering talent. This strategy made it possible for the IT industry to flourish in low-income regions of the world with high or relatively high education levels–the countries of Latin America, Eastern Europe, and South-East Asia. At the same time, businesses in need of software development expertise and tech startups became able to save costs on digital transformation and innovation. A win-win situation. Waverley Software manages to leverage the technology talents' strengths from all parts of the world and deliver top-quality engineering services to its customers at reasonable rates.
Revenue streams are the sources that generate revenue and form the revenue model of a business. The higher scale a business, the more revenue streams it usually has. By defining its revenue streams, a company identifies what it sells, to whom, by which means, and at what pricing. Knowing and understanding the company's revenue streams, business owners keep constant control over financial flows and can see the big picture when thinking of business model innovation to optimize or increase profitability as the business evolves.
In the software development and technology innovations domain, revenue streams are particularly interesting. For example, many software applications are free to download, install, and use, but they generate revenue through in-app purchases or by showing third-party ads to users. This is the principle of work of the advertising business model. Or, the basic features are free to use while a wider set of critical features becomes available after payment – this is an example of a freemium business model. Software development vendors, such as Waverley, typically work following the rental model or fee-for-service model, with the staff itself or their service for other companies or startups making up the main revenue streams for development vendors.
The partner network of a companyconsists of other businesses that it relies on and can't do without – external consultants, suppliers, and contractors which cover the business needs that go beyond its scope. With business model innovation and company growth, it can expand its structure and move some or all of its operations in-house. But complete independence is what only business giants can afford. Plus, partnerships always mean a broader choice of opportunities and better service quality – why refuse from it? This makes the partner network an important and common element of a business model.
Software development companies often rely on partnerships when it comes to marketing and PR, legal consulting, personnel management and recruitment, and technology innovation. They also play the role of partners themselves when helping other businesses go digital, automate their operations, fill in expertise gaps, provide tech consultations, find clients, and so on.

Now that we know something about the key elements of a business model, how can this help us further?
Types of Business Models
Let's look at the key components of a business model from a practical business owner's perspective:
How do they relate to each other?
Which components have a direct impact on each other? For example, do partners supply the key resources? Which customer segment brings the most revenue?
Are any of the components underestimated?
Which components may offer opportunities for a pivot?
These kinds of questions help us interconnect business model blocks and define the business model type your customer has. But why is this so important to specify the type of business model for a company? Well, first, this gives a competitive advantage: it's easy to copy a product, but it's much harder to copy a business model. The way you sell your product by creating your pool of customers, gathering them around your set of values, communicating with them through your channels, as well as the combination of all other business model elements, make your offer genuinely unique. Secondly, a defined business model means clarity, order, and discipline. It helps you see your company's strengths and weaknesses, where to look for opportunities and business model innovation, and what can be optimized and save costs. For those only planning to start a business, sketching their desired business models is a way to visualize the conception, better realize its strengths and weaknesses, and make timely adjustments before incurring extra costs.
There's a huge variety of business model types out there. In order not to cover the multitude here, I recommend taking a look at this truly enlightening Business Strategy Hub article covering the top 50 business model types with vivid examples.
With all this in mind, how can a Business Analyst apply the knowledge about business models to their work?

Knowing the types of business models can make it much easier to leverage the impact of its components on income size, customer satisfaction, investment opportunities, and enabling changes overall. For business analysts who work on requirements at all stages of the product life cycle, understanding the 'mechanics' of the customer's business model or, in other words, how the business model elements interact, will definitely help steer them through the development and delivery processes.
Business Model Canvas
Industry scholars offer a few frameworks that investigate business modeling in different dimensions but all of them aim to answer the fundamental question of how and how well a business performs and/or should perform in the long term. For instance, a business model design template maintained by Alexander Osterwalder – a business theorist, consultant, and entrepreneur himself – the Business Model Canvas, consists of nine building blocks:
Key partners
Key activities
Value proposition
Customer relationships
Customer segment
Key resource
Distribution channel
Cost structure
Revenue stream
As we can see, these blocks directly correlate with the key elements of a business model. Here's how they are presented within the Business Model Canvas.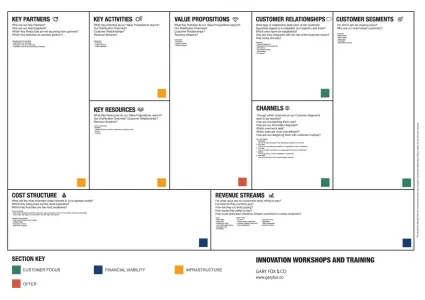 The practical application of Business Model Canvas is making it a canvas in the literal sense of the word – one can work in it through a web interface, print it out of big sheets of paper, or even draw it. With creative thinking, deep analysis of ideas, and some colors, it can help turn a conception or existing business model into a masterpiece. The positioning of the business model building blocks in BMC allows matching the corresponding segments of different blocks in a clear and well-organized manner.
When considering different business models, it is important to fill in the canvas in the right order, so as not to lose the logic. Often, beginners not familiar with BMC as a strategic business tool, start and move from left to right, which leads them to faulty conclusions. This is because they fail to identify the fundamental part of their business or idea. The concept of a 'golden triangle' in a business model canvas connects value proposition, revenue, and customers as the basic elements of any business, be it a small one-person undertaking or a global enterprise. Since the importance of business analysis is to deliver value, focusing on strengthening the value proposition could help achieve a more optimal business outcome.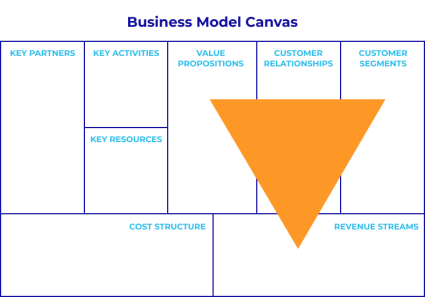 Or, you can start by defining a set of your Customer Segments (your buyer personas) and then draw straight lines from each Customer Segment to each Value Proposition you can offer them. On the way, you cross the Customer Relationships and Channels blocks, making you think over the relationships you are going to build with each customer segment and through which channels. This way, the canvas gets gradually filled in, each segment being amplified with new components as ideas and thoughts emerge. The blank and boring template turns into a rightfully unique offering, like this rough sketch of the Spotify business model example showing how their service business model works.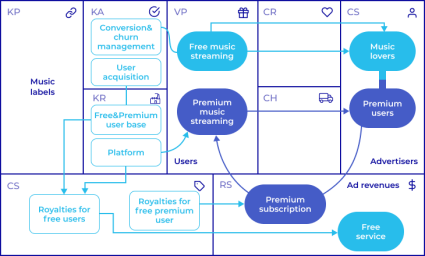 The resulting visualization of the interconnections between the key components of your business will help you avoid gaps and slip-ups that are sure to happen without careful consideration and mapping. For business analysts, this business model design template is a great tool in helping their customers adjust their product requirements and thus optimize the product build and the software development process accordingly.
Lean Canvas
Lean Canvas, offered by Ash Maurya, is an adaptation of Business Model Canvas geared toward a lean startup, a methodology widely used in the software development domain. It also has nine blocks but here the Key Partners, Key Activities, Key Resources, and Customer Relationships blocks are substituted by the Problem, Solution, Key Metrics, and Unfair Advantage blocks. For lean startups that have to keep a faster pace of their build-measure-learn feedback loop, Lean Canvas appears to be more relevant, whereas Business Model Canvas looks at a business as a whole, rather than one product or proposition.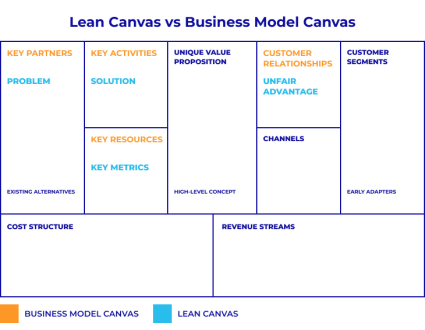 Typically, startups don't have a customer base and a clear-cut product, therefore the Customer Relationships and Key Activities become less relevant for business models in Lean Canvas. Also, lean startups are usually limited in time and resources and cannot boast a partnership network. Meanwhile, they are focused on validating their business idea and making sure that their solution matches the problem of their customer segments. In this case, the Problem, Solution, Unfair Advantage, and Key Metrics blocks come in handy.
Next, similarly to how we moved from one block to another in BMC, gradually establishing connections between them, we start off with the Problem block in Lean Canvas. Having identified our customer segments' problems, we move on to figuring out the unique offer that we can bring them. In this business model design stage, it's crucial to do competitor research and find out what will make your proposition stand out among the competition and how it will deliver value for your buyer personas. Once we've clarified which value we want to deliver, we start filling out the Solution block, putting down each and every feature which will help to solve the problem that we outlined in the beginning. And in a similar way, we work on other blocks of the canvas, aiming to interconnect them. The last step of our drafting process will be identifying the key metrics: how we are going to measure the success of our business idea, which is the actual goal of a lean startup before it turns into a viable business.
As software startups are common customers of business analysts, their proficiency in Lean Canvas will be particularly useful. Oftentimes, startup founders are creators and innovation thinkers overly absorbed by their ideas and the desire to implement them as soon as possible.
With a BA competent in business model mechanics and knowledgeable in the nuances of the lean startup business models, business newcomers can save precious time and manage to succeed even with the available limited resources.
Business Model Mechanics in Software Projects
Following the appearance of Osterwalder's BMC, there have emerged plenty of other canvases, such as Blitzscaling Canvas, Value Proposition Canvas, Sales Navigator Framework, and so on, tailored to meet the needs of stakeholders in narrow-focused business dimensions. This variety emerged out of a diversity of business model examples, which developed due to the growing competition. So which role does business model mechanics and design play in working on software projects?
In software development, Business Analysts are not just one-time consultants. They are full-fledged members of the development team, involved in different stages of work.
Pre-Sales
At this stage, the prospect is not a customer yet. Nevertheless, the pre-sales team, including Business Analysts, is actively researching the available information about the prospect's business in order to win the customer. It is key to figure out the prospect's problem, understand which value the business aims to deliver, and construct a possible solution that we would like to offer. This research also includes interviewing the potential client in order to understand their needs to the fullest and be able to tailor the final proposal to these needs as closely as possible. Following the principles of business model mechanics, a Business Analyst at the pre-sales stage can effectively use the data at hand to offer the client an optimal business model that will fit their business plan and budget.
Discovery
The discovery phase takes place when a prospect becomes the client and needs assistance in building a product from scratch. And this is the prime time of a Business Analyst. At this stage we employ all our skills and knowledge in business model design and strategy to build a new business model from the ground up. First, we need to understand the client's business idea–what they would like to sell as their value proposition and to whom. Next, it is important to research their industry niche and competitors' solutions to estimate the client's potential position in the market. When the research is over, we sit down together with solution architects and sketch possible system architecture, envisage possible revenue streams, suggest several business models to consider and compare. When one of the business models is chosen, the BA formulates system requirements for the software engineering team, draws team composition and development cost structure.
Team Onboarding
At the team onboarding stage, the freshly assembled team is getting familiar with the project they will be working on. During this period, the task of a Business analyst is to facilitate this process for the team members. When engineers understand what and why they are doing, their productivity and motivation spark, they are more likely to be proactive, and they start to truly care for the product's success. How can a Business Analyst make this miracle happen? The BA contacts the team to explain the software product's main function and value, helps engineers in the knowledge-base collection, negotiates the list of requirements and tasks individually, and helps the project manager to plan sprints.
Development
In Agile software development, projects are delivered in iterations. For the product, this means opportunities to develop step-by-step, add new features gradually, and make necessary changes or adjustments on time. Here, a Business Analyst serves as a bridge between the client and the engineering team, translating the business plan and requirements into technical tasks and technical recommendations. At the development stage, an experienced and knowledgeable Business Analyst is a must-have if you need to add a new feature or solution, scale the product, expand or move to a new platform (desktop/web/mobile), or implement any other business model innovation.
Change of Plans
As the development of a product progresses and it takes shape, the business owner may realize that this is not exactly what they want. Or beta-testing might not go as well as was expected. Or the business idea failed the viability test. Not necessarily because the idea was faulty from the very beginning. Oftentimes, the market plays a decisive role as businesses are not isolated from one another: audience's needs are fluctuating, trends are changing, new competitors appear, existing competitors release new versions, and global and local economic situations are not stable. Also, clients come for help with their existing and longstanding products simply because they feel their products are not up to date anymore. This step does not necessarily mean taking on entirely new business models – even a minor shift to an affilitate business model can make a difference.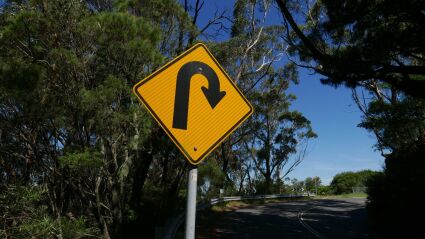 What can Business Analysts help with? Again, each case is special. Sometimes, it is helpful to learn the bottlenecks and pain points of the existing company's business model and simply fix them. In other cases, we need to completely redesign or create a new business model – offer the business owner to focus on a different value proposition or customer segment, for example. Other changes that BAs help with may relate to architecture, system interface, or the technology stack. Also, we can initiate changing the cost structure and resources rearrangement by finding ways to move a part of the development in-house, automating some processes, or transforming existing requirements and workflows. This business model innovation process requires strong knowledge of business model mechanics.
I believe that many more applications of business analytic talent can be mentioned. At all of these stages, it is crucial to keep in mind that each business idea and product is unique in every possible way, and what worked in one case may easily fail in another. Thus, the work of a Business Analyst is far from a standardized and typical set of activities. A deep understanding of business processes, business models, market laws, and experience weigh a lot.
How to Choose the Right Business Model – the BA's Perspective
As my dear reader may conclude, there is no clear-cut way to decide on a successful business model once and for all. To answer this question, let's consider it on a case-by-case basis.
For example, as a Business Analyst, you've been presented with a 3-month learning course product. The client investigated their competitors, chose the traditional fixed-price business model, and decided to set pricing for the entire course. Marketing experts made a lot of effort to convert the first visitors into customers and enable ROI. Moreover, the first feedback was positive and most of the customers completed the course. However, it became difficult to attract another cohort of customers since dedicating three months to studying turned out to be a challenge for them. The customer decided to put the product development on hold.
What can you offer? Taking a different perspective can help find the solution by considering ​​entirely new business models. For instance, could the product achieve a stable ROI with the pivot to a subscription business model? Would the conversion rate increase if the leads could buy separate lessons instead of the whole course? This looks like two different business model examples already.
Let's imagine another situation where you are driving the development of a movie streaming service. The service has outgrown the MVP stage and shown stable revenue generation. However, the retention rate has not been healthy enough. The customer wants either to completely reinvent the value proposition or to sell the service.
It would be less pitiful if the client were simply not sure about the features they wanted to add next to the freshly-built MVP. As an option, development could be temporarily paused for the client to collect the first user feedback. As a result, we could extend the service to the premium segment or move to a freemium business model as an option. At the same time, the Business Analyst would have to deal with a mess in the backlog and a few epics that require investigation for feasibility to implementation.
As you may think, the above situations are on the account of the client since THEY are business owners and THEY should decide. Nevertheless, they must deal with business modeling and make timely decisions. For a Business Analyst, this is high time to ask questions and make suggestions. Answering and considering them is not an easy task but the right one if the client wants to evolve and work on business model innovation in order to meet consumer needs and build steady and lasting revenue streams. Don't forget that any business is still all about creating value. If the user retention rate is dropping, this means the value is not generated (any longer).
As we can see from these examples, there cannot be a single right solution even for the same product at different stages of its development and at different points in time. Also, understanding the business models and their opportunities is not only about high-stake business decisions but also about validating micro-changes, taking risks in implementation, and awareness of business results to come. And business analysis could help build out this awareness as common knowledge for the client and the product team.
Conclusion
To wrap up, I suggest some questions a Business Analyst must find answers for to identify and help the client build the best business model for their case:
What kind of customers is the product targeted at?
What kind of jobs does the product help to complete?
Is it B2B or B2C?
What is the major monetization source?
Can the major monetization source bring recurring revenue?
Does the product need significant support service? At which stage is this necessity likely to increase?
Does the major offering depend on third parties (e.g, cloud infrastructure, payment gateway, shopping cart interface)?
Is the business model multi-sided?
Are there any hidden costs for a consumer (e.g, commission fees)?
Are there opportunities for a pivot? In which area?
About the Author