What are the Benefits of Business Intelligence (BI)?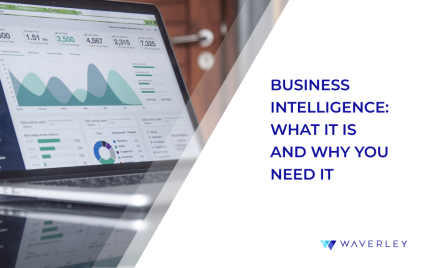 Introduction
Modern enterprises usually operate vast amounts of data: customer information, purchase analytics, supply chain details, technical nuances, etc. Smart enterprises make the most of their data by applying various technical means to analyze their data and make smart, data-driven business decisions. A combination of such methods is called Business Intelligence or BI. There are numerous benefits of business intelligence in business.
Business Intelligence is a secret weapon that helps companies make their Marketing & Sales more customer-centered. BI findings help businesses draw the attention of potential clients, conquer new markets, and identify opportunities. With the help of business intelligence firms learned to capitalize on the analytical aspects of their business, and rely on the analysis of data and various reports to become more resilient, achieve better business continuity, identify and tackle possible risks and weak points.
One of the benefits of using business intelligence is the flexibility firms have to become better prepared to execute new ideas, have a better understanding of what works and what doesn't and why. However, before we dive into the business intelligence benefits and challenges, we need to understand what BI is and what is required from the business to make it possible.
Understanding what Business Intelligence revolves around is Important. So when talking about BI, business owners must ask themselves the who, what, when, where, why and how questions about their business and its data.
Understanding the Benefits of Business Intelligence
To understand what the benefits of Business intelligence are, it is important to understand BI first. To have a clear understanding of what it does, how it works and the benefits that it brings to the business world. BI employs algorithms to glean useful insights from the existing data. This process will help organizations come up with different strategic choices.
What is Business Intelligence?
Business Intelligence transforms raw data into usable information. It benefits business operations through a group of systems, technologies, and procedures. BI is a software and service package that converts data into usable intelligence. It is also used to keep and display data through reports. These data types include semi-structured and unstructured data.
BI will allow firms to achieve valuable insights from historical and present-day data. BI tools and technologies work on data mining, helping businesses obtain large data sets from different sources. So, Business Intelligence systems will serve as a go-to resource for managers and corporate executives. Yet, it also will enable small or large business owners, and even start up business owners, to make intelligent decisions and business judgments. BI will also allow companies to gain a competitive advantage over other companies.
Here are some business departments that deal with BI:
IT: By design, BI platforms relate to the IT department as it deals with tools and technologies that regulate and manage access to data. IT will help with any type of online analytical processing to collect data. Gathering of vital information is possible if:

Members of the team consistently provide reports
The company has sufficient technological means for data storage and analysis.

Marketing: In general terms, marketing makes reference to the actions a business does to encourage purchases or sale of products or services. It is all about advertising, selling and delivering said products or services to customers and firms. A BI system gives the marketing team at a company simple access to data from current and past initiatives. So it creates more strategic marketing campaigns with higher ROI. BI systems also offer crucial campaign metrics. Said campaigns are customer acquisition cost, cost per lead, and campaign click-through rates. All of it is essential for fruitful results in the marketing world.
Sales: Aside from marketing, companies will interact in selling of products or services activities. This will raise their profit and will find ways to benefit consumers. Business Intelligence helps with gaining a deeper insight to customer data. As a result, there is a better opportunity to fix issues and connect with customers through targeted messaging to boost sales.
Finance: Modern BI has multiple applications in the finance area. It helps with vital and comprehensive insights into all types of financial data. Additionally, BI solutions apply to quarterly or annual budgets. The idea is to spot potential problems before they have serious repercussions.
These four departments are none less important than the other as they work as complements through the use of data analytics. But, these analytics will not only collect and analyze data from an organization, the focus will also be on analyzing customer data. Additionally, Business Intelligence integrates procedures and techniques for data gathering to improve performance. To do so, it is imperative to apply the appropriate BI software to consider how to use the data. It is a process that goes step-by-step from beginning to end:

Business data analysis is a holistic process, which deals with a variety of elements, tools and supplies. Using various tools such as business intelligence dashboards, charts, maps and graphs, users will be able to track key performance indicators and other variables, helping shareholders comprehend, share and work together on the information.
Categories of Business Intelligence
Both Business Intelligence and business analytics work together. This is due to the collection of data that must go through analysis. There are three main categories of BI related to the analysis.
| Predictive Analytics | Descriptive Analytics | Prescriptive Analytics |
| --- | --- | --- |
| Related to the future planification, predictive analytics is about the creation of future outcomes based on the historical and current information within the organization. | The historical and current data from the organization will be of help so when descriptive analysis is applied, the organization will seek to discover patterns and connections in the data. | After having collected all the important and relevant data, prescriptive analytics will answer the question: "What should the organization do?" |
How Does Business Intelligence Work?
There is no actual strategy to understand how Business Intelligence operates. All businesses have unique questions and goals, so an ideal BI strategy is perfectly tailored to the needs of each organization. The first step is to gather and examine all the company data. The idea is to later identify patterns and trends that will serve as a growth factor for the firm. BI methods help to identify issues in the company that may be affecting any progress. BI also aids in setting better objectives and provides solutions to many concerns to enhance the company's performance.
All the gathered information will, most likely, go into data warehouses. These will serve as a source of information for Business Intelligence tools. They combine information from different sources into a primary database for business analytics. Business Intelligence software inquires said warehouses to introduce a report, chart, or a map. Data warehouses go through an analytical process using engines to handle multidimensional queries. How do these engines work? Each of these BI tools provides powerful technology for data discovery with the purpose of helping BI with any difficulties in the analytical calculations.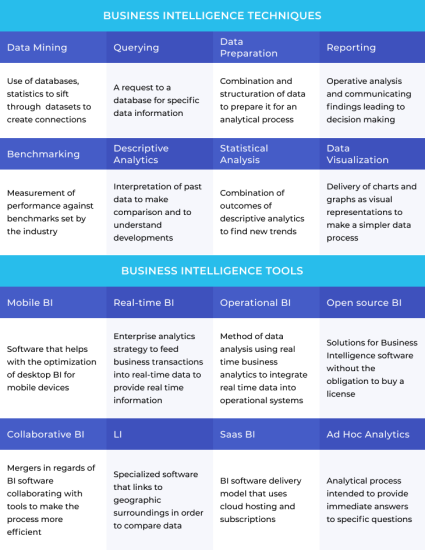 How is Business Intelligence Implemented Within Organizations?
Business Intelligence makes reference to the technology, applications, strategies, and practices. It all helps organizations gather, analyze, and integrate essential data. The support it facilitates, in reference to decision making, also counts as another benefit of BI. It allows access to data that may be vital to the success of different areas of the organization. Besides, it helps organizations become more profitable and gain a competitive edge. It also offers other advantages when they introduce BI technology as part of their business operations.
To implement BI companies have to consider three questions.
What is the objective?
What does the organization have?
What does the organization need?

What is expected?
What is the goal?
How does BI affect the objective?

What is already in place?
What information is available?
Is there data at disposition?

What else is needed?
What decisions can be made?
Are there available resources to help take measurements?
Implementing Business Intelligence will be a success based on these three questions:
The objective of the company is to understand what is expected to be achieved when implementing Business Intelligence. To reach a desired goal, some priorities must be set and there has to be a long term business plan that will make BI systems reach the objectives successfully.
Data is the foundation of Business Intelligence, so companies need to make sure they have enough data and if not, start collecting what's needed. Therefore, all information gathering and analysis of the different areas will take place, giving place to the access of data that will be at the disposal of the business owners.
The relevant data will also help keep track of what the company needs. The organization will have to decide more in detail on what is needed. There will be questions like: what tools are necessary to integrate all the current data, what sources of data and other techniques can be used to measure the performance of the employees, etc.
Business Intelligence aids different organizations to achieve desired goals and objectives. Its use is not constrained only to particular segments. Let's late a look at the industry-specific benefits of artificial intelligence in business:
BI in Retail
BI makes it possible for organizations to predict demand and keep track of its changes over time. By maximizing inventory size to meet customer demand, BI assists the retail sector. Additionally, it aids businesses understanding customer behavior and improving customer satisfaction.
BI in Banking
BI will assist with data analysis in financial institutions as well as serve as a foundation for marketing strategies. BI will also assist financial institutions to determine performance indicators for better performance. It may also support learning management.
BI in Automotive
BI can make a difference for both car manufacturers and car dealers. It can help analyze and optimize the manufacturing process, inventory management, supply chain, identify best-sellers, and assist with vehicle testing and user experience analytics.
BI in Hospitality
Before Business Intelligence Software, all data collection happened through spreadsheets. The idea was to determine the statistics of the highest or lowest sales in comparison with the previous year. The hotel sector has become more effective thanks to the application of BI software, being able to get more accurate and integrated data.
BI in Pharmaceutical
Analysis and collection of data from diverse sources is a pharmaceutical business intelligence solution. The collection, analysis, and assessment of pharmaceutical data allows one to better structure and learn from research data, manage and forecast sales, analyze R&D initiatives, and, overall, make smarter business decisions. This results in a boost of staff productivity, boost of revenue, and competitiveness.
Why is Business Intelligence so Important?
BI solutions are becoming an essential part of organizations. Let's list some of the benefits of business intelligence systems. They give the ability to turn enormous amounts of data into insightful information. Business intelligence is essential since it helps with spotting business trends and procedure development. Nonetheless, it is important to mention that it aids with market trend identification. This makes a variety of tasks and services easier to deal with.
To take the right course of action and to carry out competent business advancements. Companies will also gain access to insightful knowledge of different industry trends. In short, implementing business intelligence is important to help improve business performance and make data-driven decisions.
The above listed benefits are great on their own, but they will contribute the company's overall growth and development, e.g.:
Higher Revenue. When thinking about the key business metrics, companies trying to maximize their sales must consider implementing Business Intelligence. It provides accurate data that will help raise the company's profitability and expand its various operations in the different business departments.
Enhanced Sales and Marketing Initiatives. For BI to be significant the impact of customers is essential. This means that the service they require and the feedback they send out will determine the improvement in sales and marketing. Most of the time, the best customers aren't always the ones who make the biggest purchases. Instead, it is those reliable and unfailing clients who consistently buy products. Applying business intelligence and analytics to a company will enhance marketing strategies.
Strategic Decision Making. Business owners often make strategic decisions which will have a great impact on the company's future. To make the right choices, they need access to key data, but not only that, they need to quickly be able to understand what this data means. BI provides one source of truth, extracting from vast amounts of data exactly those metrics and answers that stakeholders need.

Enhanced Client Loyalty. Business Intelligence deals with gathering and sourcing data on recurring customers, finding patterns to keep doing what customers like, and avoiding services or products that nobody is interested in. Customer satisfaction will determine the success or failure of any company. Thus, leaving a positive impression on consumers will stimulate their loyalty and will encourage them to return in the future.
The Benefits of Business Intelligence for Business
The list of the benefits of business intelligence can go on. Here are a couple of key benefits of Business Intelligence that can help companies improve business performance:
Fast and accurate reporting. Due to the time-consuming and labor intensive nature of business reporting, multimodal tools impact businesses. Employees will be able to monitor KPIs by using tools like templates or custom reports. Besides, there are a variety of data sources, including financial and operational data.
Significant business Insights. If there has to be a combination of actions in the business world, nothing better than to put together business data and its analysis. All with the purpose of allowing organizations to come up with better business decisions. These decisions are led by improved business processes. This will allow valuable business insights and information fundamental for the company.
Competitive analysis. Business Intelligence are the tools, software and systems of a business. They are key and essential to an organization's strategic planning process. Also, there is competitive intelligence. This refers to analyzing a company's industry and its competition with the purpose to make strategic business decisions that will help differentiate the company from other market representatives.
Better BI data quality. Data analysis is the base of BI, so, the organization will not only collect, but will also analyze data. So, its quality about BI, is a measurement that evaluates the accuracy and reliability of the data in an organization. It also determines the completeness and the usability of the analyzed data. Thus, one of the many other benefits of Business Intelligence is that it will improve the quality of the data.
Higher Margins. Thanks to BI, businesses can lower their production costs and identify opportunities in demand that offer them higher margins, thus improving their ROI significantly.
Summary
The role of BI in a business is significant. Thanks to BI, organizations can gain access to insights into business trends by analyzing the external market data. It also allows firms to make informed business decisions by analyzing their internal data from various parts of their business: from sales & marketing, to supply chain, inventory, production speed, and much more. Applying BI solutions to various aspects of business can help companies not only determine the optimal methods of expansion and connecting with its intended market, but also become more aware of the loopholes and its weak areas, serving as a great security and risk management tool.
Waverley's engineers have been helping businesses across industries become more efficient by building custom data analytics and BI solutions. If you find the prospect of BI overwhelming, but you are still intrigued about the numerous benefits of BI, let us become your guide to this fascinating realm and come up with a unique solution that fits your business needs. Contact us to schedule a consultation with our BI engineers.