Digital Transformation in The Energy Industry: Overview and Tips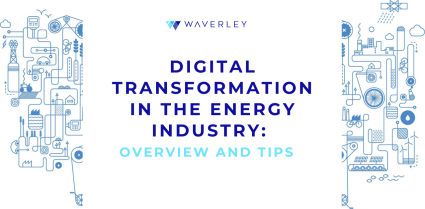 Contents
Starting a decade ago, digital technologies have unimaginably transformed our lives. The digital transformation of the energy sector is developing efficiency and safety, and it is assisting in increasing the usage of renewable energy.
In this article, we will cover the benefits of digital transformation in the energy sector, trends in the sector, and describe the process of starting the transformation in a company. We will also answer the most common questions about digital transformation in the energy sector.
How Digital Transformation Can Help The Energy Industry
Society started the process of digital transformation in the late 20th century. Further, the transformation developed rapidly in the first two decades of the 21st century. Digital transformation has already touched many industries, especially retail, healthcare, fintech, insurance, energy, and manufacturing. It helps companies stay competitive, increase their profit margins and optimize expenses.
Basically speaking, digital transformation is the process of implementing computer-based technologies into companies' products, processes or strategies. Digital technologies enable organizations to respond to customer and market demands faster and in a more flexible manner. In practice, we are talking about digital transformation processes, such as moving your business online or integrating RPA technologies.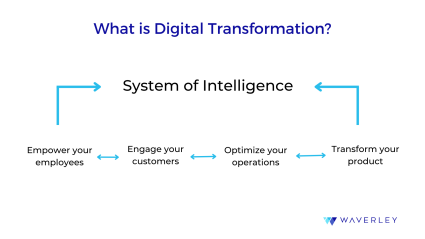 We will focus on the digital transformation in the energy industry since this sector has been an early adopter of digital technologies. Digital transformation trends in energy utilities started in the 1970s. For example, power utilities were the first to use technologies to facilitate grid management and operation. After that, many companies started to use digital meters instead of the analog ones. Regarding Oil and Gas companies, they have applied technology innovations to improve decision-making for exploration and production assets, including reservoirs and pipelines.
Digitalization is a useful tool in dealing with climate change or optimizing power generation processes to decrease emissions and achieve the goal of decarbonization of the energy model.
Talking about digitalization, we have to be familiar with the term 'Industry 4.0'. It is a well-known concept in the world of manufacturing. Industry 4.0, or intelligent manufacturing, greatly affects the energy sector. It incorporates the period of mechanization, the gas and oil era, and the new digital revolution with the renewable energy era. It also includes automation and data used to optimize production and efficiency within a smart factory environment.
Going into details, digital transformation in the energy sector involves top-notch tech. For example, IoT, smart grids, and managing renewable energy. The experts predict the global IoT market could reach a value of USD 1,386.06 billion by 2026 from USD 761.4 billion in 2020 at a compound annual growth rate (CAGR) of 10.53% during the forecast period (2021-2026).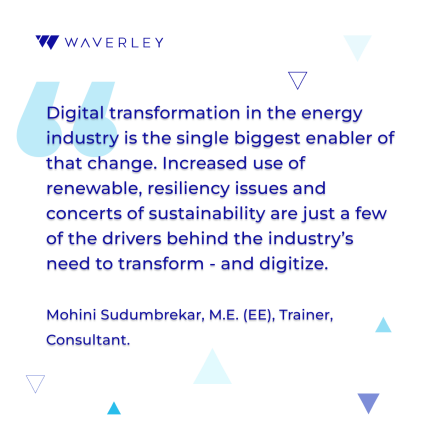 Implementing digital transformation in the renewable energy sector also helps to work with big data volumes. Why is this so important? The current situation in our world can be described as a huge explosion of data leading to fundamental changes in information technology. In the modern world, data comes from everywhere: drones, blockchains, IoT devices, documents, or videos. Collecting and analyzing these data to keep your production or work is crucial. For example, the giant of the energy sector – Shell, is using their robotic subsea inspection videos exceeding 7TB, their seismic land surveys, which are up to 20 petabytes, and their marine surveys range from 10-30 TB.
To illustrate the point, one terabyte is about 500 hours of video. Each of Shell's physical assets generates multiple measurements per minute. With the help of cloud technologies, energy sector companies can handle data management in real-time.
The key benefit of digital transformation in the energy and utilities industry is the way it affects decision-making, driving business value. It is the companies that can process these data sources using machine learning technology and provide business foresight that will be the ones impacting the whole future of the energy management systems.
Popular Digital Transformation Trends in the Energy Industry
Digital transformation in the energy sector doesn't only have to do with private companies or organizations. For instance, the EU has an action plan for the digitalization of energy. In October 2022, the Commission accepted the 'Digitalisating the energy system – EU action plan', a system-wide course of action aimed at the digitalization of energy. The goal of the program is to contribute to the EU energy policy objectives:
Develop a sustainable, secure market for energy services
Ensure data privacy
Support investment in digital energy infrastructure
According to the Economist Intelligence Unit's Energy Outlook 2023, global energy consumption will keep growing by 1.3% in 2023 at a time of economic recession and high energy prices. Hence, changes in the energy industry are required to keep up.
Waverley has been at the forefront of digital transformation in the Energy industry, helping companies in Energy & Utilities go digital, migrate to the cloud, adopt emerging technologies, process their data better, etc. We've helped startups in Renewable Energy & Sustainability leverage IoT and develop flexible future-proof software systems. Here are some of the noticeable trends in digital transformation in the energy and utilities industry and renewable energy industry that are often requested by our customers.
1. Automation of the energy sector
Automating the energy industry allows companies to reduce their expenses (fewer employees are needed to monitor the processes) therefore, companies can concentrate on quality control, finding new energy sources, etc. Amongst other benefits we can mention:
Increasing efficiency
More consistent quality control
Easier access to data
Staying compliant
2. Energy decentralization
The decentralization of energy markets is increasing day by day all around the world. Naturally, it affects countries with BTM (behind-the-meter) energy generation, where a business produces its energy. Meanwhile, we can observe continuous changes in how energy is produced and sold with the rising trend of renewable energy. Countries and energy companies are testing innovative new approaches and methods.
The rapid switch towards decentralization comes about as the world experiences uncertainty over future energy prices, a move away from older and more polluting energy sources.
Examples of Energy Decentralization
Name of the Project/Country
How Does it Work?
Virtual Power Plants/Australia
Government, together with businesses, launched a new flexible energy marketplace: Decentralized Energy Exchange (deX).
DeX aims to encourage renewable energy investments and cut the electricity grid's costs. At times of a power demand surge, a call goes out to participants, triggering households to auction excess self-generated or battery-stored power back to the grid at market-determined prices. The deX system aggregates energy-generating households and businesses based on their locality, such that their combined energy supply is large enough to represent multiple virtual power plants that the grid can call upon.
Peer-to-peer Energy Trading/Germany
Peer-to-peer networks allow trading and selling energy between two or more grid-connected parties. Shine (a start-up company), which is incubated by RWE Germany, is one of these network facilitators.
The system allows users to optimize their own use of solar energy with a home energy management kit and connect to others for buying and selling the locally-generated power.
Internet of Energy/UK
Centrica (UK's dominant energy provider) acquired a startup, Panoramic Power, which provides wireless sensors and an analytics platform. Together, the system allows for full visibility of a business's energy estate, promoting improved cost management and operational efficiency, as well as enhanced engagement with energy usage.
3. Development of IoT for the Energy Sector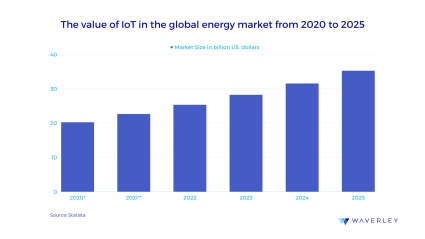 IoT technologies in the energy sector is an advanced process that includes planning and energy management of consumption patterns in multiple domains. IoT development services are crucial in implementing these technologies and enabling businesses to increase efficiency in producing, selling, and distributing energy. Basically, it helps to optimize energy usage and reduce costs while improving overall productivity.
The Advantages of Using IoT Technologies in the Energy Sector
| Advantages | Explanation |
| --- | --- |
| 1. Security | With the help of interconnected static sensors and cameras, the Iot-devices can benefit drilling management and improve health and safety in oil and gas production, providing optimal decision-making in this sector. |
| 2. Enhanced data collecting | Advanced metering infrastructure (AMI) systems allow the IoT-based smart meter to collect data in real-time. These data permit monitoring of the use of the energy, voltage fluctuation, tampering, and power outages. |
| 3. Analyzing the data | Collected data with the assistance of IoT-enabled energy storage and analytics tools can easily analyze the market to help decrease the imbalance in the supply and demand of renewable energy. |
| 4. Efficiency | Through an integrated network enabled by IoT, you can remotely produce and manage energy processes. It is especially relevant for geothermal power plants because they are located in earthquake-prone areas. Hence, remote management can ensure energy production safety. |
4. The use of AI in the Energy Sector
There are several major benefits of using artificial intelligence in the energy sector. Basically, AI technologies provide more efficient work processes for energy companies.
AI-managed smart grids networks deliver a fast flow of energy and data between the energy provider and consumers. → This type of network enables data management processes (collection, storage, analysis). Later on, we can use this data through advanced analytics and machine learning for fault identification in energy production plants and precise energy demand forecasting.
AI-driven programs could enable accurate forecasting and prediction, which lead to better usage of renewable energy.
5. Cloud Computing and the Energy Sector
Cloud computing includes servers, storage, databases, networking, and analytics over the Internet; therefore, it is generally used in the management of energy production, distribution, and provision.
Cloud technologies can provide customers with real-time insights into their current energy consumption
Cloud can enable optimal scheduling to create smart maintenance
Cloud computing apps are helpful for better cost management and optimal decision-making
6. The Energy Sector and Blockchain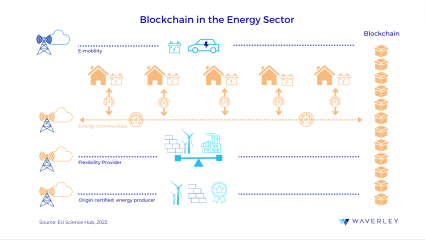 According to the Joint Research Centre's report, 'Blockchain solutions for the energy transition' using blockchain technologies have the potential to change the energy sector greatly.
Blockchain technologies provide transparency in peer-to-peer energy trading.
Implementing blockchain technology can help in keeping track of the source of renewable energy and record the carbon footprint.
Energy companies can store excess power in the blockchain through smart meters. Later, the algorithms can automatically match buyers and sellers of the excess energy using smart contacts.
3 Key Benefits of Digital Transformation for Energy Companies
Digital transformation in energy and utilities will have positive benefits for the industry as a whole and separate businesses as well. We can define three main benefits of digital transformation for energy companies:
| Reduction of costs | Improving infrastructure and services | Enhancing customer interaction |
| --- | --- | --- |
| With the help of digitalization, logistics will become more efficient, and supply issues could be spotted in real-time. Therefore more accurate forecasts of energy surges are possible. This will allow energy companies to produce energy exactly the needed amount. | Digitalization can increase the operational lifetime of energy infrastructure. Predictive maintenance with less physical stress on equipment and machinery. | Digital transformation will enable better customer interaction by providing easier customer feedback. It can be used to inform end-users of the results in case of using too much energy for both financial and environmental reasons. |
What Are the Main Areas of Digital Transformation?
The energy sector is undergoing a digital transformation driven by technological advancements and consumer behavior changes. The following are some of the key areas where digital transformation has a substantial impact:
Smart Grids: Energy companies are using these digital technologies to improve the electricity grid's efficiency, reliability, and security. It includes deploying smart meters, which allow real-time energy consumption monitoring, and integrating renewable energy sources such as wind and solar power.
Energy Management Systems: Energy management systems (EMS) use digital technologies to optimize energy use in buildings, industrial processes, and transportation. EMS can help reduce energy consumption and costs and support the integration of renewable energy sources into the grid.
Electric Vehicle Charging Infrastructure: As the number of electric vehicles (EVs) on the roads increases, the demand for charging infrastructure is growing. We need digital transformation in this area to manage the charging process, including real-time monitoring of charging stations, optimizing charging times to reduce peak demand, and integrating EVs into the electricity grid as a source of flexible energy storage.
Renewable Energy Generation: Companies use digital sensors, data analysis, and machine learning algorithms to optimize renewable energy production.
Digital transformation in the energy sector enables more effective, sustainable energy systems while creating new business models and opportunities for improvement.
Tips to Start a Digital Transformation for an Energy and Utilities Company
In order to embrace and implement digital transformation in the energy industry, companies have to take a few major steps. It's crucial to search for professional guidance, expertise, and technology power of IT solutions partners. Waverley's specialists have deep knowledge of digitization processes in the energy sector.
The Head of Digital Transformation in Anubhav Project, Bharat Petroleum, created a framework for a successful digital transformation process. This framework includes three main factors: customer, customer value, and customer experience. The mentioned framework can help companies to identify the precise point at which level digital transformation is required.
Digital Transformation Levels
| Process Level | Organization Level | Business Domain Level |
| --- | --- | --- |
| Adopting new digital tools and simplifying processes by reducing manual steps. | Offering new services, discarding outdated practices. | Changing roles and value chains in the ecosystem. |
How to understand that your company/factory is in need of digital transformation? There are certain signs displaying demand for digitalization in the energy sector. Professionals single out these key signs:
Choosing the 'wrong' technology
Unconstrained consumption
Choosing The 'Wrong' Technology
Choosing technology platforms and tools for the digital transformation in the energy sector becomes a challenge without the help of professionals; it becomes an endless cycle of evaluation processes. Therefore, to achieve a successful digitalization for your company, assistance of an experienced team would save time and expenses. Many companies can get stuck while choosing the right technology to start their digital transformation, which only leads to postponing the digitization process.
Unconstrained Consumption
Old operating models can not provide control to manage energy consumption. However, most companies are trying to reduce energy consumption and use the best technology for the environment. If the conflict between old and new ways of working or using old and new technology exists, it will result at the beginning of stagnation. Hence, if companies want to minimize energy consumption, they have to start digital transformation under the guidance of professionals. This is especially relevant for digital transformation services in the renewable energy sector.
General Tips to Start Digital Transformation
Define Your Objectives
A digital transformation strategy should provide a clear understanding of what your objectives are and what steps are required to reach your goals.
Define Your Areas of Opportunities
The areas of opportunity are groups of skills and competencies linked to contexts with goals to achieve and which can be developed to reach the needed results. The energy sector offers many opportunities, such as climate-neutral cities, sustainability as a service, hydrogen economy, carbon capture utilization & storage (CCUS), energy efficiency & automation.
Develop a plan
Developing a comprehensive plan will ensure that digitalization will be implemented effectively. The plan must be thorough, with clear goals, deadlines, key participants identified, their responsibilities assigned and possible challenges addressed.
Choosing the technology
This is the vital stage that will show whether your project will be successful. Things to pay attention to will be design and architecture, security and reliability, DevOps and infrastructure, and quality assurance and control.
Start the pilot project
After identifying the objectives, challenges, and current digital capabilities, defining initiatives, and developing plans, it is crucial to review everything critically. Are the benefits that you'll receive from the actions enough to justify the cost and effort?
Keep improving and developing the project
Digital transformation has helped many businesses to attain enviable heights across many industries. Still, it requires a lot of hard work, commitment, innovations, creativity, and strategic brain work to increase sales, productivity, and revenue.
Examples of Digital Transformation
Digital transformation allows companies in the energy sector to boost their efficiency and significantly enhance their profits in the long run. Successful digital transformation can save companies 40% of the overall operations costs. For example, machine learning and artificial intelligence have become part of digitalization for industry giants (Shell). These technologies optimize all possible operations in order to obtain higher revenues and reduce losses. Shell successfully managed to make savings of over $1m with the help of IoT devices to monitor oil fiends.
Another example, Endesa, a leader in digital transformation in the electricity industry, is the first utility company in the world to be 100% cloud-based, which allowed them better flexibility and enormous data processing and storage capabilities.
Examples of Digital Transformation in the Energy Sector Facilitated by Waverley
| Energy Analytics Mobility Development | Cybersecurity Audit for an Oil & Gas Company |
| --- | --- |
| Waverley specialists helped a leading company in data-driven energy management solutions, GridPoint, to bring their cloud-based energy analytics platform onto mobile devices, thereby enabling facility managers, energy managers, and other users to access their granular data from anywhere in real-time. GridPoint customers can now access critical data on their mobile devices, improving customer interaction. | Waverley's cybersecurity engineers helped the company in the Mine, Oil & Gas industry to test their CRM system and ensure that the confidentiality of sensitive business information is preserved. Since the company wanted to make sure its internal system was secure throughout all its locations and its sensitive data protected therefore improving the quality of its services. |
| Software Modernization for a Steam Energy Company | IoT Solution for Renewable Energy Management |
| Working with the leading manufacturer of steam equipment, our team modernized an outdated application adding new functionality. The formula we worked on was the basis for calculating indicators of improvement throughout the production process. Our specialists worked on vapor pressure formulas and changes of state calculations (liquid and vapor), calculating over 100 formulas, facilitating new functionality in the client's global Steam System Audit Tool platform. | Waverley delivered 4 web and mobile applications to complement the customer's smart home eco solution. The applications are designed to connect to the whole system via a home WiFi network or Bluetooth and enable the company's administrators and system users to control the solar panels, batteries, inverter, and connected home appliances such as AC, water heater, or EV charging station through a simple and accessible user interface. |
Conclusion
Digital transformation of the energy sector has contributed to the rapid development of the industry. Oil and gas production, mining, and renewable energy companies are already leveraging artificial intelligence, machine learning, IoT, and blockchain technologies. These innovations led to the great improvement of the companies as well as the industry itself.
In the energy sector, the technology shows great potential to assist in numerous aspects, namely real-time predictive analytics, demand response management, remote asset management, and research and innovation.
To achieve successful digital transformation, companies must rely on software. With the right software development partner, companies can achieve digital transformation successfully.
FAQ
What is digital transformation in energy?
Digital transformation is a set of tools and practices helping companies in the Energy domain boost their efficiency, scale faster and optimize their processes. Digital technologies enable organizations to respond to customer demands as needs evolve adequately. Adding RPA tools and using AI, IoT, and blockchain technologies are examples of digital transformation in the energy sector.
How is digital transformation used in renewable energy?
This digital transformation of the renewable energy industry is improving efficiency and safety and facilitating the increased use of renewable energy. Renewable energy companies benefit from Business Intelligence and Machine Learning, IoT and Blockchain, and other innovative tech, which helps to be more data-driven in their business decisions, improve revenues and provide a more tailored customer experience.
Why is digital transformation important in the oil and gas industry?
The major oil and gas players have been using digital transformation to boost output, improve efficiency across the value chain and cut costs. Oil and gas companies use digital technologies to enhance operations and business performance. The purpose of digital transformation is to assist oil and gas companies in becoming more efficient, competitive, and flexible in a rapidly changing market. For example, using data analytics to optimize production, drones, and robots for maintenance, or virtual reality for training and simulations.
What are the energy sector's most common digital transformation trends?
The most common trends in the energy sector are automation and energy decentralization processes by implementing innovative technologies. For example, blockchain with the IoT platform can help track the history of devices and enhance security. Using AI, VR, and PRA tools is widespread in the energy sector. AI helps to monitor power grids in real time. VR enables the exploration of oil fields. RPA automates routine tasks such as customer inquiries or billing processes.