Robotic Process Automation: What It Is and Why You Need It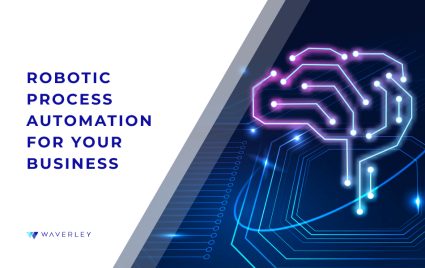 What is Robotic Process Automation (RPA)?
Robotic Process Automation or just RPA uses intelligence automation technologies to execute monotonous office/work tasks instead of humans. Tasks like extracting data, filling in forms, moving files, etc. What once required human action and supervision now can be done faster and easier. RPA unites the user interface and APIs to carry out and integrate repetitive tasks between business and efficiency applications. RPA's instruments complete autonomous implementation of various activities and transactions across not related software systems.
RPA uses in-rule software to execute business/work processes at a high volume. This allows to free human resources and to prioritize more complex tasks. Robotic automation allows CIOs to speed up their digital transformation efforts. In the end, it allows to generate higher ROI from their employees.
Yet, RPA needs high-quality and strong data governance boards to function successfully. In case the right guardrails (e.g. governance boards, documented guidelines, a center of excellence) are not in place, it might be challenging to meet business expectations.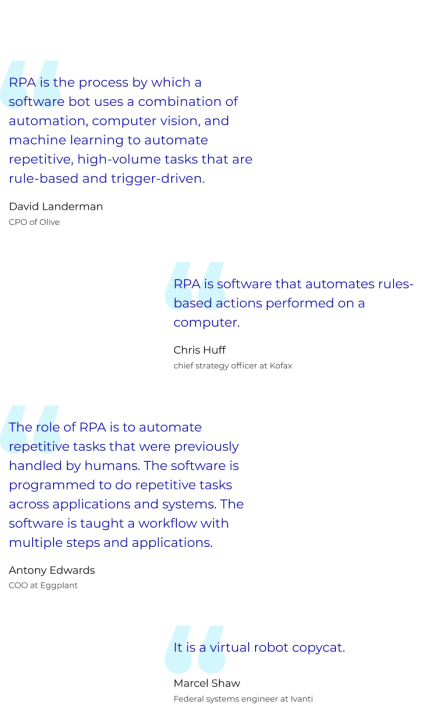 How does RPA Work?
RPA is suitable for businesses of all sizes because RPA is flexible and adaptable enough. We are talking about startups, companies, or enterprise organizations. RPA is a wide field with a great variety of technologies. Regardless, most of the RPA products include RPA developer tools, a controller, and the robot itself (bots). There are two common types of bots available nowadays: programmable and intelligent ones.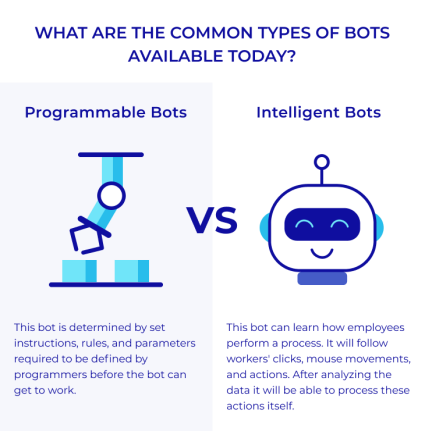 RPA has a very interesting feature, unlike other forms of automation, it has the intelligence to decide if the process has reasons to occur. It doesn't require system integration on the contrary to other forms of automation. Thus, RPA can analyze the given data and make decisions based on the parameters and instructions set by developers.
Common Features of RPA Software: Details and Characteristics
There are several important features to characterize RPA software in detail:
Security
If the company or a business runs on automation a large number of users will need access to the RPA products. It is important to obtain strong user access management. It means that RPA tools and instruments contain role-based access capabilities to make sure action of certain permissions. Moreover, numerous RPA tools allow the configuration, and customization of encryption capabilities to secure data to prevent the interruption of network communication.
Rich-analytical suite
By default, RPA software includes a rich-analytical suite. The suite detects the performance of the robot workforce. Most of the RPA controls and manages automated functions from the main console. This console offers basic info and metrics on robots and workflows. Users are able to track the operations, and discover issues, but also support streamlining future workloads. RPA doesn't need any integration because everything is inbuilt and set.
User-friendly bot creation interface
With the help of built-in recorder components, RPA instruments let create engineers bots quickly by capturing mouse clicks, and keystrokes.
Script Less Automation
Actually, employees with junior software skills can easily create bots. It is possible because modern RPA tools are completely code-free. Thus they can automate any application in any department.
Hosting and Deployment Option
Terminal and cloud services and virtual machines are the deployment options that customers can use with the help of an RPA system. Cloud deployment draws the most customers because it is very flexible and expandable. Apart from this, the RPA system is capable of automatically deploying robots in groups of hundreds. This allows businesses to install RPA tools and instruments on desktops and deploy them on servers to reach data to complete monotonous tasks. In the same way, running multiple bots to work within a single process processing a huge amount of data is possible.
Integration
RPA tools can ensure unique flexibility in assessing the digital workforce performance with the help of stable and steady integration. It works because the main enterprise RPA integration is uniting with the different 3rd party applications. Examples are Microsoft Excel and Access, Internet Explorer, and Citrix. For Microsoft applications, RPA tools can operate opening/closing and input/extraction of Excel data. RPA tools are easily merged with Internet Explorer because it works on the Microsoft framework. And Citrix PRA tools have created many takes on automating over Remote Desktop Protocols and Citrix servers, their client application.
Source Control
The source control method allows secure storage of each version of the process. There is no risk that any of the data will be deleted. Also, the customers may control and check the difference between versions and they can follow the changes. The control room component in RPA products enables scheduling bots, supervising bot activities, and managing uses and their roles.
Debugging
One more benefit of implementing RPA tools in your system is the ability to go through a process and adjust it dynamically. Including detecting and removing existing and potential errors. Some RPA tools need to stop running to adjust the changes, meanwhile, others can interact dynamically during debugging.
Optical Character Recognition
The global Optical Character Recognition (OCR) market size was valued at USD 8.93 billion in 2021, so it's a very new and actual trend. It's becoming more common that some RPA vendors started to enlarge the ability of the RPA portfolio by adding advanced OCR. For example, data extractions from images and documents. Screen scrapping is the most ordinary feature of the RPA. It captures bitmap data and cross-checks it against the stored details to decipher it. This is possible by merging with OCR engines such as Google and Microsoft. Another great feature in addition to text recognition is that RPA tools make it possible to structure data while reading structured documents. For example, invoices, tax forms, etc.
Exception Handling Rule
This is the rule that tells the way how to decide the appropriate methods of action to prevent the predicted exception or resolve the detected exception. RPA system supports deployments based on this rule.
Robotic Process Automation: Business Benefits
Business enterprises are using RPA tools to make things and processes faster, easier, and more reliable. The main benefit for business is in the RPA principle: let employees focus on the things they are good at, and let robots do what they are supposed to do. When human employees have to spend their time on repetitive tasks, such as copying and pasting information between business systems, they have much less time to concentrate on work that actually uses their skills. Manual tasks consume a great amount of time and energy. Saving time is a major advantage of RPA systems.
Here are some important RPA business benefits: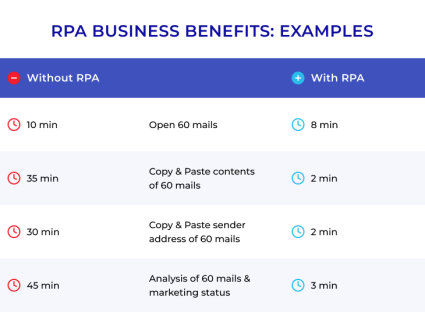 Increasing productivity and efficiency.
The majority of RPA tools (robots) are completely concentrated on specific tasks, and more importantly, they never need a break. They can work 24/7. Overall, a single RPA robot can do the same work faster than 2 full-time employees. For instance, with the help of an RPA bot, a worker can complete a monthly report in 20 minutes, which manually would take 4 hours. Only in a few seconds and clicks a robot can calculate and navigate through the screen. With the help of RPA tools the workers can finish more work faster.
Enhancing accuracy
With the right amount of training, testing and governance RPA tools and instruments allow for eliminating manufacturing errors. When the business processes are correctly optimized, robots will be working perfectly making fewer errors than humans.
Strengthening security
RPA tools keep all the data and information are well controlled and documented. Information leakage is impossible because the bots perform only single tasks. One of RPA's strengths is that it functions on a granular level.
Boosting scalability opportunities
The robotic workforce is 100% adjustable to time- and task-specific requirements. It allows businesses of any size to manage changing market conditions and demands. Robotic process automation provides flexibility to adapt faster to the demands of business processes.
Improving the analytics
RPA technologies and tools can gather information and data about task execution for analytical purposes. Information like work volume patterns, cycle times, errors analysis, etc. Data gained from such analysis can be used in several ways, for example supporting process development initiatives, and better decision-making on micro and macro levels.
Enhancing customer service
Meeting customer needs and demands has always been a challenging task for companies. Thanks to the RPA technologies, repetitive and monotonous tasks can be completed by robots so employees can dedicate more time to their customers. Additionally, businesses can better learn and understand customer needs with the help of automatically generated reports (results from analytics).
Ensuring seamless workflow
Due to the financial issues, business downtime, and complexity related to the challenge of IT infrastructures some companies can not be certain whether it makes sense to replace legacy systems. However, the RPA system can be applied to prolong the lifetime of legacy systems and automate daily organizational tasks. Therefore, implementing RPA technology does not complicate the business processes or interrupt them because the robots communicate with systems at the presentation layer as regular employees do. They can also use their own user IDs and passwords.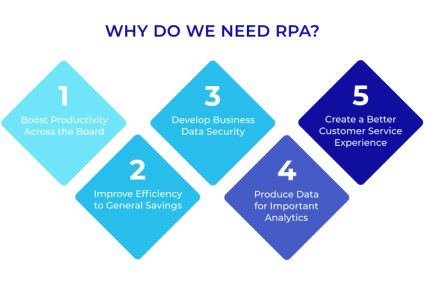 Where Can RPA Be Used? The Applications of RPA
PRA technologies are developing rapidly, immensely improving business processes around the world. Currently, RPA can be used in any field from finance to healthcare.
In general, we can emphasize the most common processes that can be automated with RPA:
Report collection
In the benefits section, we described the advantages of using PRA tools for gathering data. Since these processes are time-consuming using RPA tools that can automatically aggregate the data is very beneficial for businesses.
Vendor, customer/employee onboarding, and maintenance
HR, sales, and accounting are usually full of routine paperwork. That is why RPA technology is the best solution because it can create a completely automated onboarding process, including automatic status communications. Moreover, RPA tools and instruments can ensure that certain data (signing and resigning contracts, yearly events, meetings, employees data) is accurately updated in real-time.
Payroll processing
Here we need to emphasize RPA's ability to collect and connect data between multiple systems, such as time-tracking, HR, accounts payable, and general ledger, accounting reports for taxes. This feature makes RPA irreplaceable for business enterprises.
Competitive pricing and monitoring
Both customers and business owners always compare the prices whether to find a better deal or to keep up with the competition. RPA systems can check and warn or even proactively reprice your goods according to your specs in real-time. Thus, no need to use human-made reports that take weeks to complete.
CRM updates
CRM systems contain the most significant information for your company to make strategic and future plan decisions. With the help of RPA tools the intel on your prospects and posts will be updated automatically.
Order processing, shipment scheduling, and tracking
RPA can automate ordering processes such as address verification, data entry, printing invoices, shipping labeling, and reordering. It can also improve your shipment scheduling and tracking. For example, it can extract shipment requests from incoming messages, and log jobs in the scheduling system, so the pick-up time could be accessible.
User configuration
User configuration processes (logging into the computer, email, network) during employee onboarding can be easily automated with RPA technologies.

Here are a few examples of using RPA in different industries.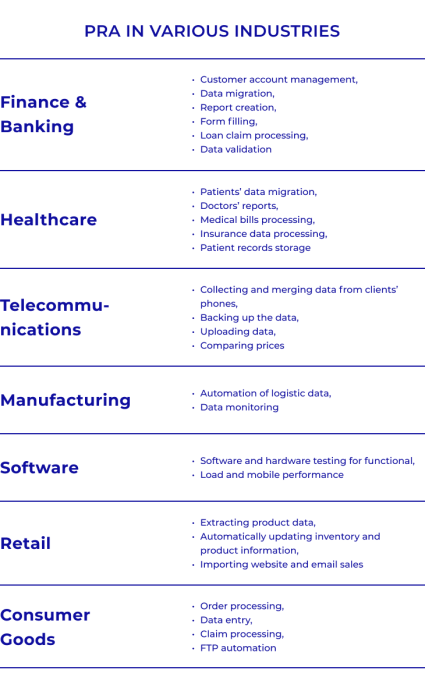 RPA Tools
RPA tools help organizations implement RPA technologies in the easiest possible way. There are countless different tools available. They all have their own features and characteristics. Let's look at the list of the most common RPA tools available nowadays.
Kofax
Kofax is one of the most common RPA tools. It helps you to deliver information from any application or data source without coding. Its key features are built-in analytics and process intelligence, which also allow to deploy, manage and execute robots from a centralized server.
Power Automate
Power Automate is a tool for improving an organization's productivity. It provides a secure workflow without coding. This tool also offers AI models for object detection, processing, and text recognition. Azure, Microsoft 365, and Dynamic 365 can be also integrated with Power Automate.
Automate
Automate created by HelpSystems represent a comprehensive RPA purposed to automate monotonous tasks. It has no-code automation for GUI, and back-end processes, allowing to see ROI. An online marketplace, the Automate Bot Store is also available.
Creator
By the name it's easy to understand that Creator helps you to create something, specifically, it helps you to build software from scratch, with zero coding required. It is also integrated with QuickBooks, PayPal, and Zapier. The supported devices are iOS and Android.
Agency
Agenty is the type of RPA tool that works with structured data. It's the usual software for data scrapping, OCR, and text extraction. Integration with Dropbox and FTP, automatic email updates, observation of log activities.
UiPath
If you are in need of an extensible RPA tool – UiParth can help you. It's the tool to automate any web or desktop application. Scrapping solutions that work with .Net, Java, Flash, PDF, and SAP. It also can be hosted in cloud environments.
Blue Prism
Blue Prism is designed to automate office processes. It can be easily implemented within a few weeks, without programming skills. Moreover, it has improved Control Room and real-time feedback.
Pega
Pega systems automation is an RPA open source tool that can get all details of how the work gets done. It supports all usage scenarios, its architecture is based on a predictive analytics decision management mechanism and business rule management system.
Automation Anywhere
Automation Anywhere is the combination of traditional RPA tools with the elements of like language understanding, and work with unstructured data. It uses SMART Automation Technology which makes this tool one of the best. It can be distributed easily to multiple computers. It fastly automates complicated tasks.
WorkFusion
WorkFusion is the RPA software designed to automate the processes of monitoring data feed. It also can manage crowd-sourced workers from global talent markets.
Our engineers at Waverley have vast experience helping companies select and configure the RPA tools to solve their business challenges. We can also integrate these systems with your enterprise software, build additional functionality on top of existing solutions and provide technical consultation on how to automate various processes inside your organization.

If you're looking for something more complicated, you can always turn to software engineering vendors like Waverley to create a custom-built RPA solution from scratch that would cater to your organization's needs and you won't be overpaying for the features you don't use. Here's an example of how Waverley helped one of our customers tackle an RPA-related challenge.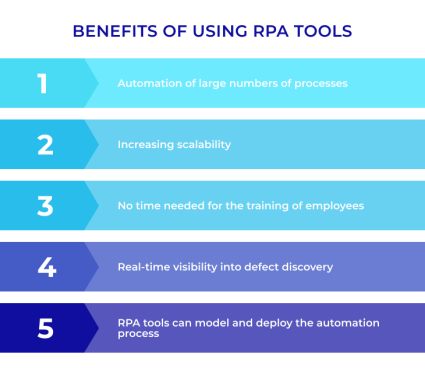 Factors to Consider When Choosing the RPA Software
Before selecting the RPA tool you have to think about these aspects:
License cost if applicable
Platform support: Web, Desktop, Citrix, SAP
Hardware and software requirements of the automation tool
Support and update the policy of the automation tool vendor
RPA technology can only work effectively if it is chosen and implemented correctly. However, there are a few things you can do to ensure RPA tools will be successful and will benefit your enterprise.
Tips for successful RPA Adoption
Before starting the process of RPA implementation it's reasonable to understand completely which process exactly will be automated. It makes sense to check the time and cost savings that RPA will bring you, so calculating ROI is necessary.
It is also recommended to start the RPA process by prioritizing the risk involved in the implementation.
When you start considering long-term solutions. The tool should be flexible to adapt and grow to future changes.
If you want increased productivity and better results from your team, you will help your team by adopting automation. People who are involved in manual work may be worried about losing their jobs, it's your task to help them understand that with the help of RPA tools their work will only become more efficient, the organization will grow faster and they will only benefit from it.
One of the common obstacles to a successful RPA transition is a lack of documentation for the existing process. Business leaders should make sure critical processes are well-documented, they should write down the expectations from automation and make it part of the work process. The step-by-step documentation process implemented with the help of RPA will look like this:
Starting the documenting of the standard processes.
Providing templates to establish universal standards for documentation.
Sharing the templates to document workflows.
Establishing a process review for employees to evaluate the process before automation
Frequently Asked Questions
RPA vs AI: What's the difference?
Both PRA and AI are extremely popular technologies that are used more and more often. Both of them increase companies' efficiency and productivity. However, these are two different technologies. PRA is designed to do what it is told to do, meanwhile, AI can teach itself. When RPA deals with structured data, AI gathers insights from semi-structured or unstructured data. 
How do RPA and AI work together?
The most efficient way to automate your business process is to combine the usage of these two technologies: RPA and AI. Merging these two technologies opens up many new possibilities. With the help of PRA technology, we can insert AI skills in the form of machine learning models, NLP, or even image recognition. Together RPA and AI can understand the documents (semi-structured and unstructured data), visualize screens, understand speech, and continue the communication of the chats and conversations. 
How is PRA growing globally?
PRA technologies are developing and growing increasingly fast. According to a Gartner report, in 2018 RPA revenue grew 63.1 % reaching $846 million. Since that time RPA market kept growing. Gartner experts are expecting the RPA software market to grow, but its structure might change. Most probably huge companies, like IBM, Microsoft, and SAP might be partnering with RPA providers. 
Looking at the question geographically North America still dominates the RPA software market (51%), right after America Western Europe goes (23%), and Japan takes third place, but it is expected to grow rapidly in Asia.
How do I start adopting RPA in my company?
You can start by identifying areas that need automation: cumbersome, time-consuming, heavily manual, repetitive and tedious tasks. Make a list of such areas and prepare everything for the transition: plan your resources, consider the risks, create a back-up plan, make sure your team knows what's going on and what's expected of them. To make a transition smoother, you can turn to a consultant like Waverley to help you identify areas for automation, manage the risks and estimate the cost of automation.
How can Waverley help my organization automate some of the processes?
Our engineers have vast experience helping organizations of various sizes, across industries, automate internal processes. We can help you plan your PRA journey, estimate the costs, select the best soltion that fits your need, configure an existing tool or build a custom automation software from scratch per your specifications.
Conclusion
RPA is one of the fastest-growing enterprises nowadays. This is the technology that allows businesses to boost human employee productivity and relieve them of repetitive tasks. RPA is and can be used or applied in many fields such as software, finance, healthcare, communication, etc. In addition to boosting your productivity, RPA gives you the opportunity to secure your data collection, create better customer service, and analyze loads of data in seconds.
There is a variety of tools companies can rely on when adopting RPA technologies. Tools for web or desktop applications, tools that work on different platforms, and so many programs can be easily integrated with RPA technology. A great example of using RPA and its tools and instruments is a product Waverley helped build for one of our customers in robotic process automation. Waverley engineers helped the leader in robotic process automation to fully move a .NET-based product into Java while expanding functionality.
RPA can be often confused with AI, however, these are two different technologies. It is worth mentioning that a combination of AI and RPA can immensely enhance business enterprise systems. While RPA works only with structured data, AI provides support in working with unstructured data.
A lot of business owners are worried about RPA tools replacing human employees. This statement about RPA is a myth, because the implementation of RPA requires employees who can manage the system, and also have the skills to control a workflow both for people and machines.
Taking into account all the factors, RPA is one of the fastest-growing and most promising tools for modern enterprises and will be even more in demand in the future. It's revolutionizing the way business is handled, freeing human employees to focus on interesting and creative tasks, and leaving repetitive tasks to the robots. So if your business has not yet adopted it, it's time to investigate and Waverley would love to be by your side to make this process easier.
Need Automation Advice? Let's Talk