Top eLearning Software Trends to Watch Out For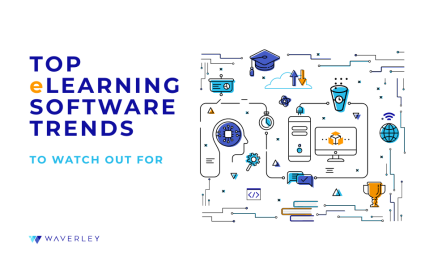 Introduction
Modern education has gone a long way from what it used to be, even from what it was at the beginning of the 21st century. Custom eLearning software development is now a thing, allowing educational institutions and private educators to apply innovative techniques and thus improve the efficiency of studies.
eLearning has gained much more functionality in recent years, supported by new technological advances. The pandemic has significantly streamlined the development of various online training tools. Many software companies now even have their own eLearning platforms that allow creating custom solutions for many social sectors like commerce and non-profits. This way, learning experiences can be more simple and focused. Nowadays we don't just use textbooks, we learn with audio lessons, instructional videos, infographics, and many visual and interactive means.  
Basically, any subject can be taught using modern tools and techniques, starting with the theoretical lectures (presented in a creative and interactive way) and ending with practical things (taught by means of modeling, simulations, and other innovative methods). If an educational institution cannot build such a learning platform on its own, it can always reach out to experienced technology advisors, such as Waverley, for help. Waverley provides a full cycle of eLearning software development services, based on the materials, structure, and ideas provided by the customer:
Software Architecture
Engaging, modern interface design and information structure
Well-thought-out user experience
The development of a smart back-end and flexible, scalable front-end of an eLearning solution
eLearning IoT
Support and maintenance of existing software
QA (Quality assurance) and testing
eLearning software is obviously an accessible and efficient approach to modern education that is going to change the way people teach and learn. It is definitely a trend, but what are the trends inside eLearning itself? We did some research and also compared our findings to the requests we often receive from our clients in Education. Here are the trends that emerged from our research.
The Evolution of Metaverse in eLearning
Modern cyberspace allows us to interact through avatars in a reality strictly designed with advanced technology. This virtual environment has a certain similarity to real-life or the physical world. However, having significantly fewer limitations, it fosters imagination and opens up totally new ways of thinking. The metaverse is becoming a necessity and one of the main sources of investment in software development. Using avatars, Sansar is working on developing 3D spaces where people can share and talk in real-time. Surgeons learn how to operate by practicing on virtual organs. Language skills are taught with the help of chatbots and virtual assistants.
The Use of IoT in Education

As more commercial and enterprise-grade IoT products are rolled out on the market, the trend becomes obvious and penetrates newer and newer domains. IoT helps to solve various dilemmas with the help of smart hardware devices. It includes the best of both worlds – physical and virtual. Some e-learning solutions have already benefited from the use of IoT hardware. For example, there are smart speaker screens based on linguistic and cultural analysis. Big tech companies have been pushing the use of these smart displays to encourage instant response interactions. A company called Senstone even created a necklace that will listen to the person's speech and take notes which can be used later. Waverley has worked on a device that evaluates the person's pronunciation of a foreign language and gives advice on how to improve it. Also, for one of our customers, we created a smart skiing gear that analyzes the person's behavior and helps to improve their skiing technique.
Microlearning Techniques
The idea behind microlearning is that you don't need a lot of time to learn. It is not about investing continuous hours in education but, rather, about the brief, but highly memorable, utterly practical, and efficient learning experiences. Microlearning is characterized by being a fast but highly-focused way to study. The modules can be completed in less than 10 minutes, providing you with just the necessary amount of information. The formats can be different:
Videos
Tips
Tools
Concepts
Tutorials
The information is available to any user and can be accessed as many times as necessary. This trend is very advantageous for students with full-time jobs or corporate trainees since they do not have much extra time, but need to learn their job basics as fast as possible. Such quick e-learning solutions not only give answers to the students' practical questions but also provide a library of information that can be consulted at any time, which motivates the user, even more, to continue studying with this method.
The Rise of Gamification
This eLearning trend can be considered the most widely applied today. "Learn by playing" is its motto. Its main function is to make the online learning process fun. This method really helps to motivate students through a collaborative and engaging process. By incorporating mechanical and design elements (such as rewards, collecting points, looking for "easter eggs", having various rankings, competitions, deadlines, etc.), gamified eLearning tools can produce meaningful and long-term results. In the following list you can find a few reasons why Gamification is good for online learning:
The learning process is more focused and faster
There's competition between users
The users face daily challenges (dynamic learning)
The method allows self-assessment
Users have multiple learning attempts
Awards and recognition create an additional motivation
Waverley worked on a number of products for the Yale Center for Emotional Intelligence and observed how the use of gamification in the clients' applications has significantly improved user involvement and results, regardless of their age group (kids, teenagers, adults).
M-Learning (Mobile Learning)
For mobile learning, the only requirements are the desire to learn and a smartphone. There are countless educational applications out there that you can download to your mobile phone. This mobile learning method does not require supervision or monitoring by a third person. You can basically study on the go: during your commute, in your dentist's waiting lounge, in the park, during any spare time. This process is usually more autonomous and focused on personal needs. The users have total online learning freedom as to what, how, and when they study.
Here are a couple topics you can learn just by downloading an application:
Programming languages
Software testing
Coding
Foreign Languages
Design
Architecture
There are plenty of certified learning platforms that you can download to your phone that don't have time, schedule, accessibility, and even language limits. Everyone is a mobile user, so everyone can learn.
Virtual Conferences

Face-to-face activities and meetings could be a thing of the past. The pandemic has changed the way people communicate. We've become used to relying on platforms such as Teams, Google Meet, Zoom, and many similar kinds of software for virtual meetings.
This method of communication, like many others on this list, breaks down geographical distance, time zone differences, and language barriers. It facilitates direct and real-time communication with no time limit. Online lessons have become one of the most efficient and fast ways to conduct both group and individual online learning sessions.

For example, one of Waverley's customers, Sococo, has created a tool that blends virtual and physical meeting spaces and is being used by both corporate workers and students. These are basically virtual classrooms that can look similar to the actual classroom but serve as online meeting rooms.
Video-Based Learning
Maximum retention rates, high user engagement, innovation, and the ability to re-watch the video materials multiple times are just a few of the benefits of this eLearning trend. The creation of instructional video content for elearning is an innovative and fun way to make learning in any industry much more efficient. Everything is on the internet these days, so video-based learning is also highly accessible and in many cases, free. When interacting with audio-visual learning materials, our brain responds quickly to images. In fact, images are perceived better than text or any other format of information. It has been scientifically proven that things learned in a visual way (by looking at them) stay in the person's memory for much longer.
One of our eLearning software development teams has been privileged to help create an 'Edutainment' platform for kids in hospitals called Playwell. The software integrates with various providers of educational and entertaining videos and gaming content for kids of various age groups.
Big Data in Elearning
Big data allows us to collect, retain, store and analyze information from various sources in order to use it to our advantage, monitor changes, spot patterns, and make forecasts quickly and accurately.

The applications of Big Data in eLearning could be versatile, but the most popular one is the analysis of behaviors and habits of users/students in order to create a better and more focused online learning experience.
In simple terms, the Big Data methods help us work with the following:
Volume: We can collect a lot of useful data
Variability: We will have this data analyzed, patterns detected
Speed: We will have insights extracted from this data very quickly
A program can analyze the way people interact with the course or lesson, predict areas where the students might struggle, detect topics that are the most popular, and help identify the most efficient components and methods.
Basically, this eLearning trend is all about adapting the forms of training to the needs of students, which Big data enables.
Self-Directed Learning
The learning educational experience depends on the learner. Sounds like a play on words, doesn't it? What it means in a single word: autonomy.
This eLearning trend was created for learning to be accelerated. How, what, where and when is the student's decision. This method of pairing is much more accessible, profitable, and flexible. Without time restrictions or schedules to follow, it is the student who has absolute control of what she learns.
As in Big Data, this form of learning allows data analytics to be collected from the user's needs. Also, it makes the students set goals to meet on their own time, and recognize what learning materials are necessary and what strategies will be applied to meet their online courses. A teacher is only required in some cases, to check user-generated content and to fix mistakes. But even today there are software tools that can do this on their own with a certain amount of precision.
Immersive Learning (VR/AR/MR)

Big companies are all investing in researching Virtual Reality. Facebook is researching virtual reality glasses. Microsoft is working with another type of glasses called HoloLens 2 and their Microsoft Mesh, a mixed reality software that has AltspaceVR elements. Another VR platform, from Epic Games who's behind popular video games such as Fortnite, are exploring the use of virtual reality in gaming.
To provide a greater experience to users, the immersive learning includes:
Augmented Reality (AR) Learning
A technology that superimposes digital elements to our reality, for example, different games on a smartphone that require our real environment to work.
Virtual Reality (VR) Learning
It is the technology that requires other elements, such as glasses, to simulate an alternate reality. This ultra real reality makes the user feel totally immersed in it.
Mixed Reality (MR) Learning
In short, this reality is the union of the two previous ones. It allows us to interact naturally and intuitively with our physical and virtual reality at the same time.
This methodology is one of the most stimulating for the student. You learn through your actions or non-direct contact. Through the use of VR, you can learn to drive, shoot, and sew. You can attend a virtual gym, travel the world, and do many other exciting and educational things while sitting on the couch at home.
Summary
Autonomy, accessibility, innovation, transformation, and adaptive learning. These are the words that can describe the modern e-learning industry. The pandemic caused many changes, and some of them have come to stay, putting traditional learning at risk of being a thing of the past. These alternatives play a fundamental role in the development of online learning, not only for school students but also for the training of personnel in different companies and industries. The opportunities are endless, it has never been so easy to access education and better yet, it has never been this fast and efficient. The accessibility, versatility, and variety of material, methods, and opportunities of these eLearning trends, no matter which one you choose, guarantee good results for their consumers. The important thing is to learn in a unique way and at our own pace. We all learn in different way, and these trends offer us exactly the right opportunity.