8 Steps to Build an e-Learning Platform: Costs, Features and Tips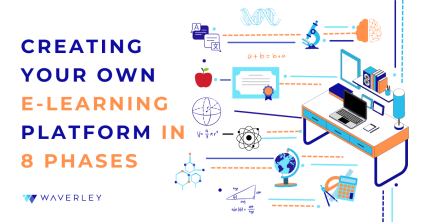 Contents
The boundaries of traditional classrooms and printed textbooks no longer apply to education in today's quickly evolving digital environment. The educational system is quickly changing, adopting many modern technologies to deliver knowledge in the most efficient manner possible.
The emergence of eLearning platforms has fundamentally changed the way we acquire knowledge and skills by providing people all over the world with a flexible and accessible learning environment. Yes, the teaching-learning approach is excellent, however, the eLearning systems offer a wide range of opportunities for self-managed learning. They include interactive exchanges, and customized educational experiences.
In this article, we will delve into the world of eLearning platform development by introducing an overview of its market, talking about the types of eLearning platforms, and their must-have features. Moreover, we will introduce the popular tech stacks for the task and our experience with this kind of software. So if you undertake to build an innovative learning experience for your students or clients, Waverley's here to share our experience and knowledge from multiple eLearning projects that we helped our clients with.
eLearning Market Overview
The COVID-19 pandemic served as a huge event leading to eLearning market rise. According to GMI, the eLearning industry market size stands at $399.3 bn from 2022 and is expected to grow at a 14% CAGR during the next 10 years or so. There are several factors that have contributed to its growth.
Digital transformation: The demand for eLearning solutions has increased as businesses and educational institutions embrace digital change. Many companies saw the advantages of distance training and education as a result of the epidemic, which hastened this change.
Skill development: The need for eLearning platforms that offer training and classes in a variety of fields is rising as a result of the necessity for continual upskilling and reskilling in the quickly changing work market.
Technological innovation: eLearning systems are becoming effective and dynamic thanks to developments in technology like augmented reality (AR), virtual reality (VR), and artificial intelligence (AI).
Global Accessibility: By removing regional restrictions, eLearning makes education and training available to both individuals and businesses everywhere. Market expansion is supported by accessibility, particularly in emerging nations that want to improve their educational system.
Personalized learning: Algorithms for personalized education adapt content to each student, increasing interest and memory retention. The growth of eLearning is mostly due to customization.
There are many platforms and applications that are built to function as learning systems in the case of many who are looking to gain additional knowledge. The eLearning sector has become rich in different approaches and trends and we can highlight some of the ones that stand out the most.
Microlearning: Many look for shorter and more dynamic courses so eLearning has an excellent solution for this which is the microlearning method. In general, microlearning is so accessible and popular because it can be delivered via mobile devices. On the development side, its content tends to be smaller in size and length so apps are easier to build. Moreover, users become more engaged without feeling overwhelmed.
Gamification: Nothing better than playing games while learning, regardless of our age. Using games as a learning strategy is excellent and the eLearning industry knows this very well. The gamification market has grown tremendously and it is because it has proven to form excellent learning habits in learners of all ages. And who doesn't love feedback? With gamification, users can instantly receive feedback through leaderboards or points systems which boosts their need to keep improving.
AI and Data Analytics: Both virtual and augmented reality allow users to interact with a virtual learning environment which replicates reality. Same as the microlearning trend, virtual reality offers short concise classes with an additional excitement of augmenting the reality of your content. Virtual & augmented reality proved more engagement as users are more eager to engage in a learning course. Needless to say that it is also excellent for SEND learning (Special Educational Needs and Disabilities) and to develop social skills and collaboration for team members.
M-Learning: is on the rise as a result of more people using cellphones. In order to enable learners to access courses and resources while on the go, eLearning content is now created with mobile devices in mind.
Training for remote work: Another effect of the pandemic, the need for eLearning solutions that respond to the particular training requirements of remote workers, such as time management and virtual team building, emerged.
In addition, we can list the social contexts when e-learning is being adopted: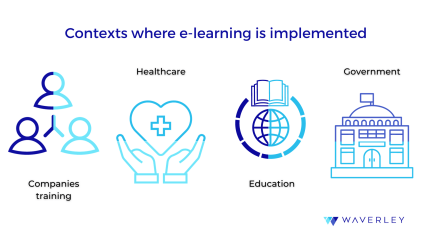 Corporate training: As we mentioned, organizations use eLearning for compliance training, onboarding new employees, and continuous employee development. It saves money and enables workers to study at their own speed.
Healthcare: To stay current on certifications and medical advances, healthcare practitioners use eLearning. This pattern has become increasingly prevalent, particularly in light of the pandemic's requirement for distant instructions.
Education: Learning has been included into the curricula of educational institutions, including K–12 schools and universities. Learning management systems (LMS) and Massive Open Online Courses (MOOCs) have grown in popularity over the recent years.
Government institutions are massively adopting modern ways to teach personnel in the public sector and raise worker skill levels.
The Types of e-Learning Platforms
You must know that there is a whole world of eLearning platforms such as Coursera or Udemy. We can't forget about the wonderful Canvas and the number one choice for many institutes, Moodle. It is obvious that our approach to learning is changing drastically. We can even foresee that the worldwide eLearning market is to soar to previously unheard-of heights in the years to come.
Let's take a look at the types of eLearning platforms available in the market:
MOOCs
Massive Open Online Courses offer students access to global learning environments with course materials like lectures, readings, and assignments as well as interactive learning activities. MOOCs incorporate features like user forums or social media dialogues to promote interactions between students, professors, and teaching assistants. There are two primary types of this eLearning platform:
cMOOCs: Connectivist MOOCs
xMOOCs: Extended MOOCs
Course Marketplace
Course Marketplace is a website where users and companies may create, sell,and buy courses on a variety of topics. These platforms offer both a marketplace for learners to find and enroll in resources for course designers to design and advertise their courses. Some of the renowned are:
Udemy
This platform offers a user-friendly interface, robust course creation tools and therefore has been able to accumulate a large client base of learners.
Teachable
This comprehensive platform provides advanced marketing features and a great deal of customizable course pages with integrated patent options.
Mighty Networks
Although Mighty Networks focus on building paid communities, their platform offers tools for designing and promoting online courses. It gives users a place to interact with their audience and distribute insightful knowledge.
Virtual Learning Environments
A VLE is a web-based platform that helps institutions with the online features of their curricula. It acts as a platform for planning and delivering materials, exercises, and interactions inside a defined framework for a course. VLEs frequently connect with other institutional systems and are made to assist multiple assessment stages. The following examples offer a collaborative digital space for students and teachers:
Blackboard offers a series of learning tools for users whether it is through the web, or through an application. Whichever is the case, end-users need to sign up to take advantage of its magnificent features.
Moodle is yet another excellent learning management system and it is completely free. However, most institutions and Universities make use of this app due to its administrative features.
Learning Management Systems
Or LMS for short are portals through which users receive information either through the web or through a mobile application. LMS can be open-source or may have a payment requirement. Here are some more examples:
Canvas: which requires payments for users to leverage its full content without limitations, but is in fact a great learning platform because it contains feature-heavy content.
Adobe Captivate Prime: Delivering individualized learning experiences that are supported by AI-based suggestions is what a learning experience platform (LXP) does.
Computer-Managed/Assisted Learning Platforms
The learning contents on these platforms are personalized for each user based on computer algorithms. So, depending on a learner's performance and progress, they modify the information presented. As good examples we can mention:
Duolingo: a language learning platform
Coursera: a platform that offers a wide range of courses and educational programs in many fields.
Udemy: is an online learning platform that offers a wide range of courses on various subjects. It provides a marketplace where instructors from around the world can create and sell their own courses to students.
Online Group Learning
Collaborative learning experiences are facilitated via online group learning systems.
They have tools for team work, group conversations, and shared resources.
Group learning is supported by programs like Microsoft Teams and Google Workspace.
Discussion Boards
Platforms for discussion boards offer a setting for asynchronous online conversations.
In educational environments, they are frequently utilized to facilitate class discussions and Q&A sessions.
Reddit: is a network of communities where individuals may explore their passions, hobbies, and interests.
Podcast Platforms
Platforms for podcasts provide audio-based courses. They are particularly well-liked for providing educational content, conducting interviews, and narrating stories. The most famous are:
Apple Podcasts
Spotify
Podbean
Webinar Platforms
Interactive presentations and seminars can be held live or after being recorded on webinar services. They are frequently used for online training, conferences, and workshops.
AI-Driven Tutoring Platforms
These platforms leverage AI to give students individualized instruction and support.
They assess student performance and offer advice and feedback. AI-driven teaching solutions are provided by organizations like Knewton and DreamBox.
Video-Based e-Learning Platforms
Educational video course is hosted by platforms for video-based learning. They might provide tools for tests, puzzles, and conversations pertaining to the streaming material.
Examples include TED-Ed and Khan Academy.
Must-have Features of the e-Learning Platform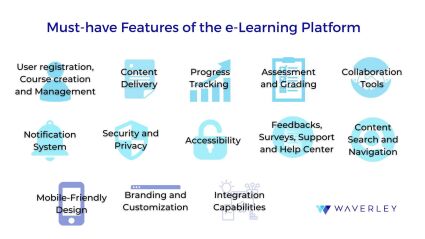 Whether you're looking to make an eLearning website for academic institutions, corporate settings, or for personal skill development, the success of your project hinges on its ability to provide a comprehensive and engaging environment. To meet the diverse needs of learners and instructors alike, these platforms must incorporate a range of essential features.
From user registration and course creation to content delivery, assessment, collaboration tools, and beyond, these elements collectively shape a dynamic and impactful learning ecosystem. Take a look of the following features list:
User registration, Course creation and Management: The account creation should be simple for users, whether they are teachers or students. Additionally, they must have individual profiles with information like name, email, and a changeable avatar.
And about changeable aspects, the course authoring, content upload and scheduling are important parts because the ability to develop and modify courses containing text, multimedia, quizzes, and assignments should be available to teachers. Various material formats, such as papers, videos, presentations, and more, should be supported by the platform. Course deadlines and schedules should be able to be specified to the students.
Content Delivery: This feature requires enabling multimedia support because the e-learning platform needs to allow the integration of multimedia components such as audio, video, and interactive simulations. Also, the platform must have a responsive design to be viewable on a variety of screens, including desktop computers, tablets, and smartphones. And, as many platforms offer, it must be downloadable to grant access in an offline way.
Progress Tracking: As in the Duolingo platform case, users should be able to register their own progress, including completed modules and grades and that is why teachers or instructors need to have access to analytics and reports on learner engagement and performance.
Assessment and Grading: An effective e-learning platform can allow students and teachers to create tests and quizzes with a variety of different kinds of questions. And for teachers to save time, automated grading is necessary to give students immediate feedback.
Collaboration tools: It is imperative that teachers and students interact and discuss many topics in real-time promoting group works and collaborations.
Notification System: Email and push notifications are necessary. The first one for course updates, deadlines and important announcements. The second type of notifications is for the mobile version because it, for example, can alert users to new content in real-time.
Security and Privacy: It is essential to ensure the security and privacy of user data, as well as compliance with data protection laws. So, it is necessary to have access control to manage who can create, edit and view the content. And if the platform offers paid courses or premium functions, it is more than important to guarantee a secure payment processing integration.
Accessibility: The app must observe accessibility guidelines to make sure people with disabilities can use the platform.
Feedbacks, Surveys, Support and Help Center: A help center with FAQs, tutorials, and customer service options is required. This will allow customers to get the help they need. In addition, tools for students to submit feedback on courses are a good idea to get in touch with users and consider their opinions.
Content search and Navigation: Refers to intuitive menus and navigation to make it easy for users to find what they need like courses, content and resources.
Mobile-Friendly Design: an e-learning platform must have a responsive design because the platform's functioning on mobiles is essential for learning on-the-go and user mobility.
Integration Capabilities: Refers to the capacity to interact with other programs and devices, including analytics platforms, single sign-on (SSO), and learning management systems (LMS).


School Climate Mobile App UI Design
8 Steps to Create an e-Learning System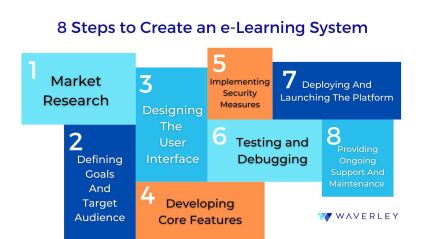 The big question is: how to build an online learning platform? Waverley's been working with many educational institutions (e.g. the Yale and Berkeley universities), non-profits (e.g. ZOTT) and private companies (e.g. Copilot) providing E-learning software development services. Over the years we've established a proven process for the development of such solutions, as well as a team of business analysts, designers, engineers and testers capable of delivering eLearning solutions from the ground up. Usually, companies looking to build an eLearning platform go through the following steps:
Market Research
Prior to any steps you take, before building an actual eLearning system, make sure you do proper research. Be sure to develop a concept that will benefit your end-users considering that it should be both effective and affordable. By doing this you will be able to understand your target audience better.
Defining Goals And Target Audience
An essential and crucial stage in building an elearning website is defining the goals and target audience. Clear and well-defined goals can be created from the get go. Therefore, you should start by having a comprehensive understanding of your target audience, including the information and abilities they now possess and those they would need to acquire.
Designing The User Interface
The platform's user interface, which students use to interact with its features and content, should be modern, interactive, reflect the peculiarities of your intended age group and the devices that they'll use your platform on. Understanding the preferences of the target audience is the first step in designing an interface that will meet their needs. Easy-to-use controls, a dependable navigation system, and a straightforward layout all enhance the user experience.


School Climate

Developing Core Features (MVP)
An essential stage in creating an eLearning system is applying an MVP. This comprises creating critical features that serve as the basis for the newly created software product. You must therefore review the entire list of features, prioritize it, see if you need additional work to be done on the content side, etc.
Implementing Security Measures
The security measures must have multiple layers of defense, like encrypted data transmission, secure user authentication and authorization procedures, and secure user data storage. In addition, regular security audits, vulnerability assessments, and the adoption of industry-standard security standards ought to be done.
Testing And Debugging
Both testing and debugging are essential in the creation of eLearning systems. The platform should undergo extensive testing after the core functionalities have been developed in order to find and fix any bugs or other issues. During this stage, your product needs to go through a series of tests, including functionality, usability, performance and cross-browser tests.
Deploying And Launching The Platform
This step comprises ensuring the platform's functional operation and making it accessible to users. It requires careful planning that takes into account elements like learning flexibility, device accessibility, and content selection. Whether it is an open-source platform with ready-made solutions or a custom system, a proper deployment ensures that users can access the platform and its content with ease.
Providing Ongoing Support And Maintenance (continue improving)
The last logical step in every e learning platform development is monitoring your user journey, collecting feedbacks and improving the platform over time.Usually our software development team doesn't stop on solution deployment, we keep providing support & maintenance services, helping our client roll-out additional features, optimize the use of resources, increase the software performance as your user base grows, etc.
Transforming your eLearning ideas into reality starts with a conversation
Tech Stack for the e-Learning Platform
To answer the big question: how to create an elearning platform and move forward in the process, it is essential to select the appropriate technology foundation in order to guarantee consumers a successful and seamless learning experience. Such a choice is made based on a number of factors, such as the specific requirements of the platform, the development team's experience, and the available financial resources.
We tried to summarize our experience here, offering technologies our eLearning customers found the most suitable for the development of this solution type. Below is a list of the tech stack needed to construct an e-learning platform, covering backend, frontend, and database components, in addition to recommended programming languages, frameworks, and tools for each:
Back-end
This is the server-side of the development of an app. It is created and managed by the software developers. Therefore, it is hidden from the end-users.
Programming Languages
Web Frameworks
Server-Side Frameworks

Express.js
Django REST
Ruby on Rails (Rails)

API Development
Database
Authentication and Authorization

Relational Database Management System (RDBMS)
NoSQL Database

OAuth 2.0
J-SON Web Tokens (JWT)

Content Delivery
Real-time Features
Server Hosting

Content Delivery Network (CDN)

Amazon Web Services (AWS)
Microsoft Azure
Google Cloud Platform (GCP)
Heroku
Front-end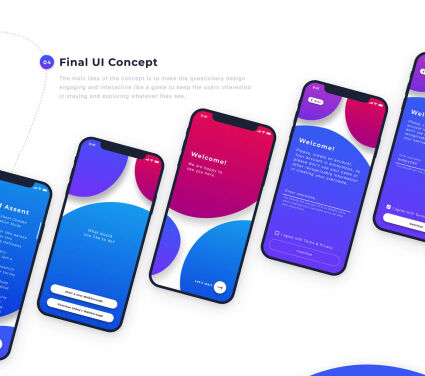 Check out our complete design case study.
An e-Learning platform's front end serves as the user's entry point to knowledge. It entails developing a user-friendly, visually appealing interface that captures learners' attention. Using adaptable site design offers easy access on all platforms, and adding interactive elements like quizzes, forums, and multimedia content improves the learning process overall. In order to offer material and track user interactions, an efficient front-end links with the database in an effortless manner. This results in a unified and interesting learning environment.
Programming Languages (Web)
Libraries and Frameworks (Web)
Mobile Apps Development

JavaScript
HTML/CSS
TypeScript

React
Angular
Vue.js
Redux (with React)
Vuex (with Vue.js)

Languages:

Cross-Platform:
Database
Any e-Learning platform must have a strong database as its foundation. It keeps extensive user information, progress logs, and educational materials in storage. The platform may deliver personalized content, monitor user progress, and offer insightful analytics to enhance the learning experience with the help of an effective database management system.
| Relational Database | NoSQL Database |
| --- | --- |
| | |
The Cost to Develop an Online Learning Platform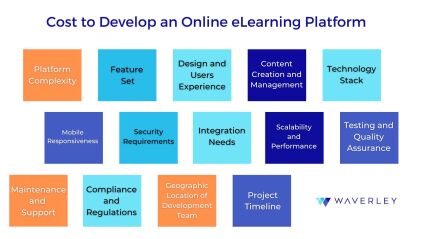 First of all, it is necessary to mention that each e-learning platform cost varies depending on many factors and elements. Here are a few for your consideration:
Platform complexity: Less money is spent on user registration, content delivery, and assessments. However, the price would be more if your planning includes sophisticated features like gamification, AI-driven individualized learning paths, or VR.
Feature Set:More features, more investment. The cost of development is increased by features like social networking capabilities, real-time collaboration tools, and sophisticated analytics dashboards.
Design and User Experience: A well-thought-through design is important to ensure user retention and engagement.
Content Creation and Management: A good quality of content including videos, interactive simulations , tests, real time-interactions, etc., will require more investment.
Technology Stack: Development costs may vary depending on the programming languages, frameworks, and tools chosen. Some platforms and technologies could need more time and knowledge to create.
Mobile Responsiveness: The platform's accessibility and usability on different platforms, such as smartphones and tablets, may result in higher development expenses.
Security Requirements: Protecting user data and content is a priority and compliance with data protection regulations may also be necessary. If your platform is accessible for kids, additional regulations apply. For example, when working on an edutainment platform for kids in hospitals (ZOTT), our engineers made sure the product passes HIPAA compliance.
Integration Needs: Complex connectivity and networking can have an influence on costs if your eLearning platform needs to interact with other platforms, such as learning management systems (LMS), third-party APIs, or analytics tools.
Scalability and Performance: An e-learning platform must handle a big number of users and a library content needs additional development, increasing costs.
Testing and Quality Assurance: Costs for development are increased by extensive testing to assure performance, usability, and privacy. For a seamless user experience, testing across many platforms and browsers must be an ongoing process.
Maintenance and Support: Beyond the initial creation, there are continuous costs for support and care to address problems, update content, and add new features.
Compliance and Regulations: Costs associated with compliance with industry-specific rules may be impacted if your platform handles sensitive data or targets particular businesses (such as healthcare or finance).
Geographic Location of your Development Team: The cost can vary depending on the location of the development team , whether it is in-house or outsourced, etc. So, considering different strategies like outsourcing to Latin America, can be a good option.
Project Timeline: Projects under tight deadlines may need more resources and can end up costing more.
Waverley's eLearning Experience: Project Examples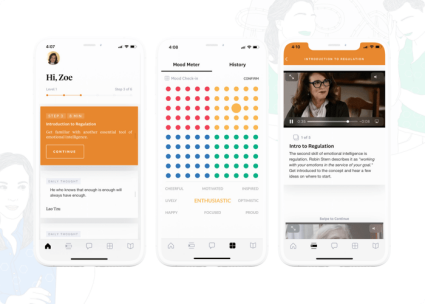 Oji Life Lab
Waverley has been around since 1992, helping businesses across the globe bring their visions to life as software products that gain traction fast and engage millions of customers. In eLearning specifically we often work with educational institutions, non-profit organizations and private eLearning companies delivering a full-scale of software product solutions.
From the intuitive and modern UI/UX for various age groups to the cloud infrastructure to store all of the learning materials and progress, to back-end and front-end developing and porting your learning product to mobile devices – we've got you covered. Moreover, as an experienced innovator, we gladly help our clients explore modern technologies to disrupt their domain, integrating ChatGPT, Machine Learning and AI integration to create generational chatbots and highly customized learning experiences. Here are some of the projects we worked on for our clients in elearning:
Oji Life Lab. A dedicated development team of 6 Waverley engineers developed an end-to-end eLearning system to teach Emotional Intelligence. The native Android and iOS applications provide bite-sized learning steps, various card types, an integrated video library, chats, group sessions, a notifications system, integration with YouTube and Zoom, and a Mood Meter matrix.
SchoolClimate by Yale. Together with the Yale Center of Emotional Intelligence Waverley created wireframes, UI concepts, and adaptation for an innovative measure of school climate that provides a questionnaire for instant reading of student's perceptions of their school's safety, teaching quality, environment, and the relationships followed by actionable recommendations for next steps.
Student progress assessment tool for a client who wished to remain anonymous. Waverley developed the front end of a web-based LMS system, focusing on student assessment. The Student Stack Control supports 4 related views enabling Teachers to comparatively track student performance against a range of student metrics. The primary action-ability supported by the Stack Control is "grouping", helping the educator to group students for the purpose of instruction.
For more details on our eLearning experience and capabilities, please use the form below to get in touch with us.
How to Develop an e-Learning Platform: Conclusion
The global market for eLearning has grown significantly, powered by the scalability, availability, and versatility of modern educational tools, means and methods. Creating an online eLearning platform requires a thoughtful fusion of user experience, content, and technology. An educational platform's essential features include tools for cooperation, user registration, program building and management, delivery of material, assessment algorithms, and more. These elements form the basis of an efficient online learning platform's ecosystem, giving students a comprehensive, interesting, and tailored educational experience.
In conclusion, the eLearning landscape presents enormous prospects for academic institutions, companies, and individual students. Stakeholders can approach the construction of an eLearning platform with a well-informed strategy by comprehending the key features, technological stack, and financial considerations. A well-built eLearning platform can enable people to study in the digital era, whether it be for colleges and universities looking to offer cutting-edge learning experiences, businesses investing in employee training, or entrepreneurs looking to offer specialized courses.
FAQ
How much does it cost to create an e-learning website?
Depending on complexity and features, the price might range from tens of thousands to millions of dollars.
What is the typical timeline for creating an eLearning website?
To develop an e learning platform consider taking several months to over a year, depending on the complexity.
How can I monetize my eLearning platform?
You can make money by charging for courses or subscriptions, using freemium models, running adverts, or switching to a B2B model by offering customized packages for enterprises looking to use your product.
Should I prioritize developing a mobile version or focus on optimizing the web version for mobile users?
Prioritize mobile user optimization for the website. Depending on user needs and usage patterns, a dedicated mobile app may be taken into consideration later.
Interested in creating a top-notch eLearning experience?