IT Outsourcing vs. Outstaffing: The Ultimate Guide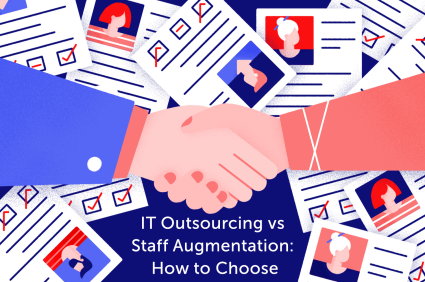 Introduction
People often need help from skilled professionals to help them implement their dreams. Software development is no exception. In fact, a team approach is almost always the best way to go. Why? Because there are usually a number of parties involved in the process: clients, developers, users, contractors. Depending on the size of the project, your needs and objectives, you need to choose from a variety of options on how you go about building and arranging your team. We call these engagement models. At Waverley Software we've been building relationships with clients for over 28 years. We've been extremely successful working within the two classic, most-widely used models: software development outsourcing and development team outstaffing. And while we do make a clear differentiation between outsourcing and outstaffing, we're also very flexible and happy to adjust these models to meet the needs of our clients to achieve maximum value. Let's look at these two models in detail.
As you can see, outstaffing and outsourcing have a common prefix – OUT. Does this mean software development is out of the client's control? Or is it the team that is completely out-and-out? (Pun intended.) Let's see..
In both cases "out" means external or distant, meaning the human resources that get the work done are external to the company that wants to develop and implement the software. They come from outside to assist in the process. Outstaffing is the word commonly used in Eastern Europe, but it is interchangeable with similar terms such as "team augmentation", "team extension", "staff augmentation", also widely used by different software development companies.
What is Software Development Outsourcing
Software development outsourcing is widely used when someone (hereafter, the "client") has a brilliant business idea that requires developing a unique piece of software but they don't have the resources and/or expertise to do it themselves. Typically, the client of a software development company doesn't want to be deeply involved in the details of product implementation, architectural decisions, the hiring process, hustle and bustle of compensation/benefits/vacation days, etc.. The client just wants the product, and they want it fast. Preferably, yesterday. So, the client starts looking for a software outsourcing company that provides full-cycle development and will deliver the product with minimal involvement from the client.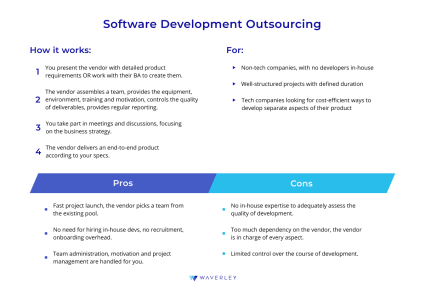 How Software Outsourcing Works
Of course, the client has responsibilities, too. After an IT outsourcing company is found, the client's next steps are the following:
1. Come up with a product requirements document (PRD) and assign priority levels to those requirements.
2. Share with the vendor everything there is to know about the project budget, scope, schedule, quality requirements and have the ability to pay for the vendor's services.
3. Participate in meetings with the vendor's dedicated development team on a regular basis, discuss general changes and risks, and collaborate with the team to identify the inevitable show-stoppers.
4. Enjoy the result and provide feedback on the service.
What will the software outsourcing company be responsible for? In reality, pretty much everything. The IT outsourcing company does the following:
1. Takes the PRD and elaborates on it to the point where the team has a very clear idea of what the customer wants and what is needed to deliver.
2. Staff a team with the required resources and manage their compensation, PTO, benefits, etc.
3. Provide and manage the complete work environment.
4. Support the team to keep them productive and aligned with the client's business.
5. Control the quality of deliverables
6. Identify and remove bottlenecks, engaging the client if necessary
7. Deliver the finished product.
Software Development Outsourcing: Pros and Cons

Now let's take a look at the outsourcing pros and cons.
The pros of outsourcing software development are obvious:
No need to build a full-cycle in-house department, which frees up internal resources for other tasks.
Access to a larger pool of professionals, since software outsourcing companies usually have a large database of engineering talent and proven recruiting channels in addition to their in-house teams.
Team administration is taken care of, you don't have to deal with the hiring process, payrolls, and team-building activities.
Good value for money. You can have seasoned engineers from places such as Eastern Europe for 50% less than you'd pay to hire an in-house engineer in the US or Western Europe.
When software outsourcing projects fail, it usually comes down to one or all three of these reasons:
Communication issues (if you work with non-English speakers) and cultural differences. These can be minimized if you choose an outsourcing partner with a team that has a high level of English skills. The time difference dilemma can be solved with professional project management and regular reporting. Here at Waverley, we provide our engineers Emotional Intelligence education to ensure this competency.
Limited control over the course of the development, for example: when a vendor's process does not have built-in visibility or the client puts everything on the team's shoulders and does not stay in touch to provide feedback throughout the development process. The secret for success is for both parties to be equally invested.
Poor choice of a vendor can lead to delays and unsatisfactory quality of the final product. A lot is at stake, so you should be very careful when outsourcing software development. Be sure to review your vendor's case studies, check their references, be clear regarding your expectations, and talk through every important aspect (security, milestones, scope).

When To Opt for Software Development Outsourcing (Cases, Types of Projects)
You may need IT outsourcing services if:
Your company is not technology-focused.
You are planning a well-specified project with limited duration and don't need or want to hire a full-time team in-house.
You are looking to optimize your development expenses by outsourcing specific aspects of your product development.
Your PRD is well-defined and is not subject to long and detailed discussions.
To sum up, when you choose a software outsourcing service for your Product Development , the client needs to have a local CEO (in many cases, residing in the USA), Sales, Marketing, Accounting, and Finance departments. In fact, Sales, Marketing, Accounting can also be performed remotely by the same or a different provider. An outsourcing provider usually works as your independent engineering department, taking care of all aspects of building your product or whatever elements you choose to outsource.
Where to search for a vendor? Clients usually have several options to look at:
'overseas' teams – literally from over the sea, e.g. countries like India and Pakistan, which typically offer the lowest rates.
'onshore' teams – that reside in the same home country as the client.
'offshore' teams – the outsourced software development is done in another country.
nearshore software development teams – that are in a similar time zone, usually close-border country (for example, Eastern Europe for clients located in Western Europe or the UK, or LatAm for US-based companies).
'homeshore' teams – remote software development employees (freelancers) working from different locations.
Now, the final question is: "How to choose the right one?" To give you a sense of what excellence in software development looks like, here is a list of the responsibilities we at Waverley take on when employed as an IT outsourcing company.
1. Suitable Business Model. Waverley staffs the team according to the client's requirements: we assign the available resources or rapidly hire the talent needed for the project. A seasoned certified Project Manager or Engineering Manager (EM) can be the main point of contact if the client doesn't want to manage the teams directly. We also provide regular reporting and functional results at the end of every Agile sprint.
2. Clear Communications & Transparency. For every project, Waverley Software keeps elaborating the product requirements to a point where all ambiguities are made clear so team members can readily understand and turn them into action items (by adding a card to a Trello board or other project management platform). The same applies to detailed user stories provided by the client.
3. Productive Environment & Equipment. Waverley Software provides the work environment for the team members: workstation, workspace, Internet access, e-mail, along with a shared pool of mobile devices for the testing purposes (depending on a team member's location). The environments for code repository, defect tracking, continuous integration are set up and managed as well as development, test, staging and production server environments.
4. Team Administration & Support. Waverley Software provides accounting and legal support to the team members; our HR management system manages team member's PTO in a way that doesn't impede the product development.
5. Team Motivation. On a regular basis, we conduct one-on-one meetings, as well as report on team motivation and feedback. Constant and close communication with the team members helps to establish rapport and to ensure they are motivated, involved, effective and keen to align with the client's business. Waverley also provides training and mentorship programs, and creates professional development plans for every employee.
6. Quality-First Approach. Waverley Software adjusts the development process to suit the client's needs, and our Engineering Manager manages the team to deliver results according to the business objectives. Because we are a full-cycle software outsourcing company, we use industry best-practices for testing and delivery to ensure deliverables are of the required quality.
What Is IT Staff Augmentation
Meet the word "augmentation" in a new context (compared to augmented reality). In a nutshell, staff augmentation or outstaffing means a process of taking on a worker or a team of workers from outside your company to work on your project under your full control. You basically expand your team by adding extra hands without actually hiring them directly. In days gone by, they were called "temps," i.e.: temporary personnel. These team members are provided by an IT staff augmentation company. However, it is up to you to manage the entire product development process. The engineers join your project remotely, integrate with your existing team and follow your preferred process; the recruiting process, onboarding, workspace, and training are taken care of by the 3rd-party vendor. In some cases, you might not have a full team on your side; the main question to ask when engaging a software development team extension is: "How much do I want to be involved in the actual development process?"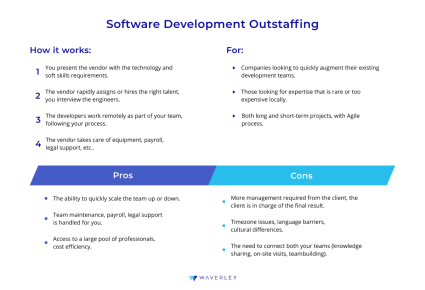 How IT Staff Augmentation Works
When ordering IT staff augmentation services and working with a dedicated development team, make sure that you, as a client, understand the scope of your responsibilities. You will have to:
Take part in the selection process to find the best fit for your project.
Provide workload to the team and train the team on the established development process in your company, agree or disagree on PTOs, give regular feedback on their performance.
Manage the team to deliver results according to your business objectives (whether or not you have a PM from the vendor).
Discuss the requirements on a very detailed level so that the team/engineers are on the same page with your home team.
Supply the environments for code repository, defect tracking, continuous integration, as well as development, testing, staging, and production; arrange the product deployment process.
Ensure the deliverables are of acceptable quality; manage changes and risks.
You can outsource any chunk of work, but if you remain in charge of the daily management of a team's activities, you will be working within the outstaffing model.
Software Outstaffing: Pros & Cons, When to Choose Outstaffing
If you have well-established processes, available managing resources, and confidence in your ability to handle the remote/distributed software development team, then you can easily opt for software team augmentation. You can get outstaffed engineers for either long-term projects (more than 3 months of length) or for a temporary project (even just for 1 week). During IT augmentation an outstaffed team member gets a stable compensation through the whole course of work unlike in outsourcing where the client pays for the finished product/piece of work.

What are the pros and cons of outstaffing?
Here are the pros of outstaffing:
With highly efficient professionals, your project advances faster.
No additional costs for recruiting, personnel maintenance, legal support, etc..
You manage your team and the added personnel as a whole and approve tasks according to the priorities of your project.
The Cons of outstaffing are obvious:
Responsibility for the final product remains with the client.
More involvement and more management efforts are required from the client, including keeping outstaffed developers motivated and enthusiastic.
Difficulties with different time zones, miscommunication because of language differences
In some cases, you may need to bring remote team members to the main team location (business trips, team-building activities).
To be able to truly leverage staff augmentation services, you have to look for a vendor with the right process in place. For example, here's what we do at Waverley Software to make IT outstaffing an efficient and enjoyable experience for our customers:
Staff the dedicated development team with just the right talent to fill the client's requirements. We assign the required resources from our in-house talent pool or, depending on the availability and expertise of our engineers, rapidly hire the right specialist from our extensive engineering community.
Provide a productive work environment (including communication tools, workstations, working places, software, electronic devices, and secured Internet access) for all team members.
Provide a shared pool of mobile devices for testing purposes (subject to availability at a team member's location).
Provide accounting and legal support to the team members; manage payrolls.
Provide an HR management system to manage team members' PTO.
Organize and manage business trips and other essential travel, organize purchases necessary for the team's operation.
Do monthly one-to-one meetings and provide a report on team/member morale and feedback.
We can also provide a Project or Engineering Manager to facilitate communication between the outstaffed engineers and the main team with the scope of the PM's responsibilities set by the client.
Bottom line: When you choose which of these two models is best for your software development services, the difference between software outsourcing and outstaffing is that with the latter, you have more control over the engineers but also more responsibility in terms of the required management effort.
Conclusion
Do you have a soft spot for tea or coffee? Will you call for bread or croissants? It depends, right? Does it feel like a catch-22 when it's time to choose what's right for your business? At times, you need to choose before you try and then there are times when you really need to try before you choose. At Waverly Software, we can make this choice easier.
The problem of the choice between software outsourcing and outstaffing services isn't a big deal if you consider several points:
How much control you want and whether you dive into planning and detailing.
How many engineers you have in-house and what the overall IT development experience you and your engineers have is like.
What you want to pay for constant support or complete product development.
The size of the project and if you want to form a lasting partnership with the vendor.
Your budget, but it's best no to concentrate on this category as the cost of services can vary from vendor to vendor and depends on the type of service.
To make a long story short:
– Willingness to have a lot of involvement and/or have an existing team and/or large scope of work = IT team augmentation
– No time for managing and/or little expertise and/or a short-term project = IT outsourcing.
Some vendors (usually the smaller ones) focus on a single service, more often on IT team augmentation. Waverley Software, with 28 years of experience, 230 engineers and over 150 completed projects, is equally proficient at both models. If you are hesitant and would like expert help to select the right scenario for your business, our experts can provide a consultation and come up with the most beneficial solution.
The process of choosing which model is best to get the extra help you need involves weighing the trade-off between maintaining a degree of control and handing that responsibility over to the servicing company. More control on your end means less responsibility on theirs and vice-versa. If your vendor has proven experience in software development and remote team management, either of the models should be on the table. The clients who value full control over the team's activities and have the resources to manage developers themselves often prefer outstaffing. But when the client has little-to-no experience, it's safer to entrust the job to the outsourcing agency and take advantage of their accumulated experience.