Top 10 Software Development Companies in Latin America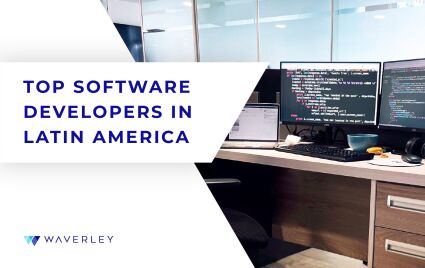 Introduction
In recent years, Latin America has become a popular area for software development services. Latin American countries have been investing efforts and budgets into developing their local software engineering teams, thus significantly growing the export of Latin American engineering services to different countries and continents.
Software development outsourcing in the region is booming, and software development companies, for many reasons, find it feasible to invest in Latin talent, leaving aside the language and timezone differences. The Latin American software industry has not been left behind with the advances and technological solutions required by the modern dynamic society.
In addition to large foreign enterprises that have chosen to establish engineering centers in LatAm, there are many tech companies of more local origins recognized for their high-quality services, generating many jobs, and even investing in local technological education. Although stimulating the technology sector in Latin America has not been an easy job, Latin American countries have been greatly supporting higher engineering education and infrastructure.
The following list shows the 10 most prominent software development companies in Latin America, according to their customer portfolios, industry recognition, and quality of the engineering services they provide.
Key Reasons to Outsource Software Development to LatAm Companies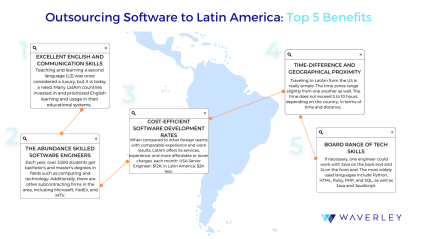 There are many reasons behind the rapid growth of Latin America's software outsourcing industry. Tech companies across the globe recognize the value provided by local software engineers. Many of the world's tech giants have already opened development centers here, such as Microsoft, IBM, Intel, Disney, Dell and others.
LatAm is the second strongest software engineers growth market globally, as reported by the Global Developer Population and Demographic Study 2019 by Evans Data Corp.
There are a bunch of factors that make Latin America a great software development outsourcing destination. Here's a shortlist of the benefits of outsourcing software development to Latin America:
Big software engineering market (±1M developers)
Excellent communication skills (high English proficiency, neutral accent)
The abundance of tech skills (an extensive list of tech stacks present in the market)
High-quality tech education (established universities, growing number of tech graduates, government programs aimed at supporting the tech industry)
Broad knowledge of the local engineers (e.g. one engineer can be familiar with multiple tools and frameworks, and full-stack engineers are relatively easy to find)
Geographical proximity (big overlap in business hours with the US, accessibility from other parts of the world)
Cost-efficient rates (as compared to hiring an engineer in-house in the US)
Top 10 Software Development Companies in Latin America
Latin America has emerged as a potential technology hub with a promising future. The region offers a unique blend of talent, innovation, and market opportunities. Countries like Brazil, Mexico, Argentina, Bolivia have witnessed significant growth in their tech sectors, fueled by a young and skilled workforce, supportive government initiatives, and a growing startup ecosystem. With its proximity to North America and Europe, software development in Latin America has become an attractive outsourcing option for companies looking for cost-effective yet high-quality technology solutions.
For the following article we've collected the biggest tech companies in LatAm, these companies were selected based on a rigorous evaluation process that considered several factors. The criteria included their reputation in the industry, client testimonials and references, project portfolio and complexity, technical expertise, innovation capabilities, employee skills and certifications, and overall business growth, time in the tech market and more. So, let's check the list:
Waverley Software (Bolivia & Other LatAm Countries)
WAVERLEY was ranked as the number one software engineering services company by Clutch. "WE CAN'T CHANGE THE FUTURE. THE SOFTWARE WE BUILD CAN" is their motto. Waverley Software has more than 30 years of experience working in the tech domain, providing software development services to companies worldwide. The company's headquarters are in Palo Alto, CA. The organization is based on the tech vision and values of its founder Matt Brown, one of the software development pioneers from Silicon Valley. Nowadays this software development company has around 350 employees globally. The company has offices in the US, Australia, Bolivia, Romania, Vietnam, and Ukraine. This distributed structure gives Waverley's clients access to multiple talent pools around the globe, and allows building mixed teams for 24/5 support, working across timezones.
Under the goal of building an "extraordinary future of tech" Waverley has united passionate, experienced, and talented engineering staff who master the necessary programming languages and excel at efficient development processes.
Services and Technologies
Waverley is an expert in:
Software Architecture
Enterprise software
Regarding the technologies used, they offer the following: Java, Python, .NET, C/C++, iOS, Android, JavaScript, Node.js, React, Angular, Salesforce, and AWS. This software developer company builds dedicated teams of carefully vetted and perfectly trained engineers to successfully carry out software projects of any complexity in different industries such as Healthcare, Internet of Things, FinTech, e-Learning, Enterprise, Smart Home, Robotics, Carrier Grade, and Energy.
BairesDev (Argentina)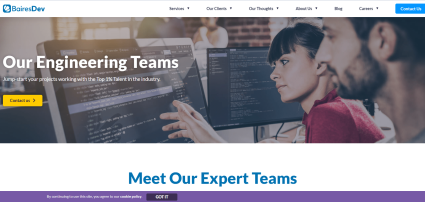 BairesDev is one of the largest and fastest-growing Argentinian software development companies. Nine years after its creation, it had around 400 employees but today it has approximately more than 2,500 people.
It was founded in 2009 by the Argentinians Pablo Azoni and Ignacio De Marco, under the motto "We transform companies. We future-proof businesses. We are Digital Acceleration experts". The main service the company provides is building custom engineering teams for customers across industries.
It's a Latin American Company specializing in nearshore software outsourcing that has a large presence in the USA. The World Trade Organization (WTO) says that Argentina ranks number 8 in the export of technological services, despite that, BairesDev has managed to position itself among the larger software companies for providing innovative and competitive software solutions.
Services and technologies
Their teams are comprised of skilled SCRUM Masters, Project management specialists, Business analysts, Technical leads, Software engineers and architects, Automation, DevOps, QA engineers, and UX/UI designers. When it comes to programming languages, BairesDev position themselves as professionals in .NET, Java, JavaScript, PHP, Ruby, and Python projects. They serve customers that belong to the following industries: Insurance, Learning and education, Healthcare, Blockchain, Financial, Pharmacy, and CRM for retail.
Altoros (Argentina)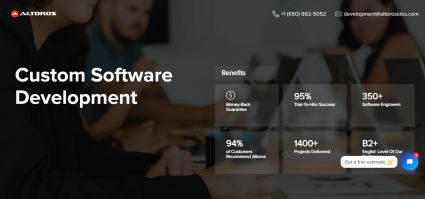 Based in Silicon Valley and founded in 2001, this company provides Cloud Foundry products and services, and they also have a proprietary open-source application platform. Altoros invests in technological education such as lectures, meet-ups, and free engineering courses for aspiring youth in Latin America as well as internal education for their team members. Their 350-people team is located across the United States, Argentina, Germany, Norway, Finland, Poland, Belarus, Ukraine, and Moldova.
Services and Technologies
The company provides various businesses worldwide with assistance in Full-stack Development, mobile development, and web applications. They also have expertise with MVP and POC creation and Cloud Enablement, building dedicated development teams to accomplish this. Also, they offer strategic consulting, project management and support, enterprise automation, and on-demand cloud transformation, using technologies such as Kubernetes, Istio, Terraform, AWS, Microsoft Azure, and VMware Tanzu. Their main programming languages are Javascript, Ruby, and .NET.
10Pearls (Colombia)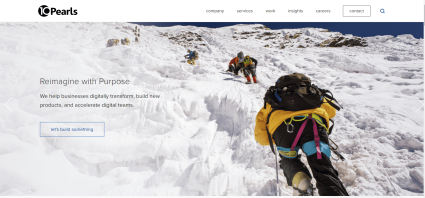 "We are problem solvers", the company says. Founded in 2004 by brothers Imran and Zeeshan, what started as a small two-person project has grown into a rather big company with more than 1000 employees scattered across their offices worldwide. Their engineers work in D.C., New York, San José, Toronto, Dubai, Karachi, Lahore, Islamabad, and Medellín.
The company supports many educational and charitable initiatives. "Hard work can change the reality of many communities", is their motto. There's an education center called 10pearls University, which was created to promote the company's internal growth by updating the community on current technological trends.
Services and Technologies
With a culture of innovation, 10Pearls is dedicated to software design, mobile apps, and custom software development. They focus mainly on digital transformation, offering a wide list of software development services like artificial intelligence (AI), the internet of things (IoT) development services, Voice & Language Processing, Chatbots, Data & Insights, and Virtual Reality.
10pearls serves many industries, e.g. Medical Software, Education, Finance, Transportation, Telecom, Energy, Real Estate, and Retail.
AgileEngine (Argentina)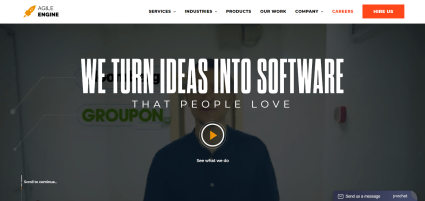 Agile Engine was founded in 2010 and its headquarters are in Washington, D.C., with offices in Ukraine and Argentina as well. Their services include Mobile, Web, UI development, UX design, and Software testing. The company started with just two, but today their team counts over 400 specialists.
In order to satisfy the technological needs of their customers, they have a specific process in place: explore the objectives of the product design, build and train the team according to the above, with a focus on hiring engineers best-suited to the type of the project, and finally, deliver the product.
Services and Technologies
The company offers a range of services including but not limited to Mobile, Web and UI development, UX design, and Software testing. AgileEngine lists mobile and web platform development as their specialty, with a specific focus on UI/UX development, crafting feature-rich and elegant animations.
Gorilla Logic (Colombia)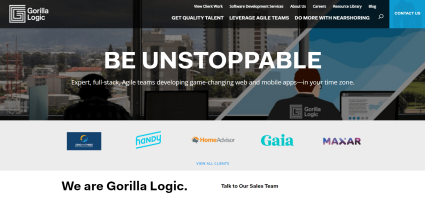 This American software company was founded in 2002. "If you're looking for a traditional IT outsourcing firm, you've come to the wrong place", they claim. It is a modern software development company that values open communications, is capable of adapting to changes, and is passionate about the solutions they are building. They are known to experiment with different technologies to support complex projects.
This company opened its offices in Colombia in 2020, providing jobs for approximately 200 people locally. Colombia offers favorable conditions for the tech industry and has good investment potential which, in addition to the proximity to the United States, benefits and strengthens its position in the software outsourcing market.
Services and Technologies
The services they offer include mobile app development on iOS and Android, software Security, Data Engineering, Software architecture, QA and testing, and back-end development. Their engineers can work with Swift, Objective-C, Java, React Native, and other technologies and frameworks. They develop web platforms using React, Angular, Bootstrap, Foundation, JQuery, HTML, and CSS. In addition, the company offers DevOps and Cloud services, UI / UX, IoT development services, Data engineers, etc.
Codebay (Mexico)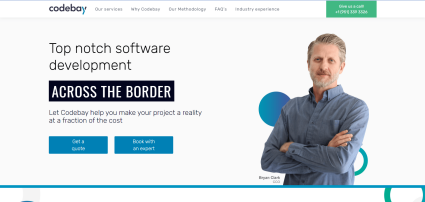 Codebay is a nearshore software development company based in California, but with offices in Guadalajara, Mexico. Codebay was founded in 2014, and as of today, it has more than 50 employees located in Mexico.
Services and Technologies
This company has a methodical process to guarantee successful delivery to its clients. "Software with value" is their motto. They work with .NET, Java, Swift, Python, JavaScript, PHP, Docker, Node.JS, AWS, C / C ++, etc. They are proficient at the development of mobile applications and web pages, software Maintenance & Support, quality control, and testing. The industries that Codebay serves include the Finance, Education, Retail, and Healthcare sector.
Snowman Labs (Brazil)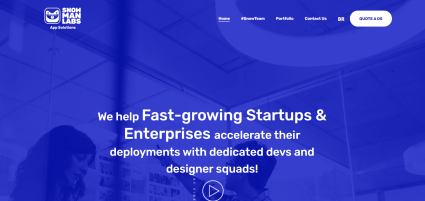 Snowman Labs is a company with over 50 employees founded in 2013 in Brazil. It focuses on developing applications with user-friendly UX / UI design. Providing exceptional user experiences is one of their main priorities.
Services and Technologies
They handle iOS, Android, AppleCar, and IoT development projects. Their diverse team of application developers know Objective-c, Java, Kotlin, and Dart (Flutter). They also claim to be experts in Java, NodeJs, .Net, and Python for the back-end and React VueJS, and AngularJs for the front-end.
Cheesecake Labs (Brazil)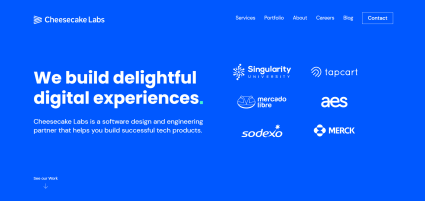 The company was founded in 2013 and has more than 60 employees including designers, engineers, projects managers, and other specialists. This software development company is focused on offering and developing creative and innovative ideas. Cheesecake Labs is an international platform of analytical and consulting services recognized as one of the top technology companies to work with in Brazil.
Services and Technologies:
Cheesecake Laps specializes in UI/UX design, mobile development including iOS, Android, React-Native, Flutter; web development with React, back-end engineering with Python and Node.js, QA, and project testing and management.
Capicua (Uruguay)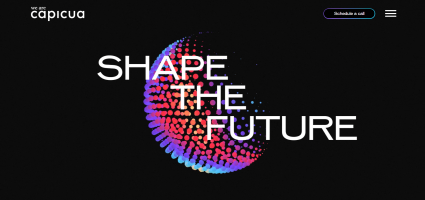 Capicua goes well beyond the usual scope of software engineering services, it is a full-cycle digital software development agency that also offers design, branding, and digital identity creation services. Founded in 2010, the company now has more than 50 employees and serves clients such as Marathon, Bellwether, and Wurrly Edu.
Services and Technologies
Capicua's clients come from various industries, such as Telecom, software design, and financial services. The company's service list includes back-end development, cloud services, front-end development, Bespoke Systems, and Mobile Development.
How to choose a LatAm software development company?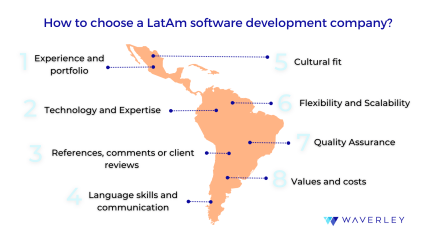 There are many factors to take into account when you are considering choosing a software development company in Latin America, what are these? We've summarized them, take a look:
1. Experience and portfolio
To evaluate the company's performance, look over its portfolio and case studies, what have they been doing? Do they have relevant experience in what you have been trying to accomplish? So, to evaluate their capabilities, look for successful projects in your industry or with a similar level of complexity, same tech stack, similar functionality, etc.
2. Technology and Expertise
Analyze these aspects. Make sure that their experience producing software solutions that are comparable to what you require and that their talents match the requirements of your project. Set the goals. For long have they been working with your tech stack? Do they have any industry certifications to prove their expertise?
3. References, comments or client reviews
To learn more about their project management, communication, and working style, ask for client testimonials and references. If at all possible, get in touch with former customers to learn about their opinions and impressions of working with the vendor you're considering.
4. Language skills and communication
Collaboration success depends on effective communication. Make sure the business has excellent English language proficiency and provides responsive and clear communication (and escalation) routes.
5. Cultural fit
Time zone and cultural compatibility should both be taken into account. A corporation that comprehends your corporate culture and can operate around your schedule will promote easier collaboration and lessen potential difficulties.
6. Flexibility and Scalability
The ability of the organization to scale its resources should the needs of your project change or grow should be considered. What's their recruitment process like? Do they have a big talent pool? How quickly can they expand your team if need be? How willing are they to follow your process and use your preferred toolset? Long-term relationships between the client and the software company require flexibility in meeting your changing requirements.
7. Quality Assurance
Inquire about the company's quality assurance processes. A reliable software development company should have robust testing procedures in place to ensure the software's functionality, performance, and security. So, make sure they have safeguard measures in place to protect your private data and adhere to your intellectual property rights.
8. Values and costs
Take into account the price policy of the business and how it fits into your spending plan. Consider the entire value they provide in terms of knowledge, quality, and the possibility of a long-term partnership before focusing only on the cost.
The Cost of Hiring a Developer in Latin America
Latin American developers rates vary between $45 to $65 USD per hour. Hiring software engineers in LatAm is significantly more cost-efficient than in the US, and there's plenty of available talent on the market. Rates of each country vary, and it will depend on and change according to the following factors:
Geographical location (some countries have a higher cost of living than the others, etc.)
Level of Experience (of course, Senior and Architect-level engineers will be on the higher end of the range)
Economy of the region (you'll have to think about the taxes and legal entities in various locations, or simply use the services of an outsourcing company in Latin America that already has this all figured out)
Technology stack (more rare technologies will have higher hourly rates, which is true for the rest of the world as well)
Summary
Latin America has enormous technological potential with an abundance of well-trained and experienced personnel ready to take on all technological challenges. Most of the companies in this list are "young companies", meaning they were founded not too long ago, on the other hand, young companies are more agile and have the unique ability to build their capabilities according to different market needs – constantly updating their knowledge base. This flexibility is one of the strong points that make Latin American talent an essential contributor to the technological world. Since more and more businesses realize the value provided by Latin American engineering companies and decide to invest in business partnerships with vendors locally, we created this list, to help such businesses make well–informed decisions.
Waverley Software also recognizes the high quality of LatAm-based engineering talent, which is why, after careful consideration, we have selected this region for one of our office locations. Over our three decades of experience in the software engineering business, Waverley has worked with many countries and markets, providing our clients access to multiple engineering talent pools globally. Latin America plays an important role in our company structure and helps us better cater to the needs of our North America-based customers. We currently have engineers not only in Bolivia (where our main LatAm office is situated), but also in Honduras, Costa Rica, Argentina, and Colombia. Our LatAm-based engineers and managers are experts in many programming languages and tools and are fully capable of working on any software project.
If you would like to find out more about the skillsets of our LatAm engineering teams and the unique value they can provide to your business, please reach out using the Contact Us form.
Frequently Asked Questions
Which IT services can be outsourced?
In general, companies can outsource everything except for their business  strategy. Software companies in LatAm offer various engagement models: from team extensions (when you hire specific specialists for a limited amount of time), to dedicated teams (when you hire a full product team but manage it on your own) to product development outsourcing (when the team drives all aspects of your product development, but you own all the IP, the result, the code, etc.). At Waverley we offer all those three models, but our clients often prefer to have everything in one place and engage us for full-scale product development. 

Which Latin American countries are best for outsourcing?
Argentina, Brazil, Peru, Chile all have well-developed software engineering markets, but the rates there are higher than the average rates in LatAm. Waverley found that Bolivia, Costa Rica, Columbia, and Honduras are a perfect combination of engineering talent, solid tech education, and cost-efficient rates – we are happy to tell you more about the strengths of each of these locations.
What are the most popular software development technologies in Latin America?
Just like everywhere else, LatAm boasts strong Java, Javascript and Python engineers; with JavaScript being the prevailing language in terms of the number of specialists that use it. However, in LatAm there's also a strong community of Microsoft stack fans, so this is your go-to spot for .NET, C# and Azure professionals.
How many developers are there in Latin America?
Overall, there's over 1.5M software engineers in LatAm and the number is growing due to a big number of tech graduates annually. Statista shows us the following number of developer stats: Chile (61 K), Argentina (115K), Brazil (500k), Mexico (225k), Colombia (61K), Brazil (800K).