Nearshore Software Development: Exploring its Pros and Cons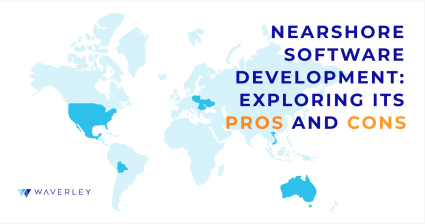 Contents
It is no secret that the technological world has changed dramatically in the last decade. Companies are becoming increasingly involved in anything AI-related, which creates a strong demand for skilled software engineers. Finding the right engineering talent at an affordable cost can be challenging, especially if the company is looking for a rare tech stack. There is no need to be concerned, however, because numerous software outsourcing around the globe give businesses access to engineering talent without borders and on very flexible conditions. If in-house recruiting is not viable, most businesses rely on outsourcing, which can be done offshore, onshore, or even nearshore.
In this post, we will discuss the benefits and drawbacks of nearshore software outsourcing. We'll also provide you with a clear overview of the differences between various sorts of outsourcing. In addition, you will learn about how to find a nearshore development team, as well as how to tackle the challenges that this type of engagement presents. Hands-on tips are crucial, therefore, we'll also give some for a successful business outcome. Last but not least, we will be delighted to share with you an overview of some of the nearshore locations in Latin America, as well as the services that we are prepared to provide for your company.
So, nearshore software development is becoming a choice for companies. Let's start, however, by giving a short introduction to what actually is nearshore software outsourcing.
What is Nearshore Software Outsourcing?
Companies hire using different models. But, what is nearshore outsourcing? Nearshore Software outsourcing is the act of delegating your software development tasks or projects to companies found in a nearby location. In other words, nearshoring happens when a business hires software engineering teams from a nearshore software development company, which offers both geographical and time-zone proximity.
Nearshore is only one out of the three models for outsourcing development companies. You already know that there is the onshore, offshore, but how are they different from each other? The differences are as follows:
Onshore outsourcing: Onshore is when companies outsource for a software development team within the same country or region.
Offshore outsourcing: Different from the onshore model, it is when the team is hired in a distant country with a different time zone.
Nearshore outsourcing: The nearshore software company is based in a region or country close to the one of the customer, often with either no time difference or one that's insignificant.
For example, UK and Western European countries often outsource their software development to the Baltics or Eastern Europe. For Australians nearshore locations would be Asia: China, Vietnam, the Philippines. For North American companies LatAm offers the best overlap in business hours as well as is relatively easy to travel to. At Waverley we've been working with all those locations, having engineers in LatAm, Eastern Europe and SouthEast Asia.
LatAm has been growing in popularity as a nearshore outsourcing destination. Nearshoring in LatAm allows a rich talent pool to be explored. Some of the countries that hold the majority of experienced development teams are countries like Colombia, Mexico and Brazil and smaller countries like Chile, Uruguay, Costa Rica among others.
There are many reasons why companies decide to outsource their software development needs to Latin America, when looking for a development team. Among those reasons are the following:
Cultural Affinity: This includes great language skills, time proximity, cultural similarities, etc.
Large talent pool: There is the availability of work-force, major talent hubs and most importantly, an established market.
Cost-effectiveness: Software engineering hourly rates in LatAm are two times lower than the costs of hiring engineers in the US or Canada directly.
These are only a few of the reasons why choosing the LatAm area is reasonable. Previously we've outlined the main benefits of outsourcing your software development to Latin American software companies.
Pros and Cons of Nearshore Software Outsourcing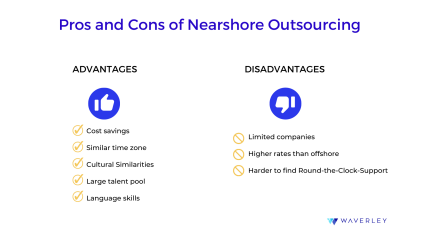 The nearshore software outsourcing model has its advantages, but also there are certain aspects that make it not suitable for some companies. Basically, when looking for an outsourcing destination, you have to consider multiple factors, and even though it would be great to have your engineers in the same time zone, maybe some other locations have better talent pools in your particular tech stack, etc.
Pros
Most of our clients who outsource their software development to nearshore locations admit that they do it for the following reasons:
Cost savings
Compared to hiring engineers in-house, investing in their onboarding, training, etc, nearshore software development offers good quality for lower rates than what you'd pay for a developer in the US.
Similar time-zone
Working at a similar time is a huge benefit for both parties, the customer and the outsourced team. This allows for improved communication and fewer delays in project completion.
Cultural Similarities
Having less differences in culture nurtures a better understanding between the two parties. Any cultural differences are more likely to be handled with respect and understanding.
Large talent pool
Talent shortage in other areas is not an issue when nearshoring. In fact, any outsourcing model offers a higher chance to hire a development team. In LatAm, for example, there's a growing number of educational opportunities and more and more tech graduates per year join the market and can be hired to deliver projects of various complexity.
Language skills
People on both sides should be able to speak freely, given that English is a worldwide language in the tech sector. This will assist in understanding the criteria and desired outcomes.
Cons
There are a couple of drawbacks to be aware of when resorting to the nearshore software development outsourcing model.
Limited number of companies
If timezone fit is so important for you that you can only work with nearshore vendors, then the number of companies to consider is going down significantly. Basically, a couple hours of overlap is enough for most of the projects, so our recommendation is to stay open to other destinations as well when looking for an ideal vendor.
Higher Rates than Offshore
If you're on a very tight budget, you may have to sacrifice a full-day overlap in business hours for the sake of costs, since other locations (e.g. India, Pakistan) might offer much lower development rates.
Harder to Find Round-the-Clock-Support
If you're looking for 24/7 coverage, engineers who are in the same timezone as you are more likely to refuse to work at odd hours, or you'll have to pay two times more per hour if they agree. At Waverley we have development hubs in a few different time zones, so building a mixed team with us will ensure you always have somebody on alert to fix the issues when they appear.
Nearshore vs. Offshore: The Differences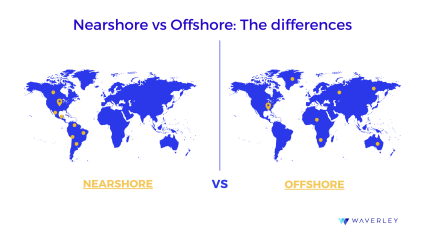 The first thing you need to do is to state your business priorities before hiring a software development team. Ask yourself the following questions before making the final decision.
What are you trying to find?
What problem are you solving?
What's your tech stack?
Do you have any budget limitations?
What's your delivery due date?
How critical is it for your team to be in the same time zone?
Do you have a delivery team in-house that the vendor will have to work with?
What is the scope of the project?
Are there any dependencies for this project with other projects you have?
How do you envision your engagement process with the vendor?
Once you figure out what your exact needs are, then you are ready to choose. Ideally, come up with a job description for your future vendor as you would for an engineer you're hiring to the team. Here's an example:
"We're a fintech company looking to expand an existing product. We need to build new functionality, but are having difficulty finding the right talent onshore. Plus, we're looking to improve our ROI. Our product is already in use by many customers, and the work environment is very dynamic and rapidly changing. We're looking for a vendor that has experience working with our tech stack (Node.js + React), who could quickly integrate with the team, pick up the tasks to speed up our development. We need transparent regular communications, and a maximum overlap in business hours to ensure seamless feedback loop between our team and the vendor's. The scope is pretty big, but we're expecting to deliver the needed functionality within 6 months."
Remember that nearshore or offshore both have beneficial characteristics that will help your business excel. What you need to focus on is choosing the company that will meet your expectations.
The table below will explain the differences between offshore and nearshore outsourcing so that you can make a final decision on which outsourcing model is the best fit for your organization.
| Factor | Nearshore | Offshore |
| --- | --- | --- |
| Location | Geographically close | Overseas |
| Cultural Alignment | Work culture and practice similarities | Major cultural differences |
| Time Zone Differences | Similar time zone: 1 to 2 hour difference | Between 6 to 13 hour difference |
| Language Barriers | Moderate English proficiency, mostly in Latin America | Wide range from low to high across the European and Asian continents |
| Talent Pool | Limited if you're only considering your timezone | Unlimited if you decide to go global |
| Cost Efficiency | Rates lower than in the US, but can be higher than say in Asia | A wide variety of rates, very low in some outsourcing destinations |
5 Steps to Find a Reliable Nearshore Development Team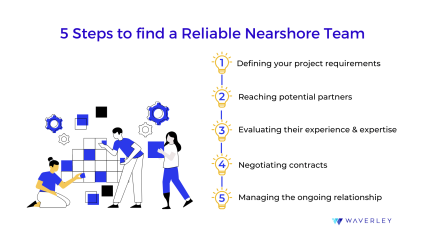 Finding a reliable nearshore development team can be challenging. Therefore, we will guide you through a few steps that will help you, not only find, but choose a reliable partner.
Defining your project requirements
There must be a definition of the project requirements, including the technology stack, project scope, and budget. This is done to find the greatest fit for your project, which involves assembling a team with the relevant experience and skills.
Researching potential partners
What exactly are you looking for? It is time to make some decisions. Make sure you conduct extensive research for a company that will be a better fit for the services you seek. Check if the company has experience in your field and is familiar with the technologies that your company uses. Use websites such as Clutch to find the experts in solutions for your specific field, check their client reviews.
Evaluating their experience and expertise
Look for customer references on websites such as Clutch or Linked-In. Examine your partner's competence, work attitude, previous experiences, and technical knowledge. Ask them to provide case studies of projects that they've accomplished in your domain and with your tech stack.
Negotiating contracts
This is a critical step because you must define and agree on contract terms, including pricing, engagement process, reporting, delivery milestones, definition of done and criteria for quality evaluation with your nearshore partner. Be upfront about your needs and expectations and don't hesitate to ask questions, communication is key in ensuring there are no surprises afterwards.
Managing the ongoing relationship
This is a partnership agreement and it is your responsibility as well as the vendor's to manage the relationship. To ensure timely delivery and great quality at work, the organization should have strong project management. If you're not familiar with the Agile/Scrum practices, hiring a project manager on the vendor's side will help put the process in order.
Real World Examples of Nearshore Software Development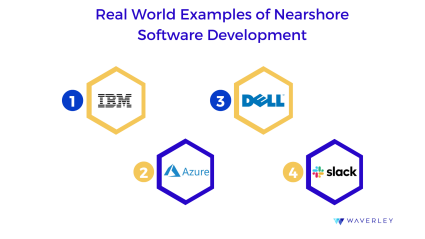 Nearshoring can be an excellent option for companies from startups to large global companies. Those that decide to go for the nearshore software outsourcing model can benefit from the many advantages this outsourcing model has to offer. Here are the most common business processes that companies tend to outsource:
Marketing
Software development
Manufacturing
Research & Development
Outsourcing has become a popular technique in recent years and it continues to grow as the tech world is also evolving. But besides knowing what kind of industries use the nearshore outsourcing model, you must also know that nearshoring isn't limited to a software development company that is only starting.
IBM
A great example of a company that nearshores is IBM. It is a multinational Business Machines corporation based in New York with operations in over 100 countries. IBM has established a development facility in Costa Rica to provide software development services in Latin America.
Microsoft
Nearshore outsourcing is a great option for Microsoft, the reason is because of migration as it reduces costs for labor and usage expenses. This nearshore development company also has partners in development centers such as Brazil, Costa Rica and Mexico.
Dell
Dell is a worldwide computer technology firm that designs, develops, and sells a wide range of products including PCs, servers, and data storage devices. Dell has also sought to increase the quality of their products, which is why they chose to nearshore to Latin America, specifically Mexico and Costa Rica.
Slack
Slack is another great example of nearshore software development outsourcing. Have you ever wondered where Slack gets its unique interface? It happened through outsourcing. A team of designers was nearshored from Canada to help with the appearance of the platform, so it can be appealing to the eye of the user.
5 Tips for Optimal Business Outcomes with Nearshore Software Development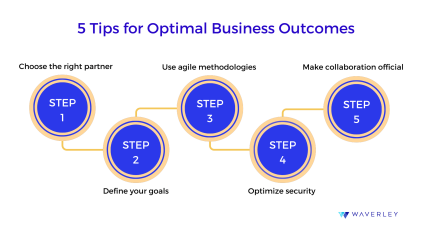 Now that we've covered the basic steps to take when hiring a nearshore development team, let's look at the process itself – how to make sure your project is delivered on time, on budget, ensure the quality and security? In the little guide below are some of the aspects you need to think about if you're interested in leveraging nearshore development services to the maximum.
Choose the Right Partner
Make sure your partner has the essential experience. The team you choose must be able to deliver high-quality results. Therefore, take into consideration the following factors:
Technological expertise
Great communication skills
Cultural fit
Established business
Proven track record
Verifiable customer references
Define Your Goals
You're in the process of choosing your partner, so while you're at it make sure you define your goals as detailed as possible. Whether you have short or long term goals, always make sure to establish clear expectations of what you are looking for and make sure your partner is well aware of it. Ideally, prepare job descriptions for the engineers who are going to be on your team, give an overview of the soft skills you're looking for in order to make sure your new engineers work well with your existing team. Treat your outsourced team with respect and make them feel part of your team. Establishing trusting, solid relationships is a two-way effort.
Use the Right Project Delivery Methodology
You are looking for effectiveness when you nearshore projects. Therefore, you need to think of agile methodology that will work best for you and your partner. Communication flexibility is essential for great results and these will lead to great outcomes. If you're not sure how best to manage the project, Waverley's PMI-certified project managers have 10+ years of experience and consult you on the best practices and tailor the process that will help your team truly shine.
Scrum
Kanban
Extreme Programming
Crystal
Lean Software Development
Optimize Security
Keep in mind that you are outsourcing a development team from an external organization, which means you are going outside your comfort zone. So make sure you look to reduce risks and possible costs. So what you need to do is optimize the security of your company and all data that may be involved. Sign an NDA with the company to protect your intellectual property. Ask everything you need to know about the way they store and use data, about physical security, etc. Ideally, look for someone who's ISO certified. For example, Waverley is ISO 27001 certified which means independent auditors have found our processes to be secure and on track.
Risk assessment
Remote monitoring
Due diligence performance
Security policies
Role-based access system
Make Collaboration Official
Given the size of the market, finding the best nearshore outsourcing partner may seem like a difficult task. But now that you've succeeded, you're with your new nearshore partner. Even yet, the collaboration won't be considered official until there are ongoing contacts, such as SOW, PSA, NDA, they will help protect both you and the vendor if something goes wrong, and they will rule all the aspects of your vendor relationship.
Where to Nearshore in Latin America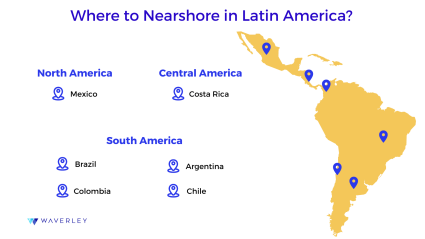 Nearshoring is not restricted to a single region. Companies who want to outsource to a company outside their region can look at surrounding countries. Companies can, however, nearshore to places that are not geographically close. Latin America, for example, has emerged as an interesting place for corporations seeking to expand their engineering teams. Many enterprises outsource to Mexico, Colombia, Brazil, Costa Rica, Bolivia, and other countries. These all offer a large skill pool and many other cost-effective perks.
The best location for nearshoring will always depend on your company's specific needs. There are a great deal of software development companies in Latin America that offer nearshore agile development services. Let's look, however, at the major cities that house a great number of nearshore software developers. According to bizlatinhub, the following are some of the countries where companies choose to nearshore within the LatAm region.
Mexico
Not only is Mexico considered to be the second largest economy in the LatAm area, it also has an extended talent pool of highly skilled professionals in the tech world. Are you looking for a talented development team? Outsourcing to Mexico is an excellent option, where you will find reliable teams in the four major hubs.
Guadalajara
Monterrey
Mexico City
Tijuana
Costa Rica
In addition to having a workforce that specializes in top-tier development services, this outsourcing destination provides a promising working environment for organizations wishing to hire outside of their location. When it comes to nearshore software development services, Costa Rica is starting to be on the rise.
Brazil
Despite being on a foreign continent, Brazil is a major draw for enterprises in the tech sector. One of the primary causes is the close proximity of time, as there is only a two-hour gap. However, the most important reason why corporations are interested in Brazil is the attractive ROI provided by its vast talent pool of qualified tech workers.
Colombia
Colombia not only has a booming technology infrastructure, but it also has a strong and advantageous economy. Colombia is regarded as the fourth most profitable country in Latin America, with a GDP of more than $100 billion. This country is a major tech hub where outsourcing has become a thing.
Argentina
Among the most popular destinations for nearshoring we find Argentina, which shares similar benefits since it is found in the South American continent. Argentina is popular for its skilled professionals in technology. It has a strong cultural affinity with the USA which makes overall connection easier besides offering topnotch software development services.
Chile
No different from other Latin American countries, Chile is a key nation when looking to outsource. Chile is a thriving country when it comes to technology and the business it offers. The South American country is a good choice to outsource for the following reasons:
Cost savings
Large talent pool
Language skills
Long term investments
Waverley's Services for Nearshore Development
As an international technology firm, we provide software development services that are sure to meet your needs. We can provide you with high-quality team extension solutions as well as custom software development from the ground up.
Are you looking for a nearshore software development partner? We have offices in different continents including Latin America. If you need to expand your business, our Latin America development team is ready to help you with anything starting from the software architecture, back-end and front-end development, UI/UX design, Business Intelligence and Machine Learning, Manual and Automation testing, and mobile apps development. Additionally, we have expertise working with businesses of all sizes with a variety of industries.
Waverley will help you build your own dedicated team in no time, that will fit your job requirements, budget and preferences. These are some of the services we offer as a nearshore company.
Quality software to fit your business requirements
Consultation with our experts
A team of dedicated professionals at your disposal
Access to global engineering talent
Talent pool in Europe and Latin America
Nearshore Software Development: Conclusion
Nearshoring is a fantastic outsourcing approach that allows businesses to discover hidden talents all around the world. Outsourcing has become a huge necessity for firms, whether it's assigning specific sections or projects or going for staff augmentation. Nearshoring is one of the most popular outsourcing methods, it is not only a thing of the future, but is part of the here and now.
Offshore, onshore or nearshore, reaching out to other countries, meaning outsourcing to Poland, Ukraine or Romania is no longer the only option.
When it comes to the services available to enterprises in the tech industry, the LatAm region has seen substantial expansion. In short, whichever country you select to nearshore to, there are numerous advantages that will help your firm grow, but make sure you follow the recommendations that will enhance commercial outcomes and far more.
Are you looking to understand what nearshore software development is all about? Waverley can provide a free consultation on nearshore software development outsourcing and the most reliable destinations. Whatever it is you need help with, you can rely on our services and feel free to fill out the contact form below and we'll get back to you in no time.
FAQ
What is nearshore software development?
Nearshore software outsourcing is when a company delegates their software development work to a country neighboring to their own or located within the same or similar timezone.
What is the difference between nearshore and offshore software development?
Offshore software development is when a company hires a development partner from another country with a different time zone. Whereas nearshore means that a company hires a partner located within the same or similar time zone.
Why should I consider nearshoring?
Because it offers access to a bigger talent pool, helps speed up your development by expanding the team with engineers close to your own team or with a maximum overlap in business hours. At the same time, the rates are lower in other regions than they are in the US.
What are examples of nearshoring?
Some examples of nearshore outsourcing include industries such as marketing, software development, manufacturing and research & development. Companies that work with nearshore vendors vary from startups to the most well known international giants like Microsoft, Google, Dell, etc.