Software Outsourcing Company vs Freelance Developers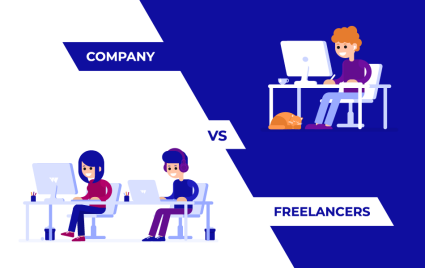 Whether you have a new software product idea or need specific software development services to complement your existing development team, you have basically three options: hire a developer in-house, work with a freelancer (you can find them on craigslist or sites such as Upwork), or engage a software outsourcing company.
If you want to avoid the time and expense of recruiting, hiring, and onboarding a new team member, you will be faced with a choice: do you look for a competent freelancer on craigslist or Upwork, or contract with a software outsourcing company. If price is a primary concern, you'll find plenty of competitive pricing on freelance marketplaces.
Often, people assume that hiring a freelancer will be less expensive and lowered cost is certainly alluring, however, you might be surprised to learn that software development companies also offer competitive pricing and have a great deal more to offer than you'll get from a freelance developer.
Oursourcing Company vs Freelancers:
Top 10 Aspects to Consider
Here are the 10 main considerations you need to take into account before choosing a development partner:

1. Security. Working with a software outsourcing company, your IP ownership is legally protected, whereas you do not have that protection with a freelance software developer.
2. Process. Software development companies follow and enforce "Best Practices" and standard development practices such as Agile, DevOps and Rapid development.
3. Accountability. What happens when someone doesn't work out? Outsourcing companies can replace the software engineer, credit your account, or "make it right" in any number of ways. If an individual freelancer or new hire doesn't work out, you have to start the entire process over again, which will cost you time and money.
4. Quality.Software outsourcing companies set and follow unified quality and security standards. They are committed to the success of your project and can provide expert support to their software developers should any issues arise.
5. Reliability.The scope of work and expected results are agreed upon and guaranteed. Experienced project managers oversee the development team's productivity and make sure you get deliverables on time.
6. Scalability. Outsourcing companies can help you grow your team with as little stress as possible. If you need multiple software developers you can start with just one or two and grow to as many as 100. Managing individual freelance developers requires oversight and overhead that is baked into the Outsourcing structure. They already have the people, methods, and process to manage multiple people and projects.
7. Support.Software engineering vendors provide their teams with the best equipment available, office space, HR & Accounting support, and training opportunities.
8. Flexibility. With an outsourcing company, you can easily scale up and hire a close-knit team, or reduce the total number of engineers and engage only the necessary expertise on a part-time, or on-demand basis.
9. Communication. Outsourcing companies make it their business to maintain regular, daily contact and can help train your team on the best communication tools and processes and/or work with the tools and programs that work best for you. Outsourced development teams are accustomed to working remotely so they know how to establish highly efficient communication protocols.
10. Cost.In most cases, freelance development rates are lower than the numbers you will see on the rate sheets from outsourcing companies.
Conclusion

Selecting a software development company is all about your priorities. If you have a limited budget and a very specific scope of work with clearly defined, measurable expectations, a freelancer may very well be the better choice. However, if you're looking for guidance, consulting, guarantees of quality work and protection should anything go wrong, the better choice is to work with an established organization with a good reputation, proven track record, and wide range of expertise. If you choose carefully, the exceptional value they provide will pay off in the long run.
Looking to Outsource your software development project? Let's talk!