Andrea Gandarillas to Lead Waverley LatAm
Andrea Gandarillas joins Waverley Software as Waverley LatAm's Managing Director in Cochabamba, Bolivia.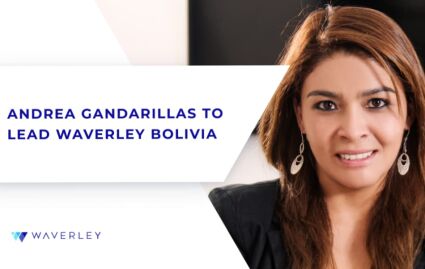 Palo Alto, CA: Waverley Software is excited to announce that Andrea Gandarillas has become the official Managing Director of Waverley's development center in Cochabamba, Bolivia starting in March 2021. Andrea's primary goal will be to set up, support, and direct Waverley's operations in Latin America. In practice, it translates to:
Putting together a team in Latin America for Waverley's newly launched software engineering center. Waverley is currently working to build out the LatAm presence and Andrea will be essential in assembling a strong, capable team to accomplish the many projects that are coming their way.
Managing new employees that are hired for Waverley LatAm, making sure they have everything they need to be motivated and productive and that they feel they are a part of the global Waverley family. This is a big responsibility since Waverley LatAm is still very new so it is necessary to promote Waverley on the local market and create a strong employer brand.
Directing all aspects of Waverley's Latin American presence. Identifying and leveraging new channels, tools, and partnerships, if necessary, ensuring the office in Bolivia operates smoothly, scales to support the company's growth, and follows the same quality and security standards as the other Waverley locations around the globe.
Andrea Gandarillas has an in-depth understanding of the entire software development process – from hiring talent to delivering a product. With her 10 years of experience in software development, perceptive eye for quality, and a strong passion for leadership, she is a fantastic candidate for the position. Not only is she a successful manager but she boasts entrepreneurial prowess too, having founded her own tech startup just a few years ago. At Waverley, we strongly believe that the new Managing Director will become a solid foundation for our Bolivia-based team and a true leader to get behind.
About Andrea Gandarillas: No one understands the software development process quite like Andrea. Getting her start12 years ago with Jalasoft in Bolivia, she began her tech career in quality assurance. She quickly grew from that position to a team lead and, from there, she quickly became a project manager. She has worked at all levels of the software development process and her knowledge of that shows. She is fully capable of handling all the interconnected pieces and players that come together to create new software.
Mark, Waverley VP of Sales & Marketing, says: "We are so excited that Andrea is joining us. Her knowledge of the US Outsourcing market, coupled with her technical skill will help us grow the LatAm office quickly and with the highest quality engineering staff possible. I'm really looking forward to working with Andrea to extend the Waverley brand and to continue our unprecedented growth."
Andrea Gandarillas, Waverley Bolivia Managing Director, says: "Joining Waverley is the biggest challenge I've had so far. I'm so excited to start this journey and make a difference at Waverley. Getting to this point in my career has been no accident. It was many years of hard work, perseverance, and sacrifice – but none of that would've been possible if I didn't enjoy the work that I do. Let's make the change, let's work together while loving what we do! So proud to be a part of this successful company."
About Waverley: Waverley Software is a software engineering company headquartered in Silicon Valley with development centers in Eastern Europe, Southeast Asia, and South America. For almost three decades, Waverley has been solving complex software challenges for clients from startups to Fortune 1000 companies. Our ability to provide comprehensive, integrated software engineering services starts here: by assembling a multidisciplinary team of the most highly skilled software engineers, designers, and project managers from around the world. We play in all categories, but our specialties are Social Robotics, Enterprise Productivity Tools, Home Automation & Security, Healthcare, Blockchain/Smart Contract, Automotive, Machine Learning/AI, DevOps/GitOps, and the Internet of Things.