Top 5 Advantages of Outsourcing to Latin America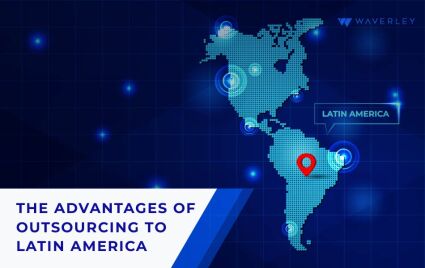 Introduction
In today's dynamic and globalized environment, more and more businesses outsource their production processes. Outsourcing allows businesses to expand by building engineering teams in another country or even on another continent rapidly; avoiding the recruiting, onboarding, and administrative overheads.
Despite the multiple challenges of outsourcing, such as the time difference, language barrier, and the distant location, there are multiple advantages, such as access to bigger talent pools and more rare technology stacks, as well as cost-efficiency. Here are a couple of facts that speak for themselves:
Latin America is the third most popular outsourcing destination globally.
According to the Executive Study of Outsourcing by Capgemini, 25% of foreign companies currently outsource various business processes to Latin American countries.
LatAm is the second strongest software engineer growth market globally, as reported by the Global Developer Population and Demographic Study 2019 by Evans Data Corp. The nearshore services outsourcing market in South America is expected to grow by USD 33.68 bn from 2020 to 2025.
Latin America has the fastest projected IT industry growth of any region, with a projected revenue growth rate of 5.3% for the 2020s, 2 points above the 3.3% global average.
When it comes to software outsourcing to Latin American companies, this region offers an excellent software development talent pool that results in high-quality nearshore outsourcing services. Latin America boasts a large number of software engineering partners that clients can choose from according to their objectives, required solutions, and outsourcing needs.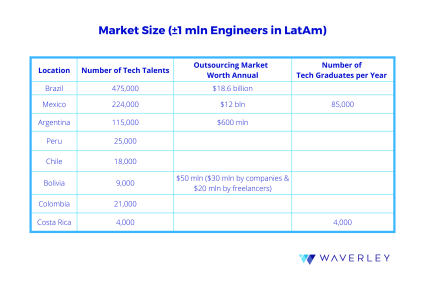 The fast growth of the nearshore software development industry in Latin America has allowed large companies in North America to hire engineering teams far from the main company location. Although onshore software development means expanding the company's capabilities by working with additional teams in the same or nearby regions, the market it covers is much smaller. That's why nearshore software outsourcing to LatAm is a really good option for team expansion. That said, for Waverley Software working with software engineering talent in LatAm is not new.
Our company has been building engineering teams for clients all across Latin America for more than two years. Our office in Bolivia hosts talented JavaScript, Java, and .NET engineers, business analysts, and project managers and we create software products for many industries, such as Healthcare, Fintech, etc. Bolivia is considered the technological center of Latin America. Our office in Cochabamba is also a center of operations for all our teams in LatAm, including engineers in Honduras, Colombia, Costa Rica, Brazil and Argentina.
As you can see, Latin America shows great potential for technological talent, and the software outsourcing industry is booming there. Therefore, here are the 5 reasons why companies should consider outsourcing their software development to Latin America.
1. Excellent English and Communication Skills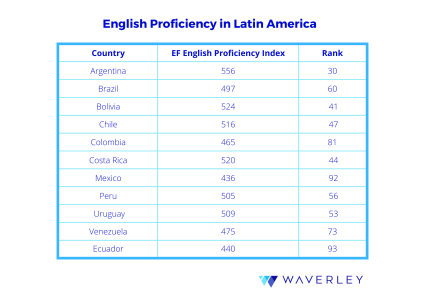 We know that English, as a global language, is important and necessary for the efficient modern business environment. Latin American countries are constantly investing in improving the English skills among their population and have developed certain policies to facilitate language learning and increase the number of English-speaking tech specialists in the IT market.
Good command of English helps us to keep up with the global advancements in the industry and since Latin America shows interest in expanding the export of their talent to different regions of the world, they must also help the engineers comply with certain communicative and quality standards.
From luxury to necessity
In a Spanish-speaking region, learning a foreign language may seem difficult at first glance. Previously, teaching and learning a second language (L2) was seen as a luxury, however, now it is a necessity. At present, the majority of Latin American countries have developed education standards for learning a second language. Schools are legally obliged to teach English and promote it as a global and necessary language, giving it even more relevance. Although there is no direct interaction with native English speakers, this strategy is useful for the improvement of foreign language skills, since it is taught from the beginning of the educational system.
In addition, there are different organizations and independent institutions focused on teaching general and business English, depending on the specialization, thus allowing everyone, regardless of their age, profession, objectives, to learn and even teach English. The teaching, learning, and practice of this language in LatAm is more common than it seems, thanks to solid, realistic educational systems and a forward-thinking focus on the social needs and daily practice, thanks to digitalization.
Neutral English?
Latin America brings with it the acceptance of Anglicisms and better and faster adaptability to the language, contrary to other sectors where they also have Spanish as their native tongue, as in the case of Spain, where pronunciation and interpretation is different only for social reasons.
We can then note that it is not only important to be in constant contact with the language, but that a determining factor for its use is ultimately the attitude of the speaker. For example, in most Spanish-speaking countries, in the communication of daily living, English words and expressions are used without any sort of limit. So, Latin America's people started to speak English and Spanish at the same time.
2. The Abundance of Skilled Software Engineers in LatAm
In Latin America, software engineering is a highly popular and widespread university degree. A study by Stack Overflow that lists the best countries for subcontracting, gives Latin America the top rankings. It is based not only on the experience of the local engineers, but on the peculiarities of the work environment and culture.
Thanks to the versatile and multi-faceted tech education system, software developers in Latin America, by the time they have 5 years of work experience, are already well-versed in not one but multiple programming languages, technologies, and frameworks. Full-stack developers are easy to find in this region, engineers are eager to learn new stacks and often work on personal projects.
Stack Overflow also shows that there is a market of approximately 1 million graduated Latino engineers who work actively in the technology domain. Latin American talent has an important role in the global technological business environment. For example, Bolivia, the Silicon Valley of Latin America, has a solid infrastructure and an excellent university system. An estimated 3,500 students graduate per year with bachelor's and master's degrees in computer and technology-related careers. This data shows us the staff augmentation that Latin America has.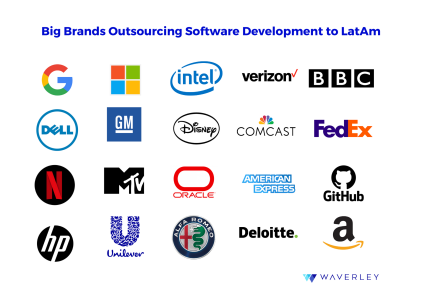 3. Cost-Efficient Software Development Rates in LatAm
Another reason why many companies outsource their software engineering needs to Latin America is the cost effectiveness of the rates offered by local software development vendors.
Latin America offers its services and its experience at more accessible or lower costs compared to other foreign teams with the same experience and work results. According to a study carried out by Glassdoor in 2022, the average salary for a senior software developer in the US is about $12k per month, while in Latin America, an engineer with the same experience makes about half as much.
This helps customers to significantly optimize their development expenses and invest the budgets into other fields, such as business development and the creation of new products. At the same time, if you work with an established company, like Waverley, you don't have to recruit and onboard the specialists yourself, so it also saves you a lion's share of the ramp-up costs.
4. Broad Range of Tech Skills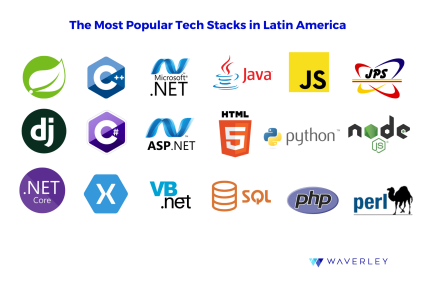 It's very common for Latin American software engineers to master different programming languages at the same time. E.g. one engineer would be able to work with JS on the front-end, Java on the Back-end, but also Python or .NET on the back-end, if needed. Popular and easy to find languages in LatAm are Java and JavaScript, Python, HTML, Ruby, PHP, and SQL.
The deep knowledge of multiple programming languages is a special advantage of working with LatAm engineers, as it gives good results when developing a project.
Latin America offers highly talented workers who are prepared to handle any engineering challenge. All this with the aim of constantly developing their skills and extending their knowledge base and thus having the ability to adapt to the requirements of many companies and to help their clients with versatile engineering dilemmas.
That a single engineer is capable of coding in different languages at the same time, does not mean that they don't have a specialty or focus on a particular language, but on the contrary, they are familiar enough with many programming languages and tools to be able to work with them in real-time and with good results. This broader specialization allows LatAm engineers to perceive all aspects of the software architecture and deliver holistic, all-encompassing solutions with unrivaled business value.
5. Time-Difference and Geographical Proximity
Another great advantage of outsourcing to Latin American countries is the relatively small difference between the time zones with the US, which is necessary for seamless and efficient communication. This time zone proximity makes it much easier for an outsourcing client to coordinate, cooperate, contact, and supervise the development process in real-time.
Geographic Proximity
In addition, Latin America is really easy to travel to from the US. There are direct flights or flights with one short layover within approximately 10 hours in the air. This factor facilitates continuous, face-to-face communication and allows for in-person visits to the vendor's office and for the team to work on-site with the customer.
Summary
Latin America is a great technological powerhouse and one of the best options to consider for software outsourcing.
Latin American countries have everything it takes to deliver efficient, scalable, and fast results. For example, experienced engineering professionals in LatAm are trained and specialized in multiple different programming languages at the same time. Also, the language of communication is not an impediment or limitation, the Spanish-speaking countries have been preparing with the great impetus to break down the language barriers.
The nearshore location factor is one of the great benefits of outsourcing to LatAm, since the time difference is very favorable between the United States and LatAm. Economically speaking, the budgets for LatAm-based outsourced teams are much more accessible than hiring in-house teams in the US.
The latin engineers deliver quality software within the expected timeframes, providing a lot of business value, which has already been recognized by many companies worldwide.
So, what is the first step towards a successful project? Simple, Software Outsourcing in Latin America!
FAQ
Is Latin America good for outsourcing?
Yes, Latin America is good for outsourcing for many reasons. It has a rich talent pool, excellent English skills, high-quality engineering expertise, favorable business environment, cost-efficient rates and very convenient time zone for the North American customers.
How to outsource in Latin America?
To successfully outsource to Latin America, collect all the details about your project: requirements, tech stack, ideal process, job descriptions of engineers. Then, look for companies that match in terms of the expertise and experience, ask them about their process, verify their English skills, ask for clients' references, etc, to find an optimal partner for your business.
What are the risks of outsourcing to Latin America?
In Latin America the risks for companies outsourcing engineering services are similar to those of other destinations. Language barrier, time difference, security, unforeseen expenses, etc. To avoid the risks, be very careful when selecting your outsourcing vendor.
Which country in Latin America is the most attractive location for software development outsourcing?
That depends on the priorities of your specific company. However, Bolivia, Honduras, Colombia and Costa Rica have shown to provide excellent value for money, with high-quality work delivered at very competitive rates.
What is the cost of outsourcing to Latin America?
It depends on the country of choice, seniority of engineers and the tech stack. However, in general engineering hourly rates in LatAm are 2-3 times lower than in the US, ranging between $30 and $60.