Vietnam Software Outsourcing: Top 10 Benefits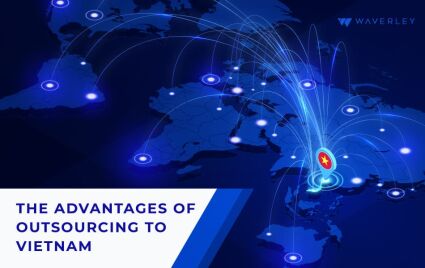 Introduction
When you think of countries that are known for software outsourcing, you think about specific factors that contributed to those countries being the leaders.
Traditionally, if you are trying to outsource software development, and choosing among the many outsourcing destinations, you have to evaluate whether they meet certain requirements.
First and foremost, technical expertise. Quite simply, the country has to be able to offer the needed tech skills in abundance and if you're looking for rare tech stacks, sometimes only a select few countries have the technical skills to accomplish your project. Another big factor is their English-speaking abilities. It's hard to work on a project if you can't easily communicate with the people you are working with. Lastly, if the price isn't right, it doesn't make sense to outsource. Those three aspects are most likely the first that come to mind, but there's also geographical proximity (and time difference with you and your team), cultural aspects, and many others.
Luckily, nowadays the software outsourcing industry offers plenty of choices, and you can pick between large organizations and somewhat smaller vendors, experienced but expensive developers locally, or more cost-efficient options offshore. In this article, we'd like to ask you to pay closer attention to Vietnam, as a country with lots of potential in software engineering.
If it isn't already clear, this article is about outsourcing to Vietnam and all the benefits and considerations to take into account when deciding whether to outsource your software to Vietnam.
…
The outsourcing industry is a huge economic force in emerging countries. With the power of the global market, companies can outsource to up-and-coming countries and both sides can prosper through mutually-beneficial contracts. It gives foreign investors access to skilled talent and, in return, emerging countries receive continuous projects to support their workers and their economy.
Recently, many of the countries that were top choices for software outsourcing in the past have experienced an exceeding cost to outsource there. Meanwhile, Vietnam software outsourcing has not only remained a more affordable option, but has undergone a digital transformation and a new influx of skilled laborers have joined the talent pool. This new spike in talent has made it a top choice for companies outsourcing software development.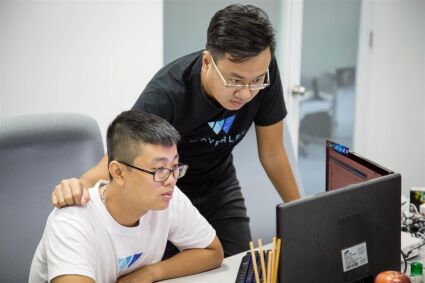 Waverley Software caught this trend early on and has had an office in Ho Chi Minh City, Vietnam since 2012. Waverley Software now boasts a team in Vietnam that can handle any software development outsourcing project – all for a fraction of the cost to develop in the US or Australia with the help of local talent.
Believing in the future of Vietnam as a software outsourcing and a talent supplier, and beginning in 2017, Waverley Software has invested in future members of Vietnam's working economy by offering Computer Science university graduates an 8-week long software QA training from our lead, on-site engineers. Following the training of best practices and real-world development projects, top trainees are be offered full-time jobs, helping us quickly scale our clients' teams with engineers already familiar with the project specifics.
The Benefits of Outsourcing Software Development & Testing to Vietnam
1. Solid Technical Expertise & Vast Engineering Pool
Vietnam has realized long ago that job training and technical skills are in-demand so the country now has over 1,900 vocational schools where future employees can get the know-how for landing a job in the market. This has led to an exceeding number of candidates that are trained in the programming languages and protocols to tackle your project.
When looking to find software outsourcing companies abroad, it's a no-brainer that you need to find a company that actually can use the technology that you need them to use to make your custom software.
Vietnam software companies have caught up quickly with the rest of the global market in terms of the technologies they are utilizing and are skilled in. Outsourcing companies in Vietnam already have engineers working with emerging technologies like Blockchain, cloud computing, IoT, Machine Learning, as well of course as all other commonly-used software development technologies.
In Vietnam, you will find that certain tech stacks are more commonly found than others. For instance, you will have a much easier time finding .NET, JS, and Quality Assurance engineers in Vietnam than you would find Ruby and Scala developers. That isn't to say that there aren't any talented developers available to hire, there is just less institutional training in those stacks, so the hiring might take longer – unless you're working with an established vendor who has those skills on their team.
Annual growth of the software development department has been climbing 10% for consecutive years. Being a combination of more skilled laborers joining the job market and a surge in foreign companies hiring and putting resources into the country, you can expect the growth rate to keep increasing.
Vietnam outsourcing can handle any sort of software outsourcing services that you need fulfilled.
2. English-Speaking Country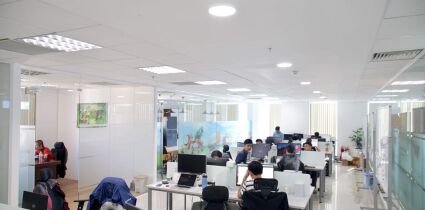 The frequent barrier to success with outsourcing software is language. If you are an English-speaking company looking for outsourcing services in a foreign country, the thought of stumbling through a language barrier can be enough to stop you from even outsourcing.
Where this might be a massive hurdle in other offshore software companies, there is hardly such a problem in Vietnam for outsourcing software.
Higher educated Vietnamese will likely be exceedingly proficient in English. You can expect that college graduates, regardless of degree, will have exposure and proficiency in the English language. This means that the software engineers that would be doing outsourcing services would possess years of English training. Put your communication worries to rest, Vietnam is English-ready for offshore software development.
At Waverley, we make sure our team offers excellent written and spoken English, we carefully assess the engineers' level of English during recruitment, and also during regular performance reviews, offering language courses and other activities that help support the language. As a result, the average level of English of our engineers in Vietnam is B2 (upper-intermediate).
3. Compelling Outsourcing Rates
Of the set of reasons that you might want to choose Vietnam as the country to handle your software outsourcing, the main factor that is on everyone's mind is price.
How much is it going to cost me?
Is it affordable for my project?
Well, good news for you. Vietnam is among the most affordable countries to outsource software development projects done at the moment.
Where, in the United States, you might expect to easily pay over $100 an hour (and easily up to $400 an hour) to have a project worked on, projects in Vietnam, can be done for $20-$40 an hour per person (depending on your team seniority). That price can't be beat for the quality of software development outsourcing that you're getting.
To put that in perspective: The average Vietnam software developer's salary is close to $900USD per month – a far cry from the expected salary of a developer in the United States.
Obviously the salary of a Vietnamese developer is going to be much lower than that of a developer in the United States, but even when you start comparing the cost of labor in Vietnam for software outsourcing to its competitors, Vietnam still stands out as a top offshore software outsourcing choice.
The average yearly salary for a Software engineer/developer is a little under $20,000USD a year.
4. The Abundance of Young, Enthusiastic Talent
If you've never been to Vietnam and don't know very much about it, we'll fill you in on the dynamic. And the secret that makes every country a great country – the people.
Vietnam is a country with a relatively young population with an abundance of recently-graduated individuals that are joining the workforce. 74 million individuals make up the workforce of the country and half of that workforce is individuals aged 15-39 – that makes for a fairly young, working population.
The growing skilled labor force is another factor that makes Vietnam a bustling, new destination for outsourcing. Vietnam's workforce is talented in the sciences: The country's government and higher education system have realized the importance of training students with knowledge on in-demand skills, and have focused their energy on engineering and the sciences. Roughly 280,000 Vietnamese students graduate from college or a university each year and enter the job market. This provides a wide selection of possible candidates to choose from for software outsourcing services when compared to other economies.
5. Modern Business Hubs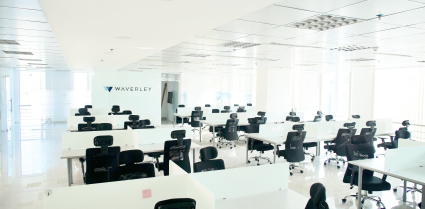 Unlike in the United States, skilled workers and outsourcing companies in Vietnam are concentrated in just a few cities across Vietnam. In Vietnam, there is no need to search high and low for candidates – they can all be found in a select few areas.
When searching for a software outsourcing agency, look to the cities of Ho Chi Minh City, the city of Hanoi(capital), and the city of Da Nang. Each city offers different benefits to outsourcing that you might enjoy over the others. For instance, Ho Chi Minh City is the country's economic center, whereas Hanoi is the political center of the country. Hanoi also has more students graduating from that city if you are looking for fresh recruits but Ho Chi Minh City is where most workers with years of experience will reside. The Vietnam software development ecosystem will surely keep growing.

For example, Waverley Software has a wonderful office facility in Ho Chi Minh City. It is a cozy and modern space in a new building in the middle of a very promising business district. Full of light, and filled with state-of-the-art equipment, it both serves the needs of our team and complies with the needed security regulations, to ensure the confidentiality of our client's sensitive data and intellectual property.
6. Favorable Investment Environment
Vietnam is among the fastest-growing economies in Southeast Asia – quickly becoming a popular choice for FDI(foreign direct investment), a stable export-focused production economy that supports the majority of the working class. According to the World Bank, 16.12 Billion dollars flowed into the country in 2019 – all from foreign investments in business, projects, and infrastructure. In the same year, the Vietnamese government put forth Resolution 55, which was a project aimed to bring in 50 billion USD in foreign investments into the country by 2030. Companies around the globe are waking up to the fact that outsourcing development to Vietnam is an opportunity of a lifetime for a business.

Many multinational companies are taking their business and projects to Vietnam, as it is a safe, smart place to invest. With a sound political and cultural standing, the country is ripe for long-term investment. After having undergone a digital transformation and now having a sizable pool of IT talent, it is an excellent place to take offshore software development business projects.
7. Excellent Engineering Education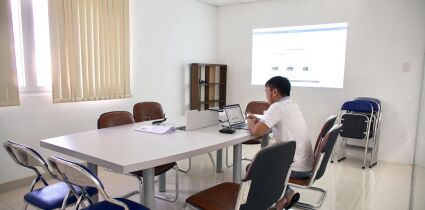 While still trying to clean up their reputation for being a Communist government, the current government is working to establish Vietnam as a safe, effective place to invest money in – and they have been doing so in a stable manner for over 30 years now. They are prioritizing engineering and the sciences because they have seen it bolster other countries in Asia and they want to stay on the cutting edge and make sure foreign companies are targeting Vietnam for software development. The country's leadership is working to steer Vietnam in the direction of engineering prowess and away from its former reputation of a production and manufacturing economy.
8. Political Stability
It is a largely ethnically-homogenous country with the majority of the country not being outwardly religious, these conditions make for a stable socio-political situation that is opportune for commerce and growth. You can expect Vietnam to be free from large conflicts and unrest compared to some other countries in Asia and Southeast Asia.
With an educated and ambitious population, outside support, and a stable political landscape, Vietnam has all the makings of a promising country. During the global pandemic of COVID-19, Vietnam demonstrated a disciplined and efficient approach, which helped the country quickly mobilize the resources and minimize the risks.
9. Geographical Proximity
When outsourcing software, many like to get their feet on the ground and establish a rapport with the team working on their project. If you do decide to do software outsourcing for a project in Vietnam and anticipate traveling there to check in on progress, doing so is quite doable.
If you are based in the United States, Australia, and especially Asia – visiting Vietnam will be easier than you think. Direct flights to Vietnam land in Ho Chi Minh City and, from there, connect to other cities in the country. Traveling within metropolitan areas in Vietnam has become a breeze with safe and modern infrastructure. Fly, take a train, or drive to your destination.
With projects and with travel, you can expect the Vietnam time zone to essentially be flopped from the United States time zone. Where it is midday in California, it is 2 AM in Vietnam. That means, with good organization and management, you could orchestrate a 24-hour day of offshore software development by strategically running development teams throughout the day in different time zones. That's the power of offshore outsourcing.
10. Special Culture & Good People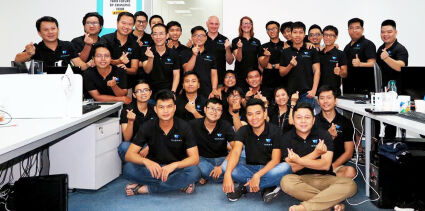 When asked about our teams in Vietnam, our customers often mention their immaculate work ethics. Engineers in Vietnam are highly responsible, punctual, and conscientious, offering a combination of excellent communication skills and integrity, patience and passion for innovation and modern technologies. The teams are very flexible, easily adopt the client's tools and process, provide regular transparent reports, and openly communicate about any potential issues.

As an international company with a presence on 4 continents, Waverley trains all engineers in the best practices of software engineering, keeping track of the latest advances in tech and maintaining the same level of quality across all our locations, from Silicon Valley to Bolivia, to, Ukraine and to Vietnam. When vetting our engineers, our recruiters pay equal attention to soft skills and tech skills, to make sure our customers receive close-knit, well-suited teams of professionals, with not only a match of tech skills but also their personalities.
Bonus: The Outsourcing Checklist
Now that you know there is so much talent to choose from, the hardest part of deciding to do development in Vietnam is picking the right outsourcing company to accomplish your project.
Considering that there are over 300 software vendors in Vietnam, it might seem overwhelming to choose one.
When deciding which outsourcing company to go with, it's important to keep these outsourcing best practices in mind when picking your company to hire:
Proficient English skills – can you communicate easily with them?
Industry experience(history of experience) – are they an established outsourcing company in Vietnam or fresh on the scene?
Engineers know the tech – do they understand the technologies that you would like to use?
QA and testing protocols – how precise is their quality assurance procedure?
Pricing expectations – is the Vietnam software outsourcing company affordable for your budget and not suspiciously cheap?
Development methodology – do your business methodologies line-up and agree?
The biggest of the outsourcing best practices to follow is to make sure to find a software outsourcing company that is already established and has resulted in the space. It can be tempting to go with the new software outsourcing company offering overly cheap rates, but if they don't have a history of quality work to show, it may be a waste of your time and money.
Summary: Outsourcing Software Development to Vietnam
Vietnam will continue to increase in desirability for businesses, just as it has been growing as an investment opportunity for over a decade now.
This country is fast becoming one of the top countries for software outsourcing engineers. With such a wide selection of talented candidates for software outsourcing, filling positions for your project not only will cost you less, but will be a more efficient and speedy process. Software outsourcing is a market that has no reason to slow down and will keep picking up as time passes as long as companies need custom software. Where you might have trouble finding enough engineers to staff a project in other countries, when you are in Vietnam for software outsourcing, you can get your project started much more rapidly than you might be able to elsewhere.
Based on staffing and outsourcing review website, Clutch, Waverley Software is the top choice for outsourcing companies in Vietnam. Ranked #1 as a software outsourcing company in Vietnam, Waverley is your first choice. With our office based in Ho Chi Minh City, you'll have access to the widest selection of top talent choices in the country. Global companies like Seagate and Mozilla have already partnered with Waverley to scale their software engineering projects.
Waverley's Vietnam office has implemented industry-standard security. From surveillance, to having private rooms for teams to collaborate, and access rights for the office – going above-and-beyond to ensure that your product is kept safe.
Working with Waverley Software in Vietnam for software outsourcing is the first step in launching a successful project!
About the Author

FAQ
Is Vietnam Good for outsourcing IT?
Yes, Vietnam is an excellent destination for outsourcing software development & testing services. This country has a stable economy, high-quality technical education, a rich talent pool with a wide tech stack and very favorable rates.
What companies outsource to Vietnam?
There are multiple companies outsourcing software development and testing services to Vietnam. Among them are tech global companies like Seagate, Mozilla and others like Sony, Cisco, etc.
Is Vietnam a tech hub?
Yes, in the last few years, Vietnam has grown to be one of the biggest tech hubs in Asia and hence it has become well known in the tech world.
How to outsource software development to Vietnam?
To successfully outsource your software development to Vietnam, be very specific with your requirements to the team, their expertise and your expectations. Pick a reliable vendor, sign an NDA, SOW and PSA with them and set up an efficient and transparent communication process. The key to any outsourcing relationship is to treat your outsourced team as your own, visit them if possible, and build relationships.