Waverley Romania is now ISO 27001 Certified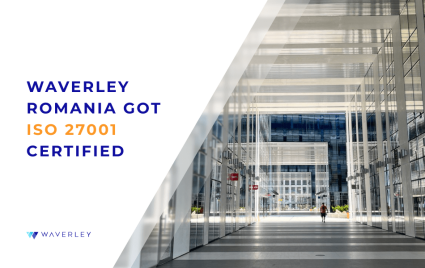 Cluj-Napoca, Romania: Waverley is pleased and proud to announce that our development hub in Romania has just received the ISO 27001 certification.

ISO 27001 is an international standard on how to manage information security. Published by the International Organization for Standardization and the International Electrotechnical Commission it contains a set of policies and best practices that ensure the utmost security, confidentiality, and integrity of all software systems. At Waverley, we uphold these standards, safeguarding all data so only authorized persons can access or modify the data.
What does ISO 27001 certification mean for our customers? A company with ISO 27001 certification has:
Passed a thorough audit of all internal systems and processes in terms of information security
Ensured all departments follow the best practices of information security and data protection
Described all security processes and procedures
Identified potential scenarios that pose a risk to information security and outlined strategies and tactics to address them
Protected all the data with the right tools and established access rights
Trained its personnel on the best security practices, provided them with access to information and knowledge about information security, phishing, social engineering, etc.
Switched to using secure certified tools for storing and managing data
Created a clear and comprehensive business continuity plan
Put together an incident response team and provided them with all the means to react fast in case of a security breach
Proven that all corporate processes comply with legal regulations and requirements
At Waverley, information security and protecting our clients' data has always been a top priority. Receiving this certification means we have implemented the highest standards to systems security.
About Waverley: Waverley Software is a software engineering company headquartered in Silicon Valley with development centers in Eastern Europe, Southeast Asia, and Latin America. For three decades, Waverley has been solving complex software challenges for a wide range of clients from startups to Fortune 1000 companies. Our ability to provide comprehensive, integrated software engineering services starts with assembling a multidisciplinary team of the most highly skilled software engineers, designers, and project managers from around the world. We play in all categories and have demonstrable expertise in Social Robotics, Enterprise Productivity Tools, Home Automation & Security, Healthcare, Automotive, and the Internet of Things.