Rapid Digital Transformation: Tools to Move Your Business Online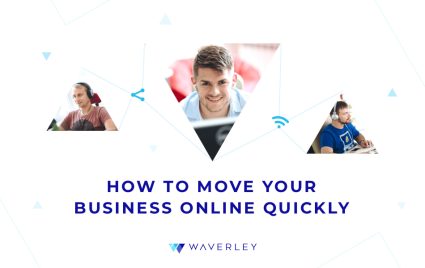 The COVID-19 outbreak has presented many offline businesses with a major dilemma: how do we keep going and stay profitable in this new reality? Suddenly, a large segment of the population began working from home. Social distancing, self-isolation, quarantine, sequester, and shelter-in-place have become the watchwords for 2020.
Countless businesses are looking for ways to stay afloat. Restaurants and brick-and-mortar stores have been closed down in many countries to "slow the spread" and "flatten the curve." Companies that had already established an online presence opted for the business benefits of digital transformation with online sales and delivery. The rest began to rethink their strategy and embrace digitalization.
Here are some useful tools for rapid digital transformation that will help you quickly move some of your business processes online, if you haven't done so already.
Remote Work & Team Communication Tools
Staying in touch with your team and keeping them efficient is the number one rule for a successful digital transformation. Especially for businesses that have closed their offices and asked their staff to work from home. This can be challenging for people accustomed to a structured environment where their very presence in the building means it's time to get to work. No longer in close proximity with their colleagues and supervisors, communication becomes a primary concern during the digital transformation journey. New means of communication help companies discover new business models in this process of adaptation to a more distanced way of life.
Slack is one of the greatest business communication tools to set up team interaction. It offers private chats and public channels, the ability to connect multiple teams in one account. You can even place a call to your team members from the platform. Slack also provides integrations with Trello, Google Drive, and other tools for collaboration. You can create chatbots to simplify your reminders, facilitate information sharing, and scheduling. The standard plan for small businesses is less than $10 per month, larger businesses can use Slack's Enterprise Grid for unlimited workspaces. Like with many digital transformation tools and platforms, the more you pay, the more you get in terms of functionality and the number of team members who can connect on Slack. On the downside though, message history is quite limited for most of the pricing scenarios.
Skype is probably the most widespread means of video communication online. The free version offers unlimited message history storage, allows for file sharing, video conferencing, group conferences, and many other options. The more developed version of Skype, designed specifically for businesses, is called Microsoft Teams. It integrates instant messaging, video conferencing, and document collaboration in a single app and can smoothly support your digital transformation efforts.
Zoom is one of the most popular communication tools for working remotely nowadays. You've probably already heard of it on all the social media. Basically, it is a platform for video conferencing and group meetings. The free plan allows unlimited 1-1 meetings, screen sharing, video and audio call recording, and group meetings of up to 40 minutes duration. Paid plans offer to boost your business transformation with digital reporting, scheduling, company branding, custom emails, cloud-stored call transcripts, and support for webinars. But don't forget to use this application wisely, taking into account some recent findings of its security vulnerabilities.
Google Meet provides high-quality image and sound for video conferencing, but there are no free plans. Google Hangouts Meet, part of the Google package for businesses, is an effective tool for enterprise-level clients as it is very secure and comes in a bundle with other Google products for business. Great service pack to start your digital transformation project!
If you're looking for a more dynamic, interesting communication tool for working remotely, Sococo offers an entire virtual office space that allows users to choose a floor plan and decor for their office. On this platform, digital transformation feels really natural: team members can "knock on the door" when they want to communicate with a colleague, for example. Sococo offers HD video calls, both 1-1 and group, as well as in-app chat, document sharing, and multiple concurrent screen shares. Users can even get a birds-eye view of the virtual office. For easy access from a smartphone, Sococo provides iOS and Android apps that were developed by Waverley engineers.
eCommerce Platforms
If your website is only informational, global quarantine is a good incentive to turn it into a full-scale sales tool by means of an efficient digital transformation business strategy. Many shops and restaurants still accept orders via direct messages on social media, but this method lacks convenience, sufficient analytics, and smart order management, which can be achieved after your business undergoes a successful digital transformation. Of course, it is always better to develop a smart custom platform for your business with the features needed to leverage the latest retail technology trends. However, if you need something on short notice, there are several ready-made top eCommerce platforms that are fairly easy to customize and connect to your existing website.
Magento is the most well-known, but also the most complicated eCommerce web platform. Like many digital transformation tools, it began as an open-source solution and has primarily been used by larger businesses because setup and maintenance require more development effort than other platforms. On the bright side, the Magento eCommerce platform is more customizable and allows for a wide range of complex features, beginning with hosting; users can host their site on-premise, in the cloud, or with a third-party hosting service.
BigCommerce is a good SaaS (Software as a Service) alternative that is very affordable for digital transformation initiatives. Cloud-based, highly secure, and easy to use, it offers many features for small and midsize businesses looking to streamline their eCommerce process. One of the big advantages of BigCommerce is that businesses with a WordPress or Drupal-based website can integrate it with Headless Commerce and continue using your existing site on the front-end without having to make a lot of changes to the BigCommerce back-end.

Shopify is also cloud-based, mobile-friendly, and easily customizable. Its ease of use and simplicity in terms of customer experience makes it a top choice for smaller businesses in need of quick digital transformation. It offers the ability to transition your old website to the Shopify eCommerce platform, quickly add new products, easily filling all the fields. It has convenient dashboards and drag-n-drop areas. On the other hand, if you need additional and more complex functionality, you'll have to turn to some third-party apps that will support Shopify in your digital transformation strategy.
OpenCart works for those who truly want to keep costs low in their business transformation with digital tools. It is a free eCommerce platform – an open-source cloud-based website builder for business owners with no development background. Thanks to the global support of an open-source community, OpenCart offers a great selection of add-ons and a dashboard that is simple and easy to understand for most users. The downside is that it's not an out-of-the-box full package solution and you'll need some development expertise to select and set up the extensions.
Online Payments
Providing your clients with the ability to make online payments when ordering goods or services from you plays an important role in the digital transformation process of any retail or service business. In fact, this option on your website raises customer confidence as processing payments via trusted platforms is viewed as more secure. Simplifying your website's customer experience so your clients can complete transactions with a couple of clicks shows a customer-centric attitude that increases loyalty.
Finally, shifting to electronic money transfers is a safe alternative to using cash as it limits direct human contact and eliminates the exchange of cash when so many people are obsessed with disinfecting everything they touch. Easy as pie, with digital transformation tools, of course. The list of online payment systems below will give you some insight into these digital technologies.
PayPal. It is now considered a top turn-key online payment solution that can be easily integrated on your website and make fast money transfers. PayPal offers two main solutions for business owners: Payments Standard and Payments Pro. The standard plan is absolutely free and guarantees security and compatibility with most credit and debit cards as well as bank transfers even for customers who don't have a PayPal account. The Pro plan gives you more digital transformation benefits such as the ability to design and host your own custom checkout page without redirecting the user to PayPal, and to accept payments via phone, fax, or mail through the Virtual Terminal.
2Checkout is one more leading online payment system that supports a variety of languages, currencies, and payment methods to satisfy the needs of its users worldwide. It even supports PayPal accounts. The platform is very flexible in terms of localization and customization, with the ability to create customer-tailored subscription plans to help businesses meet their specific needs during the digital change. For B2B clients, 2Checkout offers a hosted shopping-cart model with a rich gallery of off-the-shelf templates or an inline-cart model that integrates with your website through their API, sparing users the extra step of getting redirected. They also help business owners make their e-commerce websites more attractive with additional merchandising and marketing tools that can be easily integrated for a truly omnichannel and effective digital transformation.
Amazon Pay is an ideal online payment solution for Amazon shoppers and sellers. The main benefits of it as a digital transformation tool include a secure checkout procedure where users get redirected to the Amazon Pay page and don't have to enter their sensitive data on a third-party website. This increases trust in third-party sellers. This solves the problem of low trust levels and poor customer experience, which is cited as one of the key reasons for cart abandonment by shoppers.
The redirect feature also allows quick and simple checkout for shoppers as the system uses all the payee information already loaded into their Amazon account. They don't need to enter their card information over and over and can complete their purchase in just a couple of clicks. Another value of Amazon Pay that drives digital transformation is the omnichannel payments option, which makes paying for goods or services convenient from any device through a web, mobile or desktop interface, and even by voice-controlled Alexa. If you are not using Amazon as your e-commerce platform, you can still easily add the Amazon Pay button to your checkout page if you are a client of their premium partners Shopify, Magento, or BigCommerce.
Stripe is a suitable solution for businesses looking for more flexibility and customization options in new technologies. However, it will require some software engineering talent to get it up and running. The basics the Stripe platform provides to e-commerce businesses is a payment processor to handle transactions and a payment gateway that accepts bank cards online. Similar to the previous digital tools, the platform can support a variety of payment methods, languages, and currencies, allowing you to use it globally. In addition, Stripe provides a number of customization tools for building your own payment forms, creating and sending invoices, integrating with other platforms, using artificial intelligence and setting machine learning-based security, getting reports, managing your account, and other digital transformation services.
Data In The Cloud
If you have previously used on-premise servers to store your business data, now is the time to consider moving to the cloud, following the latest business digital transformation trends. It might help your budget by eliminating the need to pay for data centers and their maintenance. Cloud storage offers cost-efficient transition and support of various aspects of data storage. In addition, cloud infrastructure provides countless possibilities of digital disruption for employee collaboration, automatic updates, and much higher security protection than most of the modern on-premise enterprise servers. But most importantly, you can rely on cloud data storage when it comes to disaster recovery: they provide both speed and convenience. So what are the options to consider when moving your enterprise data (or eCommerce platform) to the cloud?

IaaS: Infrastructure as a Service (e.g. AWS, Azure, Google Cloud Platform, Alibaba Cloud) lets you leverage the digital technologies on a pay-as-you-go basis and receive storage, networking, and virtualization services without costly on-site server infrastructures. IaaS platforms are highly flexible and scalable and give you control over your infrastructure.
PaaS: Platform as a Service (provided by AWS Elastic Beanstalk, Heroku, Google App Engine, Engine Yard) is a solution that simplifies your software development process with new technologies. In short, you or your development team can use PaaS solutions to create apps without all the time and costs associated with extensive coding. The platform will take care of many technical aspects of the development process so you can focus solely on your product.
SaaS solutions (Software as a Service, e.g. Google G Suite, Office 365, Salesforce, NetSuite) have turned many digital transformation projects into successful businesses. With the SaaS model, you can access your software without the need to download or install it. These are ready-to-use packages that take care of updates, maintenance, and security for a monthly subscription fee. They are offered by third-party providers and stored on remote servers. SaaS platforms allow for a certain level of customization and often have package deals tailored to fit the needs of various businesses.

If not sure how your business can leverage modern cloud technology innovation solutions, our cloud engineers will create a personalized cloud migration strategy for your organization to help you move to the cloud quickly at a reasonable cost. Make the digital transformation of your business an enjoyable experience.
Accounting & Budgeting Tools
The majority of entrepreneurs think that keeping track of the financial matters of a business is the most tedious and complicated task. However, building your digital transformation strategy gets easier when you know there are a bunch of helpful software solutions that can reduce the hassle of financial reporting and bring more accuracy to your calculations. We suggest looking for off-the-peg online budgeting tools that include features to cover the basic accounting tasks: invoicing, expense tracking, billing and recurring payments automation, tax preparation, payroll processing, and integration with other online business-management tools and platforms.
FinancialForce Accounting is a cloud-based platform for finance management, including accounting and budgeting, powered by Salesforce – one of the world's digital transformation leaders in using new technologies. It is best suited for companies with 100+ employees. It is integrated into the Salesforce CRM platform, so if you are a Salesforce customer, this financial solution will be your perfect choice. FinancialForce offers a general ledger design for process management, handling accounts payable and receivable, cash flow optimization, automated billing, and automated ordering functions. By offering real-time reporting and leveraging the advantages of business intelligence, it enhances the capabilities of the system.
Quickbooks is one of the top all-inclusive online accounting tools that can function as both on-premise and cloud-based software and is best suited for small and mid-size businesses in achieving the digital transformation of their accounting process. It lets you uncover new business models by easily handling all the financial aspects of your business such as taxes, payroll, basic financial reporting, cash balance, investments, expenses, and so on. It also includes a receipt scanning feature and provides invoicing status for clients. The system allows importing and exporting from Excel, accepting and processing payments from all credit cards and, unlike FinancialForce, integrates with additional third-party applications such as PayPal and Shopify, as well as inventory management, time-tracking, HR management, and other digital transformation tools.
Xero is a relatively cheaper cloud-based online accounting software also designed mainly for small and mid-size businesses. Like its competitors, it boasts a whole set of features for the effective digital transformation of your budgeting, including intuitive design, recurring invoices handling, credit card transactions, cash flow management, payroll and taxes, forms and reports, expense processing, a variety of third-party integrations, cross-device access, etc. A feature praised by bigger companies or freelance accountants is that you can add as many users as you need at no additional charge. Xero also guarantees strong cyber security measures including data encryption and multiple authentications using all the new technologies.
Wave Accounting is an alternative to the above-mentioned accounting platforms that offers a free trial with various subscription plan options for your business transformation. The software is intended to serve the needs of small businesses and provide them with some free online budgeting tools and basic accounting features of income and expense management, invoicing, recurring billing, and receipt scanning. As a favor, Wave offers its users a special guide to help them quickly import their data and switch to the platform from other online accounting tools. They also claim to secure your data with 256-bit encryption and are PCI Level-1 certified to handle financial transaction information. The software can be used as a web-application accessed with your browser, or as a mobile iOS/Android application.
Float is one of the top cash flow management applications well-suited for small businesses dealing with digital transformation challenges. It helps you track incoming and outcoming expenses and plan better with the financial forecast feature. The app provides great visual reporting, integration with accounting applications (Xero, Quickbooks, and FreeAgent), supports bills and invoices import and report export to PDF or CSV files.
Other Digital Transformation Tools
In the previous sections, we've described the vital instruments that will help you quickly get on your feet in the realm of online business. But you can do much more. There is a myriad of digital transformation tools serving other business purposes, for example, HR management, supply chain management, project and task management, time and attendance tracking, scheduling, and process automation, to name a few.
HRMIS – Human Resources Management and Information Systems. These platforms are designed to bring even more digital transformation business benefits by keeping the necessary information about all the company members in one place. More simple and usually free plans from Zenefits, Zoho People, Bitrix24 offer basic features of HRM tools for digital transformation such as employee directory, employee profiles, employee self-service, leave management, time and performance tracking, reporting, and company calendar.
The more advanced HRM solutions like Kissflow, Smartsheet, ADP provide all-in-one functionality including recruiting and hiring, talent pool tracking, gamification, collaboration and communication, internal social media, and allow third-party integrations for payroll, accounting, task management, etc.
There are also a number of free open-source solutions like Odoo, IceHrm, Sentrifugo that give you plenty of flexibility and customization options with new technologies provided you are able to involve software development resources.

CRM (Customer Relationship Management) Software. The key to a successful digital transformation strategy in business development lies in reshaping your customer relationships by means of new technologies. Few things will streamline business processes, upgrade customer experience, and boost sales efforts better than a well-fitting CRM system. Most digital transformation tools offer a wide range of functions such as customer data management; automation of sales-related tasks like emailing, reminders, quotes creation and order processing; marketing automation tasks including lead management and marketing analytics; customer service options of knowledge bases and ticketing systems.
With the implementation of artificial intelligence and machine learning-based digital technologies, they may also include such features as business intelligence and analytics, reporting and forecasting. CRM platforms are designed to integrate with a variety of third-party digital tools for more customization and flexibility.
Among the top popular CRM systems, Salesforce offers the best small business to enterprise solution for reaching the main goals of digital transformation, Zoho is good for small to midsize businesses and has recently adjusted its tools to facilitate remote collaboration, Hubspot offers a robust free version to satisfy the needs of small business owners. Also, Keap (formerly Infusionsoft) that focuses on helping small businesses grow, and Freshsales or Pipedrive that are more oriented toward sales efforts, are good examples of digital transformation tools.
To pick a perfect CRM platform, think of the typical day-to-day operations you want to streamline and define your specific business needs. This will help you clarify the particular software features you need to drive your digital transformation. Also, pay attention to how intuitive the user interface is and what kind of technical support the system provides.
Supply Chain Management Software. Thankfully, digital technologies have brought many automation opportunities to the supply chain. This category of digital transformation tools can be useful for any business dealing with the production and/or delivery of physical items to its customers. It includes a whole list of applications and functions for better customer experience with your company:
If you need to combine these digital transformation tools, they are usually open for third-party integrations. You can also find some powerful all-in-one supply chain management systems that provide entire sets of these features, for example, TradeGecko, Orderhive, and E2Open. And while you're at it, you may as well consider the various modules of multifunctional platforms such as Odoo, Zoho, Oracle for all or most of your business needs.
Summary
To sum up, we recommend that you break the digital transformation strategy of your business into small and gradual steps. Begin with something basic and vital until you feel confident, then start to gain traction with the help of additional instruments that will enhance your workflow. And you shouldn't get worried or give up if you feel things are too complicated. The vast majority of digital tools we've suggested here have reliable customer support to help you out. What's more, Waverley Software is always ready to help you reach a digital transformation success with consultations, IT support, feature or module customization, or even tailor-made software created from scratch to fit your specific business needs.