Software Development Outsourcing to Mexico: Pros and Cons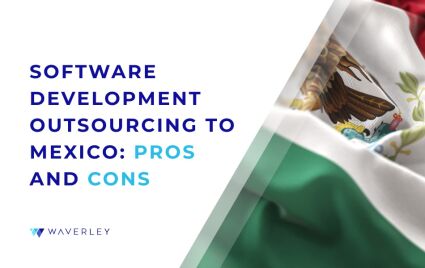 Contents
Business owners and entrepreneurs from the Silicon Valley and other tech markets have recently turned their focus to Latin America, particularly Mexico. This country's proximity to the US is one of its key advantages as a software development destination over other nations. Mexico has also been one of the first nations in the area to regulate the FinTech software development industry. Therefore, this neighboring country is one of the most important Latin American countries with a major IT outsourcing market in the tech world.
This article will help those tech companies and traditional enterprises in need of software development services look into the depths of the Mexican IT market and software development capabilities the Mexican tech community has to offer. The information presented in this article includes an overview of the IT outsourcing market, the advantages and disadvantages, as well as tips that will help entrepreneurs build the right process if they are considering outsourcing their software development projects to Mexico.
Overview of The Mexican IT Outsourcing Market
Software Development Market Size in Mexico
Statistics show a substantial growth in revenue in the Mexico IT outsourcing market from 2016 to a projected market volume by 2027.
In 2020, the Mexican IT services sector had presented a total revenue of $12.9B.
Between 2016 and 2020 there has been a noticeable increase in revenue with a 10.2% increase in the Compound annual growth rate (CAGR), resulting in an estimated total market volume of USD$ 3.64 billion for IT outsourcing in 2022.
From 2022 to 2027, the revenue growth anticipated at a compound annual growth rate is of 6.34% with a projected value of USD$14 billion.
Number of Software Developers in Mexico
The digital transition and global trend for enterprise automation created a surge in software services.. The COVID-19 pandemic hastened this change with an increase in need for tech talent. Tech companies are struggling with the global shortage of talent and this situation is even worse with global tech giants employing all the top engineers in the US market. The solution – build nearshore software engineering teams in countries such as Mexico.
To make it worse, if the company is working with a rare tech stack, it can be difficult to find individuals with the precise expertise locally. Locating good talented developers often prompts companies to expand the considered talent pool. One of the many reasons Mexico is able to fill the U.S. tech talent gap is due to the size of its talent pool.
Mexico's robust talent pools is something U.S. companies may want to look into when outsourcing software development. Statistics show that yearly over 100,000 engineers graduate in Mexico which adds to the massive developer talent pool of 200,000 and over. These talented engineers can be found in numerous cities across Mexico, but especially in these four major cities.
1. Guadalajara
What makes Guadalajara outstanding it's the benefits it offers in software engineering. Guadalajara is considered one of the best software producers in Mexico thanks to the broad talent present:
Fullstack developers
UX/UX Designers
Frond and Back-end Developers
Mobile engineers
2. Monterrey
Monterrey's biggest plus is its geographical location. The cross-border knowledge exchange and shared culture of this city attracts many industry giants and mid-size companies looking for abundant tech expertise. Monterey offers many engineering specialties, but these are the most widespread:
Fullstack developers
Back-end developers
Quality assurance engineers
Solution architects
3. Mexico City
The city is known as the cultural and innovation center. It houses the renowned IT school Instituto Politecnico Nacional (IPN) and it connects North and South America in terms of tech work. Here you can mostly find:
Fullstack developers
Back-end developers
Mobile engineers
Web developers
4. Tijuana
Tijuana is known as the gateway to the California market due to its affordability. It produces annually many IT graduates every year from the University of Baja California and the Polytechnic University of Baja California and it is home to over 11,000 skilled professionals, especially:
Fullstack developers
Back-end engineers
The Number of IT Companies in Mexico
There are over 200 IT outsourcing companies in Mexico that offer different services in software development. Here is a list of some software development outsourcing companies in Mexico as well as companies with expertise in branding, digital marketing, UI/UX design, web development and overall software development:
Waverley Software.

The company has an office in Guadalajara, Mexico and offers end-to-end software product development services. With back-end, front-end engineers, mobile developers, business analysts and designers, Waverley is a great choice for companies looking for a one-stop-shop. An additional bonus is that the company hires engineers all over LatAm, including Bolivia, Honduras, Colombia, etc. The total company size is 400 engineers.

Codebay.

Based also in Guadalajara, the company employs about 50 engineers who deliver mobile and web applications. They work with the team extension model, as well as provide managed services, their teams can be scaled up or down if needed.

Teravision Technologies.

Their ~200 engineers are located in Mexico, Venezuela and Colombia. The company has over 17 years of experience in designing and delivering software solutions for Finance, Entertainment, and Healthcare.

Scio.

With a Sales office in Austin, Texas, Scio caters to the needs of American customers looking to create websites and web applications. Since 2003 they've assembled a team of over 100 engineers in Las Cañadas, Mexico.

Sonatafy Technology.

With over 180 engineers in Tijuana, Mexico, Sonatafy Technology provides custom software development services with a special focus on mobile apps. Their sales offices in the US are located in Nevada and Arizona.
IT Companies Hiring Mexican Software Developers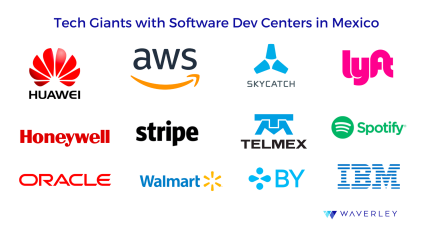 Additionally, a number of major global IT companies outsource and employ Mexican software professionals. Between the giants that hire developers from Mexico there is Google, Microsoft, Apple, but the list doesn't stop there.
Walmart is a large, international retail store that owns multiple networks of outlet and warehouse stores. This company hires Mexican software engineers that range from Junior to Tech Lead.
Lyft is a cost-effective transportation choice as it connects drivers with passengers via a smartphone application. It houses remote engineers in different positions including Backend Software Engineers.
Oracle is anAmerican multinational firm that specializes in computer technology. Although it is based in Austin, Texas, it has an office located in Guadalajara Mexico. Oracle offers job opportunities for product development and IT roles.
AWS or Amazon Web Services serves as a cloud computing and IT infrastructure services provider to individuals and corporations. It hires Mexican workforce in roles that range from Software to Android Engineers as well as Data Scientists.
Honeywell is an American company that provides energy, safety, security solutions and technologies. Within Mexico, Honeywell offers job positions for front and backend software engineers.
Stripe deals with financial services such as web and mobile payments. The company opened up an office in Mexico City which offered a wide range of roles in software engineering.
BlueYonder is an American and consulting subsidiary firm of Panasonic. It offers supply chain management, manufacturing and retail planning, store operations and category management services. Based both in Mexico city and Monterrey it offers job positions that vary from software engineering to Project Management.
Telmex is a Mexican telecommunications firm with its headquarters in Mexico City that offers telecommunications goods and services in Mexico. It houses different software engineering professionals within Mexican land.
IBM is well recognized for creating and marketing computer products, including cloud computing and data analytics. With an office in Mexico City, it allows Mexican developers to have the opportunity to find a job in positions like Java & Web Technologies developer, Cost Accounting Analyst, etc.
Huawei is a global company based in China that creates, manufactures and sells telecoms equipment and other smart devices. Huawei offers a variety of jobs to developers and other specialists in technology.
Spotify is a Swedish music streaming service with more than 400 million monthly subscribers. Spotify is found all over the LatAm area including Mexico offering software development engineering opportunities.
Skycatch is a tech company that develops technology for the 3D collection, of processing, and analysis of drones. It outsources for developers based in Guadalajara, giving opportunities to Mexican talent in different software development jobs.
The Advantages of Outsourcing Software Development to Mexico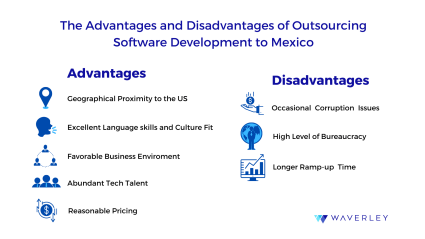 In general terms, outsourcing is beneficial to companies looking to hire laborers from outside the country of origin. If they made this decision to outsource, then they are already trying to solve either the talent shortage or cost dilemma and benefiting from using nearshore development teams. In the past we described the advantages of outsourcing to LatAm, however, here we'd like to specifically focus on the pros and cons of the Mexican IT market. Outsourcing is great due to the lower costs and increased efficiency, focus and strategy. Additionally, it is beneficial since there is a noticeable increase in the flexibility to meet the changes that may occur in a business.
When outsourcing to Mexico, the companies should consider the following benefits:
Geographical Proximity to the US.

The fact that Mexico is so close and easy to travel to from the US is one of the biggest advantages of working with Mexican development teams. Outsourcing companies in Mexico often call themselves 'nearshore assistants' for an obvious reason. The clients can travel and visit their teams easily, which makes for better knowledge sharing, faster ramp-up time and better communication process between the client and their dev team.

Excellent Language Skills and Culture Fit.

Nearshore software development in Mexico has another advantage, which is very important for English-speaking clients: the average level of English skills Mexican developers have is B2 (upper-intermediate). This is much higher than many other outsourcing destinations. Mexico's proximity to the US, cultural similarities and the well-developed education industry, helped forge Mexico's excellent reputation for producing reliable, well-spoken, highly efficient engineering teams.

Favorable Business Environment & Intellectual Property Protection.

Mexico has an established and well-developed business infrastructure. The government is very favorable towards the tech industry and, therefore, they have created many initiatives to promote tech education, create more jobs for local engineers, facilitate foreign investment, and establish closer ties with the US and Canada. Despite some flaws in the executive government organs, Mexico has great legislation for protecting intellectual property rights, and labor rights, as well as affordable taxes for foreign enterprises.

Abundant Tech Talent Pool.

Like we stated above, Mexico has a pretty large talent pool of software engineers. Many technical universities provide an abundance of tech graduates, well-equipped to create software projects of various complexity. There are enough quality specialists to build multi-faceted teams of software engineers, quality assurance specialists, interface designers, and project managers.

Affordability & Reasonable Pricing.

The hourly rates of software engineers in Mexico are often up to 2 times lower than in the US. The reason: lower taxes and overall lower cost of living. That's why Mexico is a premier destination for companies looking to cut their app development cost and optimize expenses without compromising the quality of the final product. From our experience: Mexico offers great value for money and a combination of affordable rates with experiences and highly competent engineering talent.
The Disadvantages of Nearshoring Software Development to Mexico
So what are the cons of software development outsourcing in Mexico? Although it has been considered as a great choice for many American businesses, outsourcing to Mexico can have its drawbacks. Some of these are typical for hiring nearshore developers in general, and some only have to do with Mexico specifically.
Occasional Corruption Issues.

Unfortunately, modern-day Mexico is still not 100% safe from crime and corruption. There are often bribes involved even at the higher levels of the government. So as with other outsourcing destinations, finding somebody locally who knows the Mexican legislation well enough and can help you set up all the needed operations is the way to go.

Pretty High Level of Bureaucracy.

If the company decides to set up operations in Mexico, there's a lot of paperwork involved. Unfortunately, the Mexican government could use more automation and digitalization, as to this day, many processes require in-person presence in the government institutions and there's sometimes a long waiting time until the authorities make their decision and provide the permit or whatever documentation you need from them. To avoid the hurdles of bureaucracy, we recommend finding a ready-made team provided by a nearshore outsourcing company in Mexico. With a local vendor you can sign the contract remotely and quickly. Besides, you'll save time and money on hiring an existing close-knit and proven team, and the local vendor will take care of them (in terms of accounting, HR, training, etc.) for you.

Longer Ramp-Up Time.

Whenever you work with engineering outsourcing companies elsewhere in the world, there's a long process of knowledge transfer and ramp-up time involved to make your project happen. This is a normal part of the process, you have to overcome the potential cultural and sometimes language barrier to get to know your team better and achieve an ultimate understanding from them on what it is your business needs. On the other hand, by working with an existing vendor, you'll save the time you would otherwise have spent on recruiting and interviewing somebody locally, right?
The Cost of Hiring Remote Mexican Software Engineers
IT outsourcing to Mexico from the U.S. is what is mostly known as nearshoring for software development engineers. This country has recently emerged as one of the top outsourcing destinations worldwide. And one of the main reasons it is so popular among US and Canadian companies is the affordable cost of software development in Mexico. What is the salary rate or the average payroll for engineers?
Mexico's development engineering workforce's salary depends on geography, experience and field of specialization, ranging between $900/month for a starter engineer to $3,500 – $5,000 for more Senior and Architect-level specialists. The most widespread technologies in Mexico – Front-End JavaScript, Python, Android and iOS – make between $2,000 and $2,500 per month for a mid-level developer.
Monterrey has the highest salaries in Mexico, with an average of $3,700 per month. Mexico City is not far behind, paying its engineers $3,600 on average. Guadalajara and Tijuana have been the most affordable, with Mid-level engineers with average level of experience receiving about $1,800 per month.
Although not the cheapest, outsourcing companies in Mexico offer high quality work for much more affordable prices than what companies in the US pay for hiring and retaining local talent.
6 Steps to Finding Reliable Software Developers in Mexico
Finding reliable software developers for outsourcing can be challenging. The success of any project depends on the following steps that are considered essential when outsourcing software development projects to Mexico.
1. Be Very Specific with Your Goal
Prior to choosing your software vendor, it is important to be more specific and precise about the objectives you're looking to accomplish. The company's target market is something important to pay attention to. Here are some of the factors that may affect the final result:
Cost savings vs Unforeseen costs
Type of resources and technology
Communication Challenges
Shifting Deadlines
The Need for Extensive Supervision
When doing IT outsourcing in Mexico, be very specific and clear with yourself and with your vendors about your expectations, limitations (especially budget-wise), special requirements, and the peculiarities of your business and project.
2. Clarify the Project Requirements
When it comes to offshore outsourcing to Mexico, the client needs to be very clear on what the project is about. The more documentation and specifications you can provide – the better. Before coming to your vendor you must do thorough research for the projects you're trying to build, think about the potential tech stack, how your software will be used, which business challenges it will have to solve and how you plan to scale it in the future.
3. Choose a Trustworthy Software Development Company
There are numerous Mexico IT outsourcing companies to choose from, but you have to make sure you find the right company for YOU. Of course, it has to be a safe company to work with, legally registered, with a real physical office and a proven portfolio and customer references. However, you should also focus on the way the company is doing business, their values, vision of the process, their ethic and culture fit, you have to be on the same page and there has to be enough synergy for this partnership to be truly successful.
These tips can help choose the correct team when outsourcing in Mexico or any other country for that matter.
If somebody from your network has already worked with a vendor in Mexico, ask for recommendations.
Look into different ranking and review sites like Clutch, Goodfirms or Tech Reviewer, to find the most reliable partner.
Speak with previous clients who may have information related to Mexican developers or Mexican tech companies.
Look through LinkedIn to get more information about software developers or a software development company.
4. Due Diligence and Documentation is Key
Outsourcing to Mexico can have certain challenges. It may require a bit more due diligence to hire software engineers without having to involve a third party business. The company outsourcing needs to be sure of the requirements and needs to make it clear to the outsourced partner of what is expected. Regarding the best and most direct channel to use to reach out to software developers, use Linkedin.
5. Sign a Contract and an NDA
Whether you outsource to Mexico or any other country, there are still procedures that need to be followed no matter what. A NDA is not obligatory during the process of software development outsourcing, however, we recommend signing it anyway. This agreement works as a safeguard against any threats that may infringe a company's trade secrets, business practices and plans and sensitive data related to finance or HR policies. Below there is a list that further explains how to prepare an NDA when outsourcing.
Don't forget about the names of both parties
Define essential and confidential information
Specify the length of the agreement
Impose penalties for liability for financial damages
Clarify the confidentiality exceptions
6. Ensure Efficient Communication
Communication is a fundamental key, regardless of where your development team is located. There has to be a clear understanding as to which channel of communication will be used. Additionally, it must be of mutual understanding that there will be any differences in the time zone. Efficient communication also makes reference to the way both parties communicate, and the manner in which they communicate. If there is effective communication, then there will be positive outcomes for both sides:
Boost in employee morale
Improved engagement
High quality productivity
Satisfactory results
Tips to Find the Best Outsourced Development Agency in Mexico
If you fail in finding the right partner, challenges can vary from having late deliveries to not being able to manage a project correctly, especially if offshoring. Additionally, flexibility can be at risk and there can be problems with the NDA if the outsourced agency does not respect the intellectual property protection policy.
Although these are general, the following steps can help avoid any issues at the moment of any outsourcing destination including Mexico.
1. Ensuring Regular and Transparent Communications from the Start
As a first step, the form of engagement is important and there are some approaches that will help the process. Making sure that both parties are on the same side is important, as building solid communication is a key factor to create a solid outsourcing relationship. For this to happen it is crucial to pay attention to the following indicators:
Convenient communication channels.
Receiving fast feedback
Misunderstandings about requirements or requests
Tasks delivered timely
There are clear and easy to use escalation ways
2. Checking Various Sources of Information
A second step related to the use of the internet can offer us a wide range of sources that will make it more accessible to find the right outsourcing company and verify that they are legitimate, and can deliver on their promises:
Marketplaces
Directory listings: Clutch, Goodfirms, The Manifest, Tech Reviewer
Referrals through partners or colleagues, e.g. former clients or business partners
3. Looking for a Skillset Match
You have to make sure the company has the right skills in their portfolio and developer resumes, and has done similar projects before. Ideally, they would have worked with projects in your business industry or niche, and therefore understand your business needs and challenges better.
Overall Experience
Your software development team's level of seniority is up to you, a proven and cost-effective approach is to hire a super-senior tech lead to come up with the architecture and strategy, and Mid and Junior level engineers to implement the solution under the guidance of a Tech Lead.
Here's what you have to look for:
Skill Sets matching your project needs
Experience with the latest frameworks and tools
Experience solving simple to complex challenges
Ideally – understanding of your business domain
High-quality coding skills and understanding of a SDLC
Development process
It is crucial to understand your vendor's operations and to also share what is expected from them. It is essential to understand how much effort their dedicated software development team puts into organizing their work. Here are the questions you should ask your vendor before starting to work with them:
Which project management methodology do they use?
How do they deal with changing requirements?
Are their project managers technical and PMI-certified?
Do they deliver working results at the end of each sprint?
How do they normally tackle technical debt?
How do they organize reporting?
Do they do peer code reviews?
Do their developers undergo any secure coding training?
Way of Communication
Since outsourcing destinations mostly have a different time zone than the client, the communication channels are important. It is up to you to establish communication rules and guidelines with your team. Offshore development companies often use communication channels such as Skype, Google Meet, Gmail, and Slack among others. But here's something you need to agree with your vendor on before you start the project:
How often do you have sync-up meetings?
Who is your primary contact point?
Who can you turn to if you are unhappy with the deliverables?
Can you replace a developer you're not happy with? And if so, what is the notice period?
How will they guarantee the security of your product and intellectual property?
Who do you go to if there's an urgent bug during their non-working hours?
Security
Assuring that the business' confidential files, details and other project data is protected becomes a big deal for the company that is outsourcing. There have to be contract policies set up, in other words, it is important to set up and to have an NDA, PSA and SOW. This will only benefit both sides and will provide overall protection to both, the client company and the outsourcing firm.
4. Market Credibility
This is where web sources like Clutch come into action. This platform can help companies verify the legitimacy of the outsourcing company thanks to their former clients. Review platforms like Clutch provide a chance to read all the feedback from former customers, both good and bad. If a company sends a portfolio, you can also check how real those projects are. We also recommend looking at how many media articles there are about this company, how many social media mentions, etc.
Conclusion
In short, whether outsourcing offshore or nearshore, companies should always take into account various factors that may influence any project's progress. European countries and the U.S.A nowadays find Latin America to be a great destination for outsourcing software development projects. Mexico software outsourcing is popular because of Mexico's geographical and time proximity to the US, as well as abundant engineering talent and excellent English skills.
Looking for a software engineering vendor in an unknown location can often be overwhelming and stressful. However, at Waverley we're always happy to provide a free, non-binding consultation to businesses who are looking to outsource their software projects. Waverley has a development office in Guadalajara and both us and our clients have been very satisfied with our engineering resources there. We have also hired engineers all over Latin America, Europe and Asia, so we can compare and provide you with advice based on real experience.
If you have any questions regarding software development outsourcing to Mexico or need a tech consultation about your project, please use the form below to contact us.
Frequently Asked Questions
Is Mexico good for IT outsourcing?
Yes, Mexico is perfectly suited for outsourcing software development projects. It offers plenty of highly qualified software engineering talent, close geographical and time proximity to the US and very affordable software development rates.
Why do companies outsource to Mexico?
Companies in the US often choose Mexico to outsource their software engineering projects because Mexico offers a great combination of abundant software engineering talent, excellent infrastructure, close geographical and cultural proximity to the US, high level of English skills, low taxes and as a result – reasonable engineering rates.
What are the challenges associated with outsourcing software development in Mexico?
Just like with other software development outsourcing destinations, when you hire a software engineering team in Mexico, it requires time and effort to set up knowledge transfer, onboard the team, build efficient and trustful communications and a regular reporting process. However, if you work with a professional software development outsourcing company in Mexico, all these steps will be implemented quickly and seamlessly.
Is hiring developers from Mexico safe?
Yes, as long as you find a reliable, proven software engineering company in Mexico to work with, sign an NDA, SOW and PSA with them, and have the right processes and legal guarantees in place to protect your intellectual property rights and ensure that the company delivers on the scope of your agreement.
Does Waverley have an engineering office in Mexico?
Yes, we have a software development hub in Guadalajara, hosting back-end, front-end, and mobile engineers building software products for our US-based customers.