Waverley Ranks Among Clutch Top 100 Firms for Sustained Growth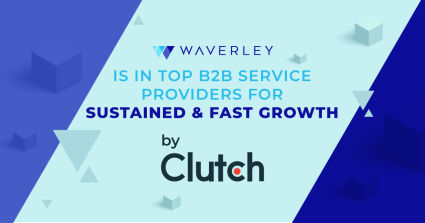 Creating products that inspire, ignite ideas, and provide concrete solutions, Waverley Software is Palo Alto, California's top nearshore software development company. Our team is beyond excited to announce that we've been recognized as one of the 2021 leaders in Clutch's annual awards cycle!
If you're not familiar with Clutch, it's an independent B2B review and rating platform headquartered in the heart of Washington, DC. Every year, Clutch's team evaluates every service provider on the platform and celebrates the best of the best. The esteemed Clutch Top 100 Firms highlights the companies that demonstrated resilience, absolute growth, and excellence throughout the year.
"The Clutch 100 growth lists represent the top service providers based on revenue growth over the years," said Clutch Founder Mike Beares. "Their recognition is only possible because of their willingness to participate and their commitment to delivering the best services to their clients."
Waverley Software is proud to be a Clutch Top 100 Company for Sustained Growth! This recognition is a testament to our team's drive to continue growing despite adversities.
"Waverley made quite a big leap forward this past year, growing in size, becoming stronger as a team and being able to provide even better quality service to our customers, as reflected in the reviews we received on Clutch." said Waverley Software Chief Executive Officer Matt Brown "We are proud and honored to be featured among industry leaders and we are grateful to Clutch.co and the team for the incredible work they are doing to help customers select perfect-matching vendors and help businesses get more visibility and exposure."
On that lively note, we want to take this opportunity to thank everyone who supported us over the years. We owe our success and wins to the wonderful people who stand by our company.
We also extend our thanks to our clients who left us their incredible reviews on Clutch. It's a pleasure for our team to work with such great people. Waverley Software is thrilled to have 25 phenomenal astounding reviews on our Clutch profile!
Interested to work with us? Let's talk! Drop us a message and tell us about your business needs. Waverley Software is ready to start a new project with you.