Waverley Opens a Development Center in Poland
Waverley Expands to Poland with a New Development Hub in Poznan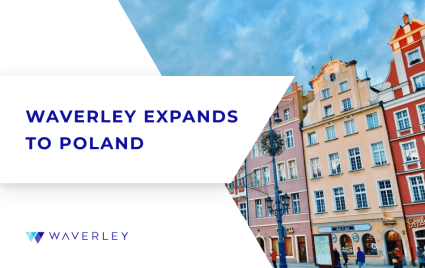 Palo Alto, CA: Waverley Software announced the opening of a new development hub in Eastern Europe. After founding an office in Cluj-Napoca Romania, this will be our second development center in the EU, strengthening Waverley's presence in Europe and providing a good timezone fit for our European and UK-based customers.
Since the beginning of Russia's full-scale invasion of Ukraine, multiple engineers from Waverley Ukraine moved to Poland and continue providing high-quality services to our customers from Warsaw, Kraków, Wrocław, Gdansk, Poznań, and Szczecin. Our existing team includes JavaScript developers (including specialists in React and Angular), Business Analysts, Manual and Automation QA engineers, etc.
The office in Poland will become Waverley's center of local operations, providing the needed support for all team members distributed across Poland. Moreover, the new office secures a safe, comfortable workspace for new engineering talent the company plans to hire in the vicinity.
Mike Laptyev was appointed the Managing Director of Waverley Poland. Mike has been with the company for 10 years; he was one of the first team members to join Waverley Ukraine when it was founded. As a Head of QA and CTO Office Representative, Mike has vast experience setting up efficient processes and building distributed engineering teams. His new role will include building a productive and comfortable environment in Poland for the existing team members, as well as promoting the Waverley brand on the Polish market to facilitate the expansion of our engineering team locally.
About the Polish IT Market: With over 250,000 software engineers, Poland is the biggest IT market in Central and Eastern Europe (CEE), according to Stack Overflow. Stable economy, EU standards, and a wide range of high-quality technical universities contributed to the constant growth–over 7% each year–of the local IT services market, currently valued at around $6.8 million. Many technology giants have chosen Poland as one of their development locations: Dell EMC, HP Inc, Lenovo, Microsoft, IBM, Intel, Apple, Cisco, Oracle, Xerox, Sabre, and Google successfully operate there.
About Mike Laptyev: Mike has over 15 years of experience in the IT industry, having worked for both software product and service companies in Head of QA, CTO representative, and Managing Director roles. Mike helped dozens of companies across multiple domains adopt software engineering best practices and set up efficient work processes in distributed team environments. Mike has a special passion for developing engineering cultures, facilitating knowledge-sharing, and improving interpersonal communications.
About Waverley: Waverley Software is a software engineering company headquartered in Silicon Valley with development centers in Eastern Europe, Southeast Asia, and Latin America. For three decades, Waverley has been solving complex software challenges for clients from startups to Fortune 1000 companies. Our ability to provide comprehensive, integrated software engineering services starts here: by assembling a multidisciplinary team of the most highly skilled software engineers, designers, and project managers from around the world. We play in all categories, but our specialties are Social Robotics, Enterprise Productivity Tools, Home Automation & Security, Healthcare, Automotive, and the Internet of Things.