Why Outsource Software Development to Poland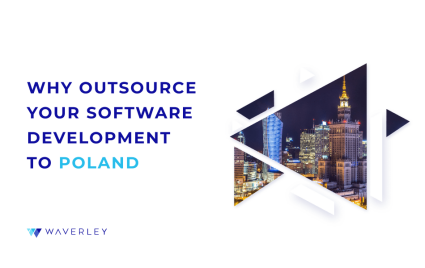 By Mike Laptyev, Head of Waverley Poland, and Viktoriya Yadoshchuk, Content Writer
Contents
Eastern Europe is a distinguished destination for hiring dedicated development teams. Poland is one of the centers of the IT industry among the European countries. With its large talent pool and favorable economic environment, Poland is a great option for software outsourcing for many Western companies.
Poland software outsourcing has many benefits such as a suitable tax policy, a variety of quality services, etc.
In this article, we will guide you about the intricacies of the outsourcing software development process in Poland. We will lead you through the Polish IT market and its trends; the hiring process of Polish developers and companies, the benefits of outsourcing to Poland, and possible challenges. The FAQ section will also feature some insights into hiring developers in Poland.
IT Outsourcing to Poland
The opportunity to work remotely has an immense impact on the IT market and its development. Nowadays, companies have many options to implement their plans or projects. It can be outsourcing, outstaffing, or hiring freelancers. Companies choose the most suitable engagement models depending on the project's size, needs, or objectives.
However, IT outsourcing remains the most common practice. In accordance with the grand view research, the global IT outsourcing market size was estimated at $245.91 billion in 2021. At Waverley Software, we've been extremely successful in providing outsourcing services in several destinations: Latin America, Eastern Europe (including Poland) and Asia.
The scales in software development outsourcing are constantly shifting. Based on needs/ requirements, companies may outsource to Latin America or Asian countries, such as Vietnam. However, a number of factors make Eastern Europe, especially Poland, a competitive outsourcing destination.
Software Development Outsourcing To Poland: Market Overview
As a prominent outsourcing destination, the Polish IT market has been developing rapidly for the last decade. In combination with constant economic growth, Poland's IT market has reached the same level as many world's heavyweights in the field. 8 % of the national GPD belongs to the tech sector.
In 2021 the revenue of the market was evaluated at $9.0 billion, helping Poland reach 7th place among IT industries in Europe. Key factors that determine the Polish market are:
Economic growth
High-quality service
Attractive rates
Favorable tax policy
For example, a tax deduction for the R&D industry is a very attractive factor to outsource software development to Poland. Companies that generate profit from IP rights are able to pay only a 5% tax.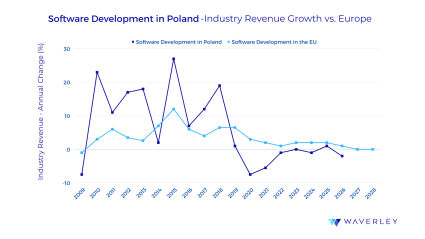 How does the Software Development in Poland industry perform across Europe?
| Rank | Country | Revenue |
| --- | --- | --- |
| 1 | Germany | $82.3 billion |
| 2 | Ireland | $60.0 billion |
| 3 | Italy | $21.2 billion |
| 4 | Sweden | $18.5 billion |
| 5 | Spain | $14.1 billion |
| 6 | France | $11.0 billion |
| 7 | Poland | $9.0 billion |
| 8 | Austria | $4.5 billion |
| 9 | Belgium | $4.4 billion |
| 10 | Finland | $4.2 billion |
Source: IBISworld
Poland outsourcing: IT Trends
| FinTech | Healthcare | GameDev | Blockchain | Automotive |
| --- | --- | --- | --- | --- |
| The development of banking and financial services have become very popular in Poland. (Virtual wallets, online shopping, loans, crowdfunding, mobile banking applications). | Covid-19 pandemic boosted the healthcare system in the region. Polish health tech start-ups are expanding internationally (Warsaw HomeDoctor). | Poland is a significant contributor to the world's game industry (CD-Projekt, Witcher, Cyberpunk2077). | Blockchain is implemented by many industries for improved data protection and better transparency. | Poland is the biggest representative of the automotive market in the CEE region. Poland manufactures and sells automotive components. |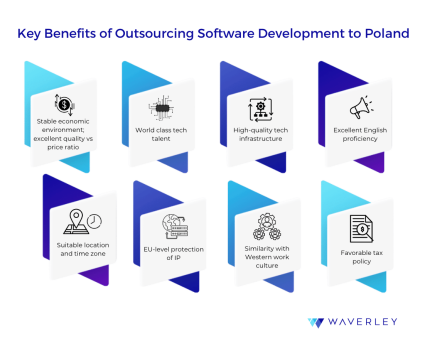 The IT industry nowadays is going beyond its habitual areas of India or Asia and is taking its turn to Central and Eastern Europe. Poland's central location on the European map, size, and stable political and economic climate create a perfect situation for the IT industry.
Economic Factors
Poland shares a single market with Europe providing access to 446.8 million potential clients. As well as it shares many of the same economic rules as the European Union. This factor is especially significant for US customers. After all, this guarantees fulfilling obligations or obeying 'fair play' rules.
Following Poland – Market Overview, we can observe that the Polish economy is stable and constantly growing. Poland is the EU's sixth-largest economy, with an estimated 2021 GDP of $675 billion. Investors, especially from the USA, are drawn to Poland because of its large population, qualified and educated workforce, and solid prospects for economic growth.
Education Factors
The Polish education system is ranked fifth in Europe and tenth in the world. The last decade has seen rising grades across the board, including literacy, numeracy, and science. We can find over 400 higher education institutions in Poland, 22 of which are listed in the QS World University Rankings 2023.
It is worth mentioning that IT has been the most popular choice for students. Therefore, in terms of the total number of ICT specialists working (586,000 in 2021), Poland ranks sixth in the European Union.
English Proficiency Factors
The Polish people are ranked among the best speakers of English in the world. This factor makes IT outsourcing to Poland easier since the companies can communicate directly with developers without any language barrier issues.
Looking at the EF EPI 2021 – EF English Proficiency Index report, we can see that Poland ranks on the 16th place out of 112 countries. Among the population of working age in the IT industry, the percentage of people who speak English fluently is close to 90% (and growing).
Security Factors
An additional factor for outsourcing to Poland is high data protection policies. As a part of the EU, Poland follows European rules, including General Data Protection Regulation. GDPR went into effect in 2018, regulating how companies collect, store and use consumer information.
Wide tech pool
The level of software development in Poland is another reason to outsource. In recent years, Poland has surfaced as a top location for technology investment, start-ups, and entrepreneurial talent in Europe. Poland has achieved big progress towards digitization. According to the data, the tech market of the country increased from 19.3 billion US dollars in 2020 to 21.8 billion US dollars in 2021.
CEO of Europe's largest Python software development company, STX Next, states that Poland's IT industry constitutes about 8% of GDP, employing over 430,000 people. Therefore the talent pool in the Polish market is pretty large.
Tech giants such as Google, Amazon, and Intel set up their offices in Poland. Present conditions in the Polish market make it an ideal place to outsource software development.
| Company | Number of engineers in Poland |
| --- | --- |
| Microsoft | 500 engineers, 6000 partner companies, moved to Poland in 1992 |
| IBM | 9000 engineers, moved to Poland in 1991 |
| Intel | 2000 engineers, moved to Poland in 1991 |
| Google | 300 engineers, moved to Poland in 2005 |
| Oracle | 500 engineers, moved to Poland in 2012 |
| Uber | 500 engineers, moved to Poland in 2016 |
Tech Giants with Engineering Hubs in Poland
Cost-Saving Factors
Based on the differences in the economic system, the compensation of Polish specialists is 2-5 times lower than that of the United States. A Senior Front-End Software Developer in Poland earns around $70.000 net per year; meanwhile, the same professional in the US receives $145.000 gross. A Junior Mobile App Developer will get the payment of $18.000 when the yearly gross rate of the American specialists is $80.000.
The taxation system is another cost-saving factor for outsourcing in Poland. Two main taxation formats exist for B2B contractors: tax scale and flat tax.
In most cases, the tax rates vary from 8.5% of revenues to 32% of revenues depending on the nature of services provided. Beyond that, the Polish government initiated investment incentives that entail only a 5% tax on the income generated by IP rights.
Offshore outsourcing to Poland is advantageous since the developers offer fairly attractive prices. Additionally, an average Polish software developer earns a worthwhile monthly salary considering the cost of living in Poland.
With the current turbulent economic situation, it is very reasonable that companies are looking for ways to optimize their expenses. Offshoring IT services to Poland can be the solution.
Cultural Factors
Polish geographical location is very suitable from an outsourcing perspective. Poland represents European culture and values; working with the Polish team will not require getting to know a new culture.
Poland's time zone is GTM +1, which makes only a 1-hour difference from the United Kingdom, a 6-hour difference from Asia, and 8- hours from the USA.
Working with a Polish Team
Poland's specialists will value career perspectives, stability, communication with supervisors, and a feeling of being rewarded for their good work. They are ready to work in an environment within predetermined rules, regulations, and deadlines. They also will be looking for a stimulating working environment and innovative projects. Regarding work-life balance, they do care about it, so unplanned overtimes are not something they would particularly favor.
Suppose the employers come from the US or Canada; they might find these things to be different from their work style.
Polish IT specialists will instead use emails or corporate messaging systems than a phone
In general, they are less prone to taking up more responsibilities or making decisions on their own
They would prefer working in a stable, well-paced process than under changing circumstances with sliding deadlines or vague documentation;
They will go through their employment contract very carefully
Polish employees tend to expect their working day to be finished around 5-6 PM
Companies with a hierarchical structure might be slow to do business with, as all final decisions must be firmly approved top-down
How to Hire Dedicated Polish Developers
When it comes to hiring Polish tech specialists the procedure is pretty similar to hiring engineers anywhere else in the world:
Analyze the local market
Define your job requirements
Select candidates and conduct job interviews
| Analyze the local market | Define your job requirements | Select candidates and conduct job interviews |
| --- | --- | --- |
| Select the preferable location, check the talent pool, average compensation, market trends and business trends | Determine the work terms and expertise level | Things to pay attention to during the interview process: professional skills and experience, portfolio, references |
To help with the selection process, it's useful to go through remote contracting websites or freelance platforms. To name a few: Just Join IT, Praca dla programistów, Pracuj.pl, or even more global like Upwork, Guru, or, again, LinkedIn. You will need to create an employer account, search and contact desirable profiles, hold a series of interviews over chosen platforms, prepare legal documentation, and finally hire the engineers.
A type of employment determines the types of taxation, benefits, contributions, minimum hourly wage, responsibilities, and risks for both the employer and employee. Software Development Outsourcing To Poland offers a few types of employment in Poland, with the first two being the most widespread among IT specialists:
Umowa o prace (Contract of employment).
B2B contracts (self-employed contracts).
Umowa o dzielo (Contract work).
Umowa zlecenie (Contract of mandate).
Contract of employment is the safest and most beneficial for an employee but also the most costly for an employer as it incorporates regulated minimum wage, paid sick leaves, overtime, etc. The taxation rate can slide, going as high as 32% of the taxable income. According to the new regulations, the personal income tax rate in the first threshold (up to PLN 120,000) will be reduced from 17% to 12% for taxpayers taxed according to general rules (tax scale) as shown here: Polski Ład 2.0 – July 1, 2022. Employers are supposed to bear the cost of social security and make contributions on top of a salary. In 2022, the Labor Code in Poland is being amended even more to comply with two EU directives ([Poland] Labour Code 2022). Thus there will be changes in contract administration. Regulations of contract termination are applied under this type of employment.
B2B type of employment is widely used for IT specialists. However, in this case, the "employees" (who are not part of the employer company) are responsible for paying taxes and other contributions. The company is not obliged to provide benefits like medical insurance or incentives like paid meals or vacations. Salary expectations are higher in this case. In this type of employment, the termination period is usually agreed upon on a case-by-case basis, usually about 30 calendar days. The Labor Code does not regulate the B2B type.
Contract work and contract of the mandate are subtypes of B2B.
Contract work applies to specific tasks with tangible or intangible results (like making a table or a website). The contract doesn't have a minimal payment, and the task is documented and billed with invoices. There is a one-time payment after work is completed.
Contract of the mandate is used for a particular service that is prolonged in time. The final result determines the total pay. The predetermined wage also applies to mandate contracts as an hourly rate.
Average Rates for Hiring Offshore Developers in Poland
Polish tech specialists rates are increasing yearly step by step. However, as a matter of fact, hiring an outsourcing company in Poland allows many businesses to cut their expenses significantly.
After analyzing the information from No Fluff Jobs, Hired, and justjoin.it we can compare annual payments in the US and Poland.
Positions
Junior
Middle
Senior
Poland(net)
USA (gross)
Poland(net)
USA (gross)
Poland(net)
USA (gross)
Full-Stack Software Developer
$30,000
$92,000
$51,500
$140,000
$74,500
$160,000
Front-End Software Developer
$24,000
$80,000
$43,500
$120,000
$66,000
$145,000
Back-End Software Developer
$27,500
$100,000
$48,000
$130,000
$72,000
$151,000
Mobile App Developer
$18,000
$80,000
$40,750
$128,000
$72,000
$140,000
Game Developer
$25,250
$80,000
$48,000
$100,000
$74,500
$140,000
Data Engineer
$30,000
$110,000
$69,500
$152,000
$84,000
$170,000
DevOps Developer
$24,000
$110,000
$56,500
$145,000
$74,500
$170,000
QA Engineer
$18,000
$60,000
$36,000
$90,000
$60,000
$121,000
Embedded Developer
$22,750
$95,000
$43,250
$113,000
$64,750
$142,000
If we compare average annual payments divided by tech expertise we can observe JavaScript and Python rates are among the highest ones.
| Programming language | Poland (net) | USA (gross) |
| --- | --- | --- |
| JavaScript | $42,000 | $81,500 |
| Java | $48,000 | $94,750 |
| Python | $48,000 | $81,500 |
| Typescript | $46,750 | $84,000 |
| PHP | $38,500 | $72,000 |
| C# | $40,750 | $74,500 |
Where to find IT outsourcing companies in Poland
Considering that the Polish IT outsourcing market is prosperous, it is open and favorable for long-term investments. But how to find a reliable IT outsourcing company in Poland?
Check the company's size. Since it is directly related to its outsourcing capabilities. Suchlike IT enterprises have resources that allow starting the partnership faster.
Before choosing IT outsourcing companies in Poland one should check the companies' tech expertise. The company's team should be skilled in the most updated version of the technologies.
Go through the company's portfolio and check its case studies.
Review the company's cybersecurity guidelines and international security standards.
Check the feedback about the company. Use Clutch, for example.
Software Development Hubs in Poland
The Polish IT market is represented all around the country. To make an adequate decision on where it's better to outsource in Poland one should check the biggest technology hubs. Among them is the capital of Poland – Warsaw, the historical center – Krakow, and cities such as Wroclaw, Gdansk, Katowice, and Poznan.
Several of the prominent IT hubs that contribute towards expanding the Polish IT market:
Warsaw – R&D facilities for Samsung and Microsoft
Wroclaw – large offices for Nolia and IBM
Krakow – development centers for CISCO, Google, UBS
Katowice – corporate offices of Kroll and Hyland
| City | Hub size |
| --- | --- |
| Warsaw | 103,000 software developers, 3000 annual ICT graduates, 450 tech companies |
| Gdansk | 35,000 software developers, 1,000 annual ICT graduates, 60 tech companies |
| Katowice | 40,000 software developers, 1,500 annual ICT graduates, 180 tech companies |
| Wroclaw | 51,500 software developers, 1,400 annual ICT graduates, 200 tech companies |
| Krakow | 56,000 software developers, 1,400 annual ICT graduates, 200 tech companies |
| Poznan | 30,000 software developers, 1,500 annual ICT graduates, 80 tech companies |
Software Development Outsourcing in Poland: Possible Challenges
Although IT outsourcing in Poland has many advantages and is very favorable to businesses there are a few factors to be aware of:
The large variety of possible types of employment makes it harder to choose a particular one that suits the company's needs; some types are not regulated by the Labor Code
Complex tax regulations and sliding rates can be difficult to understand
Poland has strong rules about data protection, especially personal data (Poland – Data Protection Overview) which a company must follow
The cost of office rent might go higher due to a surge in demand
Creating a Software Development Team with Waverley
Waverley Software is a US software engineering company with over 30 years of experience. Waverley's dedicated team has development centers in Eastern Europe, Southeast Asia, and Latin America, Waverley has been solving complex software challenges for clients from startups to Fortune 1000 companies.
Our ability to provide comprehensive, integrated software engineering services starts here: by assembling a multidisciplinary team of the most highly skilled software engineers, designers, and project managers from around the world. We play in all categories, but our specialties are Social Robotics, Enterprise Productivity Tools, Home Automation & Security, Healthcare, Automotive, and the Internet of Things development. With Waverley, you can choose a convenient engagement model that will reflect your needs and style.
Since Russia's full-scale invasion of Ukraine began, multiple engineers from Waverley Ukraine moved to Poland and continue providing high-quality services to our customers from Warsaw, Kraków, Wrocław, Gdansk, Poznań, and Szczecin. Our existing team includes JavaScript developers (including specialists in React and Angular), Business Analysts, Manual and Automation QA engineers, etc.
The office in Poland will become Waverley's center of local operations, providing the needed support for all team members distributed across Poland. Moreover, the new office secures a safe, comfortable workspace for new engineering talent the company plans to hire in the vicinity.
IT Outsourcing to Poland: Conclusion
There are many popular locations for an IT business to seek employees and places to set up its headquarters. However, Poland combines a high-quality talent pool, an amiable and predictable market, and reliable business traditions. With the help of the dedicated software team and a reliable software engineering vendor, the process of outsourcing to Poland will quickly bring desired results.
FAQ
Is Poland a good location for outsourcing?
Yes, Poland is a great location for outsourcing. It offers a diverse IT market, specialists, affordable prices, and a suitable location.
Why do companies outsource in Poland?
Companies choose Poland because of its suitable location, tax regulation policy, variety of tech talent, and local IT enterprises to work with.
What are the benefits of outsourcing to Poland?
Poland offers multiple benefits for international IT companies: access to a huge pool of talented developers with versatile skills and high English proficiency, lower compensation rates, tax deductions, a business-friendly ecosystem, convenient location, and cultural similarity.
How can I hire an IT specialist in Poland?
You can either do so by hiring freelancers (using one of websites mentioned above) or hiring through a software engineering vendor, which is a much safer option in terms of security, processes, value per money and scalability.
How many people will be employed in Software Development in the Poland industry in 2022?
The talent pool in Poland consists of almost 300,000 developers, the biggest number in CEE.
Has the number of Software Development in Poland businesses grown or declined over the past 5 years?
The number of businesses in Software Development in Poland has grown 6.0 % per year on average over the five years between 2017-2022.