Top IT Staff Augmentation Companies in Ukraine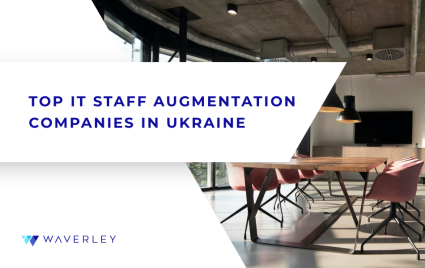 In this article, we highlight the top 10 Ukrainian IT staff augmentation companies as listed by Clutch. But before we start, let's take a good look at what reliable staff augmentation is all about, and how you can find a software outsourcing partner in Ukraine.
IT Staff Augmentation Services
Staff Augmentation is one of the most popular engagement models for customers of software development vendors around the world. This software outsourcing strategy presupposes a partnership arrangement with a custom software development or consulting firm that will provide a remote team of software engineering specialists to complete your project.
But is this a universal software outsourcing model appropriate in all situations? Or does it fill a specific need? Might it be better to engage a staff augmentation company in certain cases? Definitely. There are many situations when augmenting your existing team rather than outsourcing your project would be the smarter move. For example:
When you need to extend your in-house team temporarily.
When you need to rapidly scale your product development team.
When your in-house team has a technology gap that requires specific expertise.
When reducing the costs of software development is a priority.
Let's consider why staff augmentation services can better serve your business goals than relying exclusively on in-house software engineers.
Benefits of IT Staff Augmentation
You outsource the hiring process
In addition to outsourcing software development, you also outsource the burdensome process of talent search, recruitment, onboarding, and management of the staff you eventually hire. IT staff augmentation companies have access to a wide talent pool, know the skill level on the job market in their region, and are experts at interviewing software engineers. These companies take on the responsibility of finding the right software developers for your technology stack and take care of the people management activities to boot. You get relieved of the organizational aspects and can give your attention to what's important – your software product.
You save time and money
All of this gives you the confidence that staff augmentation services will get your development team up and running cost-effective and within your required timeframe. As for the costs, the key word here is "remote." With a remote team, you avoid the operational expenditure of office space and equipment for your new team members. Moreover, your remote team can be located anywhere on the globe so you can choose to hire engineers from the region that offers the best rates for your budget. Staff augmentation companies that offer the best ratio of development quality to pay set up development centers in Eastern European countries, South-East Asia, and South America.
You get more opportunities
Suppose there's a shortage of software development specialists in your region who have experience with the particular technology stack required for your project. Instead of changing your requirements, you can find the engineers you need on a remote work basis. This strategy not only will fill your technology gaps, it will save your budget and guarantee high-quality service in regions where competition is high.
You don't hassle
With the staff augmentation engagement model, you can quickly scale up or scale down as needed. If you realize you've engaged too many resources at some point, you can easily reduce the size of your team without worrying about reallocating the extra staff. You simply inform your outstaffing vendor of the change in your needs, and they take it from there. In addition, since customers typically engage a development team as a whole for a set period of time, the contracting process is far less complicated than hiring individual in-house team members. Finally, the simple cost model of staff augmentation services (rate/worked hours) helps you keep your application development outsourcing partner accountable. It also gives you flexibility so you can engage each tech expert on your team in alignment with your specific needs.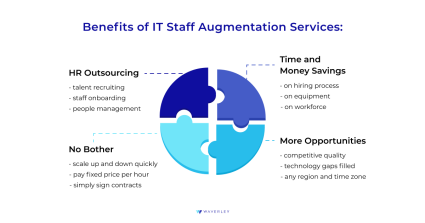 How Staff Augmentation Works
You can partner with an IT outsourcing vendor on the basis of various engagement models, hiring as many software development professionals as you need. These may include:
front- and back-end developers
software architects
QA engineers
IT support members 
In addition, you may need experts in specific areas, for example:
data science and big data specialists working with data analytics, artificial intelligence and machine learning algorithms
embedded software engineers proficient in IoT and connected devices
blockchain technology specialists
cyber security experts ready to test and strengthen your computer systems or applications against malicious attacks. 
Many staff augmentation companies offer their customers the ability to choose among the extended team, managed team, and managed project models.
What do these terms mean?
In staff augmentation services, the team extension engagement model is similar in principle to the managed services provision. It presupposes taking on a team of technical experts tasked with working on particular elements of your software product. They follow the requirements set forth by your product team, report on the results and arising issues, and provide IT consultations or give recommendations when necessary. The product design and project management are typically provisioned on the client's side of the team, thus full control of the project remains in the hands of its owner. In most team extension scenarios, the company/product owner is tech-savvy or they have a CTO on their team.
The managed team or dedicated development team engagement model is an "upgraded" version of  staff augmentation services. In addition to the development team, the customer hires an outside project manager. This way, the company/product owner is less engaged in minor details, and the development team is more independent. The dedicated teams report to their project managers, who communicate major project updates or issues to the customer. In this engagement model, the product owner has less control over the development team, but retains responsibility for technical decisions. 
The managed project or software development outsourcing model puts most of the responsibility for the project on the development company. Product development is usually done from scratch; this is also called full-cycle software development. Staff augmentation service providers usually include additional professionals on the team such as business analysts, tech leads, software architects, and IT support technicians. In this type of scenario, the role of the product owner is mainly idea conception as well as approving key processes. In this partnership format, the product owner is usually a non-technical person who relies on the IT company for strategy consulting as well as custom software development services.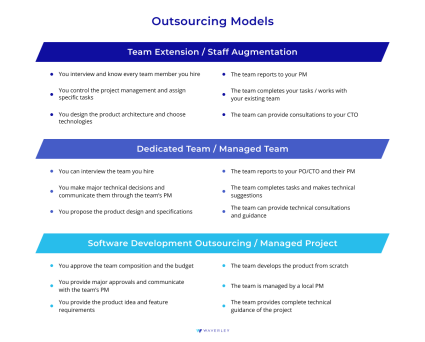 To learn more about the distinction between the IT staff augmentation services and the software development outsourcing, the pros and cons of each, and which fits what needs, read our blog article IT OUTSOURCING VS. OUTSTAFFING: THE ULTIMATE GUIDE.
Why Сhoose Ukraine as a Staff Augmentation Partner?
As mentioned before, Eastern Europe is one of the best outsourcing destinations for custom software development and staff augmentation services for both tech startups and established companies. Among such countries as Poland, Chech Republic, Romania, Belarus, Bulgaria, and Moldova, Ukraine occupies the leading positions in software development marked by Gartner and Outsourcing Journal.
Based on PwC analysis, Ukrainian IT market has increased by 2.5 times since 2015 and is predicted to reach $5.7 billion by the end of 2020. Following the CEE Software Development Report of 2019, the IT talent pool in Ukraine counts 23K technical graduates annually and nearly 200K software developers, with high-quality tech skills recognized by a wide variety of industry awards. For example, Ukraine takes 8th position in SkillValue's Best Programmers list, has ranked among the Top Outsourcing Destinations on the Gartner list for the past 7 years, and ranks 33rd on the Global Innovation Index. According to the numbers provided in the 2019 Market Report by N-iX, Ukraine is home to over 1,600 IT companies, with main software development hubs in Kyiv, Kharkiv, and Lviv. 
So what advantages do you get in Ukraine?
– Vast Talent Pool. With 200,000+ IT specialists and over 2000 software development companies, Ukraine has the third largest engineering talent pool in Eastern Europe.
– Mature Software Engineers. Ukrainian developers work with a wide range of technologies (Java, JS, Python, Scala, C++, Ruby), even those, that are quite rarely found in Asia or LatAm. In addition to excellent technical education, you get the benefit of solid English communication skills when you hire Ukrainians.
– Geographical Proximity. Ukraine offers visa-free 90-day stay for European and US citizens and is only 2 hours from Europe with a 2-hour time difference. The time difference with the US is 7-10 hours.
– Value for Money. At $40-60 per hour, Ukrainian software developers' rates are much lower than US or Western Europe IT professionals. You get top-quality, award-winning, and cost-effective custom software development services.
Top Staff Augmentation Companies in Ukraine
Let's take a look at the best staff augmentation companies in Ukraine based on their Clutch profiles. Clutch provides an extensive list of service delivery vendors around the globe, grouped into 500+ categories. We studied the profiles of Ukrainian software development firms delivering staff augmentation services and ranked them according to 1) their general Clutch ratings, 2) number of client reviews, 3) clients & experience mark, and 3) market presence. These totaled into their Ability to Deliver score. Let's take a closer look at each company, and what they have to offer.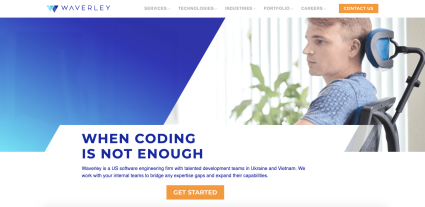 📍Locations: the US, Australia, Ukraine, Vietnam, Bolivia.

Waverley Software has been delivering high-quality custom software development services to customers worldwide for nearly three decades. Started at the heart of Silicon Valley, Palo Alto, Waverley has grown to provide custom software development to as many nearshore locations and time zones as possible with major delivery centers in Ukraine, Vietnam, and Bolivia. Waverley Software provides staff augmentation and full-cycle product development services, from idea discovery and validation, through product design and development, to long-term maintenance and support. The dedicated teams of software engineers at Waverley have particularly strong expertise in IoT, robotics, and machine learning technologies in mobile app development, embedded software, as well as web development for financial services, healthcare, telecom, e-commerce, and e-learning domains.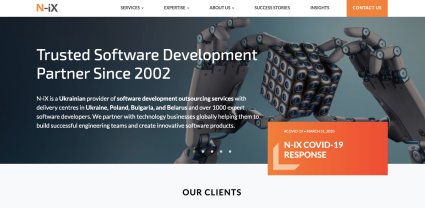 📍Locations: Ukraine, Poland, Belarus, Bulgaria
N-iX is a software development outsourcing company based in Lviv, Ukraine, covering 4 more locations in the US and Europe. Started in 2002, the company now counts over 1,000 tech staff with focus on .NET framework, Ruby on Rails, and Java. N-iX provides its product development and staff augmentation services for the finance, telecommunications, business services, healthcare, hospitality, and media domains. The development team at N-iX excels at development of high load systems, business intelligence solutions, data science and artificial intelligence, as well as other custom software development services. The company is particularly proud of its Game and VR studio, specializing in game production and virtual reality solutions.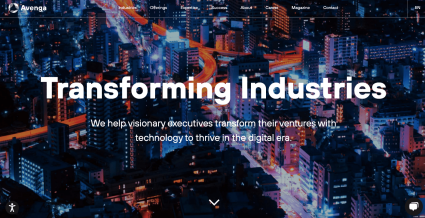 📍Locations: Ukraine, Poland, Germany, USA
Avenga is a multinational software development outsourcing company based in Cologne. It formed in 2019 in the merger of 4 IT companies from around the globe, including CoreValue. Avenga is now a 2500-people IT vendor delivering staff augmentation services, own software products, and full-cycle custom software development services including strategic planning, business analysis, solution design and development, testing, and support. The company covers a broad range of competences and serves a number of industries, with most application development cases centered around pharma & life sciences, insurance, financial services, automotive, and real estate sectors. Avenga eagerly upholds the principles of business sustainability, supporting transparent governance, environmental awareness, and social responsibility initiatives.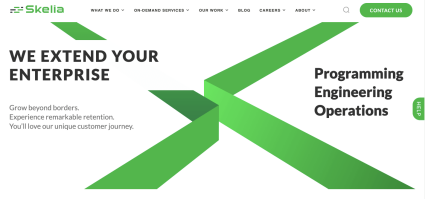 📍Locations: Ukraine, Poland, Luxembourg, Netherlands, UK, USA
Skelia was founded in 2008 and provides its customers with such staff augmentation services as team extension, team transfer, and staff relocation. The company, based in Luxembourg, counts over 250 team members with expertise in mobile and web development, CRM/ERP implementation, QA & testing, product R&D, managed services, electrical/mechanical/process engineering, PLC/SCADA development and international software deployments. Skelia's key concern is building responsible, ethical, respectful dedicated teams of software development professionals that take a client-centered approach to their work.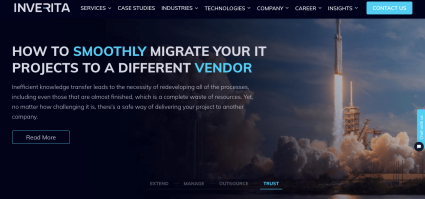 📍Locations: Ukraine, USA
InVerita is a relatively young IT outsourcing company founded in 2015. The company is based in Lviv, Ukraine, with other offices in Ivano-Frankivsk and Hartford, CT, USA. The company's homepage headline "Extending your team with the right people" speaks to inVerita's key service line – staff augmentation services. The dedicated teams at inVerita provide a range of custom software development services; their primary focus is on web and mobile app development.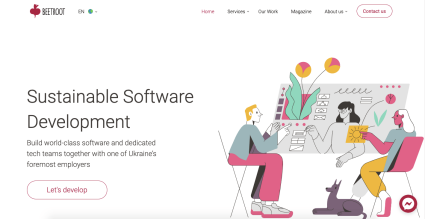 📍Locations: Ukraine, Sweden
Beetroot is a Swedish-Ukrainian software development outsourcing company founded in 2012 with offices and delivery centers in Ukraine and Stockholm. Beetroot has 450 software development specialists offering staff augmentation with a focus on custom software development, WordPress web development, and design services. This software development vendor caters to the education, healthcare, marketing, financial services, automotive, and e-commerce domains. The company's core values revolve around sustainable development, self-responsibility, positive social and environmental impact.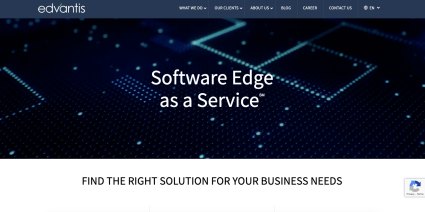 📍Locations: Ukraine, Poland, Germany
Edvantis is an IT outsourcing company based in Berlin. It houses more than 300 software engineering professionals in development centers in Eastern Europe. Edvantis offers its clients IT consulting services, staff augmentation, and project delivery services with deep expertise in technology domains such as cloud solutions, IoT, big data and analytics, and mobile app development. The company centers its values around customer satisfaction and takes pride in the referrals and positive reviews from customers.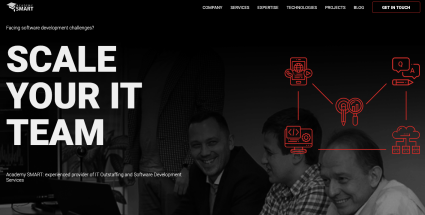 📍Locations: Ukraine
Academy Smart is an outsourcing company founded in 2009 focusing primarily on software for e-learning. With an office in Kharkiv, Ukraine, the company has arranged business relationships with Israeli, Austrian, Dutch, Finnish, British, Northern American, and South African partners. Today, around 100 team members of Academy Smart provide staff augmentation services to customers in e-learning, travel and mobility, resource management, and data analytics. Their dedicated teams of software engineering specialists offer expertise in cloud consulting and computing, mobile app development, and web development.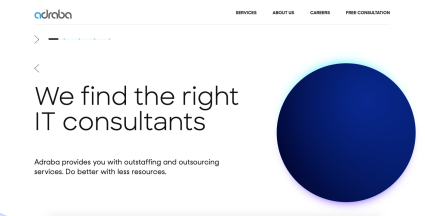 📍Locations: Ukraine
Adraba is a relatively young software development outsourcing company located in Kyiv, Ukraine that focuses on IT staff augmentation and IT consulting services. Adraba's team members are proficient in mobile application and web development, enterprise software development, AR/VR technologies, as well as popular machine learning/automation software and connected devices. The company offers to become their customers' software development outsourcing partner following one of the three engagement models: team extension, managed team, and managed project.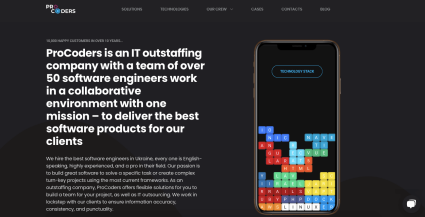 📍Locations: Ukraine
Last but not least, among the top staff augmentation companies on our list, ProCoders is an IT outstaffing company with over 50 software engineers located in Kharkiv, Ukraine. The company offers staff augmentation services following one of the several different partnership models, namely the Fixed Price model, Dedicated Team format, Time & Material development strategy, and the Cost Plus model. ProCoders are well-versed in web development and hybrid and cross-platform mobile app development technologies, furnishing software solutions for travel, education, and entertainment industry domains.
Summary
If you are looking for a reliable staff augmentation company, Ukraine is a perfect destination for outsourcing of your project development. Most Ukraine-based IT companies offer high-quality web and mobile app development services at affordable market-value rates. Ukrainian software developers are highly skilled and competitive in mainstream technology stacks, including back-end, front-end, and mobile app development, cloud services, data analytics, devops, security solutions, etc.
You can also expect deep expertise in narrower technology domains, such as data science, artificial intelligence and machine learning, big data, IoT and embedded software, blockchain, AR/VR and gaming, and rare technologies specific to your particular development case. In addition, Ukrainian IT outsourcing companies provide expert-level services related to application development process: product discovery and business analysis, R&D phase, development strategy consulting, UI/UX design, quality assurance, and managed services.
Waverley Software has nearly three decades of experience in team augmentation services and custom software development outsourcing with hundreds of successful projects and dozens of satisfied clients. We take pride in our team of tech-savvy and highly skilled software engineers with years of invaluable experience and extensive expertise. They are our key resource, maintaining Waverly's market-leader image and high customer retention rate. We welcome you to explore our website to learn more about our services and areas of expertise.