How to Build Your Own ERP System from Scratch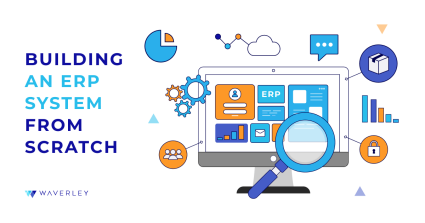 Contents
ERP/Enterprise resource planning has grown in popularity over the past 30 years. The system which is designed for business usage is applicable both for small and large companies. ERP is responsible for handling day-to-day operations such as accounting, project management, human resource work, or supply chain management. There are many types of the ERP system. In this article you will find the answers to how to choose the right ERP software for your business, what are the benefits and challenges of using it, how to calculate the cost, how to build an ERP system and how to design an erp system.
ERP System: What Is It?
ERP/Enterprise resource planning is a system designed for companies' usage. But how can companies use ERP for their benefit? With the help of ERP, companies can easily manage and integrate significant parts of their businesses. Plainly speaking, ERP is a type of software companies use to handle day-to-day business activities: accounting, project management, risk management, and supply chain operations. A complete ERP suite includes software that assists in planning, budgeting, predicting, and reporting an organization's financial results.
The main function of the ERP is to automate business processes and provide internal control, drawing on a central database that collects inputs from departments like accounting, manufacturing, sales, supply chain management, marketing, and HR.
As the company grows, it's very challenging to keep all of the processes in order. The ERP system helps to achieve the company's unification. ERP software's task is to meet organizational needs. Many of the world's best-known and most successful companies have integrated ERP software during the last 25 years.
ERP: Key Takeaways
According to Statista revenue in the Enterprise Resource Planning Software segment is projected to reach US$49.30bn in 2023
ERP applications have multiple options, and they all can be customized in accordance with the company's needs
ERP software can unify all of the processes needed to manage a company
ERP solutions have developed over the years, and nowadays, many of them are web-based applications available for remote usage
ERP allows the free flow of communication between business areas, and real-time data reporting
If the ERP system is not implemented correctly, the system could be ineffective
Custom ERP development will provide you with a system designed to your business needs, and higher data security.
Time required for the custom ERP development – starting from 5 months.
ERP applications provide the opportunity for different departments to communicate and share information easily with the rest of the company. ERP collects information about the activities in different divisions, making this information available to other parties, where it can be used productively.
ERP applications can help companies become more self-aware by linking production, finance, distribution, and human resources information. An ERP system connects different technologies used by each part of a business to avoid costly duplicates and incompatible technology. ERP also unifies customer databases, order-monitoring systems, accounts payable, and stock control systems in one system.
ERP: How Does It Work?
ERP systems have come a long way, from simple software models that used physical client servers and manual entry systems to cloud-based software with remote access. Usually, the ERP platform is maintained by the company (creator), and the customers' companies just rent services that are provided by the platform.
Organizations and businesses can choose the applications they want to use. During the next step, the hosting company loads the applications onto the server the client is renting. After that, two sides start the work to integrate with the client's data. When all departments are connected to the system, all data is collected on the server and becomes immediately available. Also, an ERP system can generate reports to determine how the business and its departments perform. Additionally, ERP can automate many tasks, reducing errors and freeing up employees to focus on more strategic work.
ERP System Modules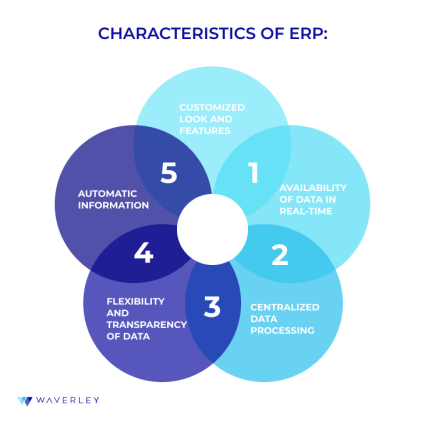 To work most efficiently, ERP systems have many different modules. Standard ERP modules support back- and front-office functions like CRM, finance and accounting, supply chain management, procurement, manufacturing, etc. So, ERP modules are applications devoted to certain business functions or processes. More functionally rich solutions include professional services automation, HR management, e-commerce, and marketing automation.
The modular design of ERP has certain benefits for businesses. A company can purchase only the modules relevant to its business model, operations, and critical challenges. It can then add ERP modules to address new needs or challenges as the organization grows.
This software is universal because a company can add this functionality while keeping the same foundation in place.
ERP Modules:
Finance
Procurement
Manufacturing
Inventory management
Order management
Warehouse management
Supply chain management
Customer relationship
Project service/resource management
Workforce management
HR management
E-commerce
Marketing automation
ERP Modules: Characteristics
| ERP Modules | Characteristics |
| --- | --- |
| Finance | The finance and accounting module is one of the most critical ERP modules because it allows businesses to understand their financial state and future outlook. This module helps to track accounts payable and accounts receivable and manage the general ledger. It also creates and stores crucial financial documents like balance sheets, payment receipts, and tax statements. |
| Procurement | With the help of the procurement module, the company can secure the materials or products needed to manufacture or sell goods. Therefore, companies can keep a list of approved vendors in this module. |
| Manufacturing | The manufacturing module is designed to plan production. It helps to give updates on the raw materials, machinery capacity, and good-in-progress. |
| Inventory management | This module's task is to help businesses manage inventory costs, ensuring they have sufficient stock without tying up too much cash in inventory. |
| Order management | The order management module is designed to track orders from receipt to delivery. With the help of this module, companies can prevent losing orders. |
| Warehouse management | This module can efficiently guide warehouse workers through all the warehouse processes. Also, it can deliver a fast return on investment for businesses that operate their warehouses. |
| Supply chain management | This module tracks each movement of supplies and goods throughout the supply chain. It can also manage any materials or products returned for refund or replacement. |
| Customer relationship | CRM module keeps all customer and prospect information. A CRM improves customer service because staffers can easily access all the information they need when working with customers. |
| Project service/resource management | Service resource management module, allows an organization to plan and manage projects. Services-based businesses often use this module. |
| Workforce management | This module is similar to a human resource management module but is designed for companies with more hourly than salaried employees. It can monitor workers' attendance. |
| HR management | The HR module usually encompasses all the features of a workforce management application and offers additional capabilities. HRM could be viewed as a CRM for employees. |
| E-commerce | This module helps the businesses which want to sell online. This module allows companies to quickly launch a business-to-business (B2B) or business-to-consumer (B2C) ecommerce website. |
| Marketing automation | Certain software providers have developed this module to manage marketing campaigns across digital channels like email, web, social media and SMS. |
Types of ERP systems
ERP Systems: Types and Characteristics
| ERP System Type | Characteristics |
| --- | --- |
| On-premise | Expensive, full control, secure |
| Cloud | Affordable, up-to-date, limited customization |
| Hybrid | Expensive, flexible, difficult to implement |
We can define three main types of ERP systems. These systems can function with different deployment model options. To be precise, the most common systems are:
On-premise
Cloud-based
Hybrid
On-premise ERP software is stored onsite. Therefore it has to be maintained in the office space within an organization, hosted on the company's computers, and serves for the complete control, support, and ownership of the entire system as soon as implemented.
Unlike the previous system, the cloud-based ERP software is a web-based solution called SaaS (software as a service). In this case, the organization has access and stores data on any device with an Internet connection, generally through the purchase of a subscription.
From the name of the third system, it's clear that this ERP software combines the implementation of cloud-based and on-premise ERP systems solutions. The combination of hosting and deployment services differs by provider. The hybrid system can allow ERP users to migrate between delivery models or integrate benefits.
There are multiple Cloud solutions for storing your ERP system. For example, hosted and true cloud.
The idea of a hosted cloud solution is that a company buys a license, but a third party manages it and works on remote servers. The hardware and the servers are usually rented from the hosting company. But about your data? The data can be stored in a private cloud. The company's infrastructure won't be shared with other organizations. Therefore, it could be called a single-tenant cloud solution since this setup gives customers more control over the software. It can be considered a middle ground between on-premises and true cloud software.
Using a true cloud deployment lets companies pay a certain fee in exchange for access to services and software they don't have to manage. SaaS ERP solutions are the common version of a true cloud solution. It is also known as a multi-tenant cloud solution because multiple businesses use the same software and hardware.
IDC (International Data Corporation) predicts that by 2025 the Cloud solutions cloud will surpass on-premises infrastructure as the primary location where operational data is stored, managed, and analyzed. Certain steps are required to implement successful cloud migration.
According to the 2021 ERP Report by Panorama Consulting Group, more than half of organizations selected cloud software instead of on-premise software.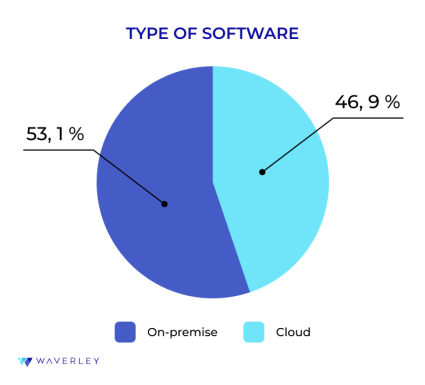 We can also single out ERP systems by the size of the business. Why? Actually, revenue or the number of employees can be a factor in shaping your ERP solution.
ERP Systems by Business Size
| Business Size | ERP System: features |
| --- | --- |
| Small-business ERP | Cloud ERP is the best option for small businesses. It has lower costs, a faster setup, and less technical resources compared with on-premises or hybrid options. |
| Midsize-business ERP | Many midsize organizations lack large IT teams, and cloud ERP software is very common in this segment. SaaS solutions can be more user-friendly. However, midsize businesses that require numerous customizations may choose on-premises deployments or hybrid approaches. This group is more likely to have the financial and human capital to support this model than small businesses. |
| Enterprise ERP | Corporations need systems that can capture, process and interpret a huge amount of data and handle the demands of many business units. On-premises and hybrid ERP that combines cloud and on-premises solutions are most common with enterprises. Because they may have adopted ERP before true cloud systems were available. |
Enterprise Resource Planning Market Overview
Organizations and companies are searching for ERP systems to develop organization efficiency. Therefore, ERP systems are now significant platforms to provide businesses with a strong foundation and information support.
The market of ERP is a big and fast-growing industry. The largest ERP market is in North America, and the fastest-growing one – is in Asia Pacific.
ERP Market Sizes
| Market Size | Source |
| --- | --- |
| The global ERP software market size was valued at USD 54.76 billion in 2022 and is expected to expand at CAGR (compound annual growth rate) of 11.0 % from 2023 to 2030. | Grand View Research |
| The global ERP software market size was valued at USD 45.11 billion in 2022 and is expected to reach USD 71.97 billion over the next five years, registering a CAGR of 7.92% during the predicted period. | Mordor Intelligence |
| The global ERP software market size was valued at USD 44.47 billion in 2022. It is expected to grow from USD 46.86 billion in 2023 to USD 71.34 billion by 2030, showing a CAGR of 6.2 % during the forecast period. | Fortune Business Insights |
Nowadays companies don't want rigid and outdated system solutions to get in the way of transforming their business processes. Companies of all sizes try to optimize and streamline their work processes so many vendors like Waverley offer digital transformation services to help businesses stay up to date with modern tech.
This is the same for ERP software development. So, it's very important to keep up with the latest ERP trends.
Companies and organizations implement ERP systems to reduce costs, reach mobility and visibility, to protect data, and extract actionable business insights. Read our article to find out more about the benefits of business intelligence. Let's look into the most innovative ERP trends that offer more advantages to companies and businesses.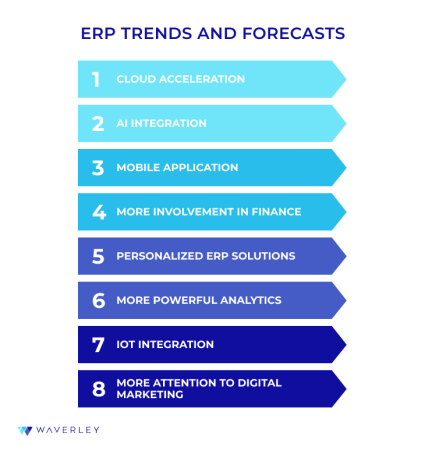 Using cloud-based ERP software is a game changer for the industry. As a result of massive cloud adoption, cloud-based SaaS ERP solutions are now dominating the market. Thus, according to a research report "Cloud ERP Market by Component (Solution, Services), Business Function (Accounting and Finance, Sales and Marketing, Inventory and Order Management), Organization Size, Vertical (BFSI, Manufacturing, IT and Telecom) and Region – Global Forecast to 2027" published by MarketsandMarkets, the global Cloud ERP market is expected to grow from USD 64.7 billion in 2022 to USD 130.0 billion by 2027, at a Compound Annual Growth Rate (CAGR) of 15.0% during the forecast period.
With the help of artificial intelligence development companies, the way businesses are operated could be changed fundamentally. AI is naturally bound to infiltrate the ERP industry. Before, users have to install separate add-ons to their systems, but it is becoming increasingly common these days for ERP solutions to have such functionalities built-in. ERP with intelligence tech integration is also known as iERP. It provides companies with a significant edge through innovative data processing. Transforming business data into actionable insights is just the beginning.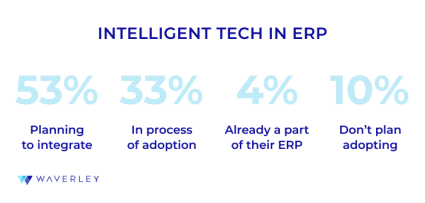 Complete mobile application support will be one of the basic functionalities of a modern ERP tool. It allows performing business operations anytime and anywhere. Mobile app development companies provide these services.
The benefits of using ERP for mobile applications:
back-end and front-end activities are available on mobile devices such as tablets and smartphones
the accurate and convenient data collection process
mobile ERP decreases the risk of production delay because of better communication
What about the financial module? Why ERP's role in finance is evolving? In recent years the financial module is getting more involved in both internal and external processes within companies.
The financial module provides functions like:
general ledger
currency management
payroll management
fixed assets
cash management
gives access to more powerful analytics
tracking of the spendings
As for personalized ERP solutions starting in 2019, this trend took a step forward allowing for more personalized and vertical solutions to businesses. Developing personalized ERP solutions must rely on a dedicated software development team. This doesn't mean that each ERP system in the market is created from scratch. However, many companies feel like out-of-the-box solutions are not scalable enough and do not support their needs sufficiently, so they reach our to software development vendors like Waverley to either build some functionality or integrations on top of ready solutions or create some totally personalized from scratch.
Most businesses use ERP systems with integrated analytics, ad-hoc reporting, and data visualization capabilities because it provides access to relevant information in real-time. Companies use it then to make essential business decisions regarding finances or other business aspects. Also, big data and analytics have made the way for a new revenue stream for cloud ERP vendors. As companies now prioritize the ability to make data-driven decisions quickly, they look for analytics-based solutions.
Combining ERP and the Iot development services opens up many possibilities. IoT offers connectivity to every sensor or physical device in a network without the need for human intervention. With IoT and ERP, companies will be able to gather, analyze, and process a vast amount of information through sensors. According to IoT analytics, the number of connected IoT devices is growing by 18% to 14.4 billion globally.
One might consider how marketing and ERP software development are connected. Marketing needs ERP systems to work with analytics. Since the right data will determine the ideal target audience. A marketing campaign that can't access the data from the ERP system would be lacking in relevant metrics. It's also a great help to marketers if they can use a CRM and other resources as a basis for their strategy. Because of this, businesses are connecting their marketing process to their ERP solutions.
The next trend in the digital marketing aspect of ERP would be the use of social media platforms. Therefore, businesses that use social media platforms have better options to reach the audience. Because of this, it is predicted that ERP solutions will integrate marketing capability with various social media platforms. These include gathering links, publishing posts, and getting analytics from social media.
Custom ERP System vs Ready-Made
There is always room for development that's why many businesses are looking for a custom ERP solution. Custom ERP systems allow businesses to collect, store, and analyze information from several departments in one database, making it easier for executives to manage all fundamental business operations. Custom ERP development ensures that you get a solution designed specifically to your needs.
Before considering an ERP system for your organization these questions should be answered:
What are the benefits of a custom ERP system?
How does a custom ERP system compare to the ready version?
| Type of the ERP System | Characteristics |
| --- | --- |
| Custom ERP System | The system is designed around the specific requirements of a particular business. It offers a complete solution that unifies all of the business operations into a single platform and is created to match the particular needs of a particular business. |
| Ready (Off-the-shelf) System | The system is a pre-packaged, ready-to-deploy solution that comes with verified capabilities. It is designed to meet the needs of a wide range of businesses. |
Ready-Made ERP Systems Pros & Cons
Pros of the ready-made ERP systems:
Possibility for a slight customization
Ready-made product
Less operational cost
Cons of the ready-made ERP systems:
No possibility of tailoring the software for your business
Less functional opportunities
Possible need of customization later
Who can use the ready-made ERP systems?
Ready-made ERP systems are good options for small businesses. For their price these applications already have all the required features, plus they have been tested by hundreds of users. A 2022 ERP report showed that the average budget per user for an ERP project is $9,000.
However, the pre-built ERP systems are not appropriate for business with specific needs, like healthcare, financial services, educational, or similar domains. These systems won't take into account your unique features and won't be able to adapt to the changes in the workflow. If your business needs different features than those in pre-built ERP systems, you probably won't be satisfied with it.
Custom ERP Software Development
Pros of Custom ERP Software Development
Completely customized solution up to your needs
Unique product
Possibility to add unique functionality
Cons of Custom ERP Software Development
More operational cost
Longer time of the implementation
Usually, the cost of the custom ERP system would be more, but they are completely customized up to the needs of your business. It's a unique product that you own, it is developed for your business specifically. There is a higher possibility for you to get a high ROI, however, you need to have funds to cover custom ERP software development costs.
Ready-Made ERP vs Custom ERP Software Development
Custom ERPs are created especially for the individual or business that requires them, compared to the ready-made ERP system. This makes it possible to develop a solution that is more customized to the unique requirements and needs of the customer and is also more effective, efficient. The capacity for custom ERPs to often be upgraded and modified over time typically allows for more flexibility and scalability. Moreover, custom ERPs may be integrated into other systems to increase their versatility. The ready-made ERP systems, on the other hand, are pre-packaged, unchangeable systems with frequently limited scalability.
Benefits of Developing Custom ERP Software
The main benefit of having custom software is that it can help focus on the specific needs and resources of businesses. It is essential to understand how to effectively incorporate and monitor all data management and workflows of the business from a single platform.
5 Steps of Developing a Custom ERP System
We defined five basic steps of developing a custom ERP System. These steps would be:
Setting the goals
Designing The UI/UX
Deciding The Tech Stack
Integration With Third-Party Products
Testing And Recalibrating The ERP Software
1. Setting the goals
The first step in any custom ERP development project is to sit down with key stakeholders and define the goals and expectations for the project. This step is critical to the success of the project, as it will set the tone for the entire development process.
During this step, it is important to be as clear and concise as possible when defining the goals of the project. All stakeholders should have a good understanding of what is expected from the final product. Once the goals are defined, they should be communicated to all members of the development team so that everyone is on the same page.
After the goals are set, it is time to start planning out the development process. This step will involve creating a detailed roadmap that outlines all of the milestones that need to be met during the course of the project. The roadmap should be reviewed and approved by all stakeholders before work begins.
2. Designing The UI/UX
Designing the UI/UX of a custom ERP system is a critical step in the development process as it defines the experience end users will have with the system. A good UI/UX will make the software easy to use and navigate, while a bad UI/UX can make even the most user-friendly system difficult to use.
There are a few key things to keep in mind when designing the UI/UX of a custom ERP system:
Keep it simple: The simpler the design, the easier it will be for users to understand and use the system.
Make it intuitive: Intuitive design means that users will be able to figure out how to use the system without needing any training.
Use familiar conventions: Familiar conventions make it easier for users to understand how to use the system. For example, using icons that represent common actions (such as a trash can icon for deleting an item) can help users understand what they need to do.
3. Deciding on The Tech Stack
Deciding on the tech stack is a comprehensive process. From finalizing software to be used in the front and back end to system hosting and more, a lot of planning is required to navigate this stage. Here are a couple of key aspects of the tech stack:
System Hosting
It's vital to determine where the system will be hosted. If the system is hosted on an internal server, then it should be powerful enough to handle the load. Updates and security patches will have to be managed internally. Cloud-based providers take care of all of this, but their security measures need to be up to par. The cost of subscription fees when budgeting for the custom ERP development project will also have to be factored in.
Database
An ERP development process begins with the database. This is where all of the data for the company will be stored. The database can be either on-premises or in the cloud. Once the database is set up, the next step is to create the tables and fields that will be used to store data.
Waverley has experience stepping in at various stages of the development process and we can recommend the best tech stack based on your business needs. Our software architects will help you select the right back-end and front-end technologies for your ERP, as well as hosting and databases. In one of our articles we described how to select the right database for your software product.
4. Integration With Third-Party Products
Most enterprise resource planning (ERP) solutions offer some level of integration with third-party products. This allows organizations to connect their ERP system with other software solutions they use, such as accounting, customer relationship management (CRM), and supply chain management (SCM) systems.
Integration can make it easier for businesses to track data and information across all of their different software solutions. It can also help to automate processes and tasks that span multiple systems. For example, if a customer places an order in a CRM system, the order can be automatically sent to the ERP system for fulfillment.
When evaluating ERP solutions, it is important to consider the level of integration offered. Some ERP systems are designed to work with specific third-party products, while others offer more general integration capabilities. It is also important to consider the costs associated with integration, as well as the time and effort required to set it up.
5. Testing And Recalibrating The ERP Software
Before starting the final stages of custom ERP development, it's important to test and recalibrate the software to ensure everything is working as intended. This process can be done by setting up a test environment that mimics the live system as closely as possible. Once the software is running in the test environment, various types of tests can be performed to check for errors and correct any that are found. Recalibration may also be necessary if changes have been made to the system during development.
The Cost of Custom ERP System Development
Factors influencing the ERP software development cost:
Size of your business
Obviously, large-sized businesses have much more departments, processes and technologies within the organization as well as more complex business structure in comparison to medium or small companies. As a result, large companies have more users and more data. The bigger the business you have, the more ERP modules you need to manage for your company, subsequently, you need a more significant ERP budget.
Software development implementation members
The ERP development cost also depends on how you decide to build an enterprise solution – with the help of an in-house team or outsourcing your software development project to the near-shore or off-shore IT vendor.

The other cost-driving factors that one should consider while building own ERP system from scratch:

Development
Company adjustments
Training
Upgrades
Maintenance

Development and integration.
To build your own ERP system you will need to have a team of professionals which consists of developers, designers, software testers, project managers. Besides, the ERP systems require a lot of space and computing power so the cloud solutions should be considered as well.
Company adjustments.
The primary goal of the ERP system is to automate the routine business tasks, but to achieve this goal certain standards are required. It will take managers time to get used to the new system.

Regarding the training, it is not always easy to adapt to the new workflow. Right after the implementation your departments might be slightly less effective than before, but for a short time.

Nothing stays still, especially in the business world, even the most innovative system will need updates. Therefore, the cost of upgrades should be considered beforehand.

Maintenance.
The ERP system could be based on the local hardware or in the cloud. If you have chosen the first option, with time the hardware will need to be updated or fixed. In case of using the second option, the cloud-based architecture, you will need to hire DevOps services to effectively adjust the system.
Challenges of Developing a Custom ERP System
The main challenges in developing a custom ERP system are:
ERP development costs
Even though ERP software allows enterprises to gain multiple business benefits and thereby become more prosperous, ERP development typically requires huge upfront investments.
Complex architecture
The architecture should be developed and thought through in advance.
Complicated software management and maintenance
Generally, ERP vendors are responsible for updating their software solutions and delivering new versions. However, if an enterprise decides to implement new features to its ERP system through customization, it has to update and maintain the modified version in-house. This, in turn, may become a severe burden for the enterprise IT department and create cybersecurity risks.
Waverley and Enterprise Resource Planning Solutions
Here at Waverley with the help of our dedicated software development team we will build your own ERP system, customized to your business needs and requirements. As an experienced team we will help you overcome the challenges and provide full support in developing your own customized ERP system.
Our team has developed a number of enterprise solutions such AI-powever virtual assistant, cross-platform CRM for homecare services, and many more. To receive our ERP solution development case studies, please fill in the contact form and one of our Sales representatives will contact you shortly.
ERP Development: Conclusion
ERP software development has immensely increased the quality of business processes within small and large enterprises. ERP system modules take care of day-to-day business operations providing a smooth work for your organization.
The best option is to build your own ERP system from scratch. It will be customized and shaped to your business needs and requirements. In order to achieve a successful result certain steps must be taken: having a clear idea of the system you need and choosing the right team to help you with the ERP software development and implementation. Waverley Software has a dedicated experienced team experienced in delivering all sorts of enterprise solutions, including ERP systems, that will guide you through each step.
FAQ
What is ERP software development?
ERP software systems are the most popular enterprise resource management tools. They can help bring transparency in business operations, monitor financial activities, and streamline internal business processes. These operations include manufacturing, supply chain management, customer relationship management, human resources as well as warehouse management. ERP software development company plays an important role to avail these benefits and keep you ahead in business.
What are the elements of ERP software development?
ERP software development elements include:
Clarifying your idea
Wireframing
Drawing up a tech stack
Software development
UI/UX Design
Quality assurance
Which technology is best for developing an ERP system?
The most recommended and widely used DBMS for developing ERP software is MSSQL. Because of its Data security, integrity and proven track record and also the fact that it's open source.
What are the benefits of ERP software development from scratch?
Integrating ERP software can give you a competitive advantage over other entrepreneurs while saving the company's resources and allowing you to react in a timely manner to a dynamic business environment. It also gives you more flexibility in terms of functionality, layout, and maintenance costs.
Do I need an ERP solution for my business?
Without an ERP, there are good chances that your business relies on various software integrations to streamline data and access it cross-departmentally. If you would like to automate some manual processes, gain strategic business insights, monitor your data in real time – an ERP solution should be among the potential investments for your business.
Empower your business with our ERP development.