Welcome, Waverley Mexico!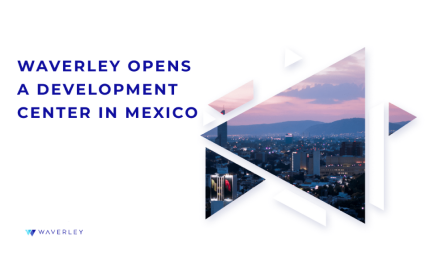 Waverley opens a development center in Guadalajara, Mexico
Palo Alto, CA: Waverley Software starts building an engineering team in Mexico, strengthening our reputation as a nearshore software development vendor for businesses in the US.

The company opened a development center in Guadalajara, a city with a population of 1.4 mln people located in the West of the country. The Guadalajara office will become our center of operations in Mexico, supervised by the experienced Managing Director Luisa Valenzuela. A certified Project Manager and Scrum Master, Luisa has over 10 years of experience managing the successful delivery of software projects of various sizes and complexity. Her skill set is versatile and includes Operations, Sales, and People Management, which is just the right combination for the role.
With its geographical proximity to the US and minimal time difference, Waverley Mexico will be a great fit for our US-based customers looking to strengthen their in-house engineering teams with nearshore talent. Our Mexican engineers have started working on their first project with Waverley, but we expect that their project portfolio will grow significantly in the coming months.

"An office in Mexico will be a great addition to our already existing Latin American team, which already covers Bolivia, Costa Rica, Argentina, and Colombia. Mexico has plenty of software engineering talent, and a lot of potential, with its market of software services growing considerably each year." – says Mark Andrews, Waverley's Executive Vice President of Business Development.
About Mexican IT Market: With over 224,000 software engineers and about 85,000 tech graduates per year, Mexico is a promising software outsourcing destination for many businesses in North America. It is easy to travel to from the US and overlaps time-zone with the USA, as well as solid English skills. Mexican engineers are proficient with a wide range of technologies and programming languages, but the most popular are Java, Python, PHP, and Laravel.
About Luisa Valenzuela: Luisa Valenzuela has a versatile management background, having worked in FMCG and Manufacturing prior to joining the IT industry and reaching the COO and CEO positions in Tech. Over her 10 years of experience in the software engineering domain, she received multiple certifications as a Scrum Master and Project Manager and helped to successfully deliver numerous software projects.
About Waverley: Waverley Software is a software engineering company headquartered in Silicon Valley with development centers in Eastern Europe, Southeast Asia, and Latin America. For three decades, Waverley has been solving complex software challenges for clients from startups to Fortune 1000 companies. Our ability to provide comprehensive, integrated software engineering services starts here: by assembling a multidisciplinary team of the most highly skilled software engineers, designers, and project managers from around the world. We play in all categories, but our specialties are Social Robotics, Enterprise Productivity Tools, Home Automation & Security, Healthcare, Automotive, and the Internet of Things.