Nearshore Software Development in Mexico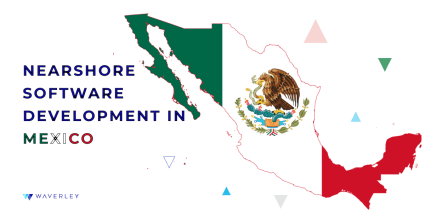 Contents
Businesses all around the world are always looking for innovative ways to improve their processes, increase efficiency, and stay competitive. Nearshore software development is one of the primary tactics that has become very popular recently. This method has completely changed how businesses source engineering talent and oversee their software development projects, and it offers a number of benefits that are changing the face of the IT sector.
For a lack of contradiction, nearshore software development entails the outsourcing of software development projects to nearby nations, usually those that are geographically close to the client's original country. This method has many advantages over conventional offshore outsourcing, which frequently sends work to places with different time zones, languages, and cultural differences. Nearshore IT outsourcing in Mexico makes use of close proximity to promote closer cooperation, improve communication, and reduce project management difficulties for customers in North America.
Mexico is a rapidly developing nation in the field of nearshore software development. This energetic country, famous for its vibrant culture, breathtaking scenery, and helpful hospitality, is quickly emerging as a top choice for enterprises looking for top-notch software development services. Mexico has established itself as a front-runner in the battle to offer affordable, effective, and cutting-edge software solutions because of a growing pool of qualified tech experts that are at the forefront of building software products, a solid IT infrastructure, and a strategic geographic location.
The article will go deeper into Mexico's potential as a nearshore software development destination and look into the many benefits it provides to companies wishing to advance their software projects. We will explore the factors that have made Mexico the go-to location for companies looking to take advantage of nearshore software development, from decreased development costs and improved scalability to a rich talent pool and cultural alignment. Join us on a tour of Mexico's booming tech scene to see how this dynamic country is fostering creativity and efficiency in software development.
Overview of the Mexican Software Development Market
Over the coming years, it's expected that the ICT market in Mexico will grow at a CAGR of 10.6%. The market is driven by a rising emphasis on digital technology, cybersecurity, AI, robots, and healthcare IT, as stated by Mordor Intelligence, a market research and consulting firm.
The ICT market in Mexico is divided into different categories based on the type of product (hardware, software, IT services, and telecommunication services), the size of the company (small, medium, and large companies), and the industry vertical (BFSI, IT and telecom, government, retail and e-commerce, manufacturing, and energy and utilities). For all of the aforementioned segments, market quantities and predictions are given in terms of value (USD million).
The big pool of engineers in Mexico can offer some of the most talented software engineers in the world. Programmers in this country have the best educational backgrounds in LATAM, compete on a global stage, and hold the #2 position among programmers with the highest level of talent and the most years of experience. Let's examine the factors that make nearshoring in Mexico a great choice for building your software engineering project.
Advantages of Nearshore Software Development in Mexico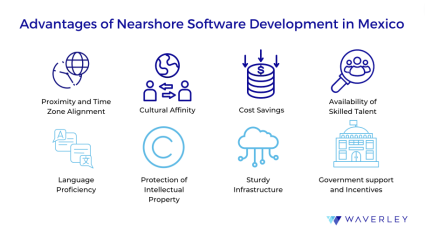 Nearshoring has become a popular strategic option in recent years for companies looking to streamline their business processes and cut expenses. In this example, Mexico has emerged as a desirable nearshoring location for a variety of businesses due to the country's proximity to the United States and its thriving tech environment. Let's examine some of the many benefits of nearshoring in Mexico below.
Proximity and Time Zone Alignment
Mexico's proximity to the United States is one of the most convincing arguments for nearshoring. Due to this geographic advantage, on-site visits and meetings can be held with a great deal less travel expense and time, resulting in improved collaboration among teams. Additionally, Mexico and many U.S. cities are in the same time zone, facilitating real-time coordination and communication, which can be difficult when outsourcing to foreign nations.
Cultural Affinity
Successful commercial connections depend on cultural affinity. Mexico and the United States have close cultural ties, which makes bridging any cultural divides simpler. Smoother relationships, better comprehension, and enhanced teamwork can result from familiarity with American traditions, holidays, and work principles.
Cost Savings
Nearshoring in Mexico is motivated by cost effectiveness. While living expenses and labor costs are typically lower in Mexico than in the US, the level of craftsmanship is still very high. This cost reduction includes a variety of expenditures, including decreased labor costs, real estate costs, and operational costs, which all help to boost profitability.
Availability of Skilled Talent
Mexico has a strong tech industry and an educated workforce. This nation has made large expenditures in training and education, creating a pool of qualified workers in a variety of fields, including software development, engineering, manufacturing, and customer service. Employers who nearshore to Mexico can take advantage of this skill pool to spur innovation and expansion.
Language Proficiency
Professionals in Mexico are becoming more and more proficient in English, particularly in the business and technology fields. This bilingual skill makes it easier to communicate with American colleagues without encountering any language difficulties or misconceptions. It guarantees that tasks be completed without difficulty and that expectations and instructions are understood.
Protection of Intellectual Property
Mexico has put in place legislative structures and rules to safeguard intellectual property rights, giving businesses peace of mind regarding the protection of their confidential data. A level of protection provided by this legal framework may be crucial for sectors like technology and healthcare.
Sturdy Infrastructure
Mexico is proud of its robust infrastructure, which includes dependable transportation and telecommunications networks. This infrastructure makes it possible for products and information to move efficiently, which helps firms improve supply chain management and streamline operations.
Government Support and Incentives
To entice foreign investment and promote economic growth, the Mexican government provides a range of incentives. These incentives, which make it financially attractive for businesses to establish a presence in Mexico, can include tax advantages, subsidies, and support for research and development.
Get started with Mexico's nearshore solutions
The Business Environment in the Country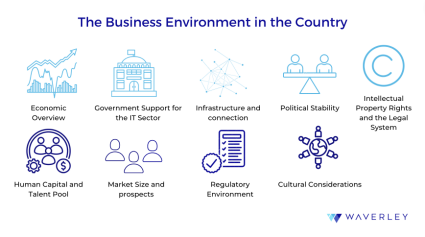 With government assistance, a developing infrastructure, a growing talent pool, and large market prospects, Mexico provides a good business climate for the IT sector. The regulatory and legal framework, intellectual property protection, and regional peculiarities all present difficulties for enterprises. The key to success in Mexico's IT business is to do extensive study and look for local knowledge. Here is an explanation:
Economic Overview
The IT Outsourcing market in Mexico has one of the biggest economies in Latin America. According to the World Bank Its GDP is among the top 15 in the world. The economy of the nation is varied, involving several industries like manufacturing, agriculture, services, and increasingly, information technology. Mexico is a significant participant in the international supply chain as a result of its close relations to the United States through the North American Free Trade Agreement (NAFTA, now known as USMCA).
Government Support for the IT Sector
The Mexican government has acknowledged the role that the IT sector plays in promoting innovation and economic progress. A number of programs have been started to encourage the industry, including tax breaks for IT firms, subsidies for R&D, and collaborations between the government, academia, and business to promote innovation and skill development. Mexico has also created technology parks and clusters to encourage cooperation in the IT industry.
Infrastructure and connection
This country has made significant investments in its connection and technological infrastructure. Mobile network coverage and broadband penetration have significantly improved throughout the nation. Data centers and fast internet connections are part of the developed IT infrastructure in major cities like Mexico City, Monterrey, and Guadalajara. Because of its growing infrastructure, Mexico is now a desirable location for IT businesses looking to open offices there.
Political Stability
Political turbulence and societal unrest have occurred at times in Mexico, which is a factor that businesses must take into account. However, it has preserved a democratic system and a largely stable political atmosphere for many years. Businesses operating in Mexico frequently have to deal with regional differences in security and local politics, so it's important to carry out detailed risk assessments and keep up with local news.
Intellectual Property Rights and the Legal System
Mexico has made tremendous strides in enhancing the protection of IP rights and enforcing IP laws. It has ratified a number of international agreements and treaties designed to safeguard intellectual property. However, issues like piracy and counterfeiting continue to persist, especially in some industries. IT businesses operating in Mexico should hire qualified legal counsel and take strong IP protection precautions to defend their interests.
Human Capital and Talent Pool
The workforce in Mexico is predominantly young and becoming more educated, with a significant emphasis on the STEM (science, technology, engineering, and mathematics) fields. There is a constant supply of qualified individuals thanks to the numerous universities and technical institutions that offer pertinent IT degrees. Mexico also gains from its close proximity to the United States, which draws IT expertise from both nations.
Market Size and Prospects
For IT companies, Mexico's engineering talent pool and digital infrastructure represent sizable market prospects. The e-commerce, fintech, healthcare IT, and automation industries are among those that are currently rapidly expanding. Success depends on being aware of the market dynamics and consumer preferences in your area.
Regulatory Environment
With numerous federal, state, and municipal regulations affecting enterprises, navigating Mexico's regulatory environment can be challenging. Businesses must be ready to adhere to tax rules, labor laws, and industry-specific restrictions. To guarantee complete compliance, consulting with local legal professionals is frequently required.
Cultural Considerations
Establishing trusting connections with regional partners and customers requires an understanding of Mexican culture and business etiquette. In Mexican corporate culture, trust-building and polite communication are paramount.
Challenges and Considerations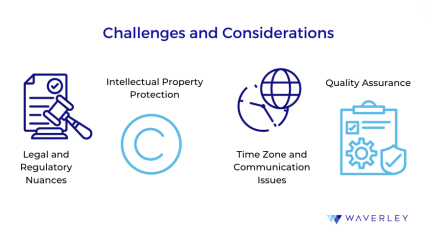 As we previously pointed out, firms wishing to cut expenses while keeping close ties to the United States may find outsourcing to Mexico to be an appealing alternative. Like every outsourcing deal, there are, however, possible issues and things to think about. We will examine some of the crucial factors when outsourcing to Mexico in this section:
1. Legal and Regulatory Nuances
Before outsourcing to Mexico, it is important to grasp the legal and regulatory framework of the nation. Among the most important factors are:
Laboral Lows: Strict labor regulations in Mexico safeguard the rights of employees. These regulations control the working environment, pay, benefits, and disciplinary actions. To stay out of trouble with the law and preserve their reputation, businesses must abide by these requirements.
Taxation: Due to Mexico's unique tax structure, businesses who outsource there must manage income tax, value-added tax (VAT), and transfer pricing rules.
Data Privacy: The General Data Protection Regulation (GDPR) of the European Union is comparable to the data protection legislation in Mexico. To secure sensitive information, businesses that outsource data-related operations must verify compliance with certain laws.
2. Intellectual Property Protection
When outsourcing to a foreign country, especially Mexico, protecting intellectual property (IP) is of utmost importance. Take into account the following precautions to protect your IP:
Clear Contracts: Create thorough contracts that specify who owns intellectual property, confidentiality agreements, and dispute resolution procedures.
Non-disclosure Agreements (NDAs): To make sure that everyone participating in your project understands the value of safeguarding your intellectual property, make them sign NDAs.
Safeguard your IT infrastructure by implementing strict security measures to guard against IP theft and data breaches.
Monitoring and Auditing: Keep a close eye on and audit the operations of your outsourced partner to make sure they are following IP protection protocols.
3. Time Zone and Communication Issues
The success of any outsourcing operation depends on effective communication. Think about the following:
Time Zone Management: To bridge the time zone divide, establish explicit communication procedures and timetables. Teams can work effectively together with the use of resources like project management software and video conferencing.
Language Barrier: Despite the fact that many Mexicans speak English well, there may still be some linguistic barriers. If necessary, employ bilingual project managers or translators to ensure effective communication.
Cultural Awareness: Spend some time learning about Mexican business practices. In the business culture of Mexico, establishing solid bonds and trust is a crucial to guarantee that IP protection procedures are being followed.
4. Quality Assurance
A successful outsourcing relationship requires high-quality software and efficient project management. Here are some important things to remember:
Quality Assurance Procedures: Create effective quality control procedures to keep an eye on and assess the output of your contracted staff. Quality can be preserved by regular testing, code reviews, and performance analytics.
Project Management: Assign the outsourced project to a specific project manager or team. It is important to communicate and keep track of specific project goals, deadlines, and expectations.
Regular Reporting: Demand that your outsourcing partner send you updates and progress reports on a regular basis. This aids in early problem detection and corrective action.
Costs of Nearshore Software Development in Mexico
Let's break down the typical software development costs in Mexico and compare them to other regions.
Rates per hour
An essential cost element in nearshore software development is the hourly rate. Compared to places like the United States and Western Europe, Mexico offers highly qualified software engineers at relatively affordable rates. Depending on parameters like experience, location within Mexico, and technology stack, the typical hourly wage for software development in Mexico might range from $25 to $60.
Stack of technologies
The technology stack used has a significant impact on the price of the project. A wide range of software engineers, including those skilled in JavaScript, Python, and other stacks, are available in Mexico. The stack you choose can affect prices because some technologies might call for more specialized skill sets, which could raise hourly rates.
Project Complexity
A key element affecting costs is the software project's complexity. While complex projects that need in-depth study, innovation, or system integration can increase costs, simple initiatives with clear requirements typically have more cost-effective outcomes. Mexico is a versatile and affordable option because its development teams are capable of managing a wide range of project challenges.
Team Size
The number of developers on the project directly affects expenses. Smaller teams are typically less costly, yet they could take longer to finish a job. Larger teams can speed up development, but they are more expensive. Mexico provides the ability to expand the development workforce in accordance with the demands of the project, enabling cost reduction.
Now, let's compare the costs of nearshore software development in Mexico with other popular outsourcing destinations:
United States: Software development is typically priced per hourly in the United States between $100 and $200. However, for real-time collaboration, proximity can be advantageous.
Eastern Europe: Countries like Ukraine and Poland in Eastern Europe have competitive rates comparable to those in Mexico, although time zone variations may make cooperation more difficult.
India: With hourly prices ranging from $15 to $45, India has historically been a cheap outsourcing location. However, communication and project management may be impacted by cultural and time zone differences.
Choosing the Right Software Development Company in Mexico
Finding the right software development partner in Mexico, or any other location, is a critical step in ensuring the success of your software project. To help you navigate the process, here are the steps to find the right software development partner in Mexico: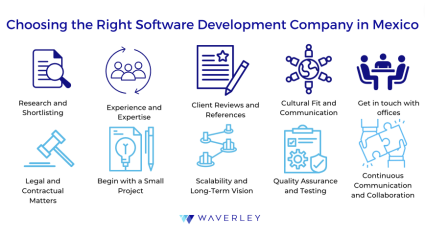 Research and Shortlisting: You can use a variety of strategies to find possible partners when you start your search for the best software development business in Mexico. Take a look at the following aspects to take into account:

Online directories and B2B platforms: Look at B2B platforms and online directories like Clutch, GoodFirms, and Upwork first. These portals frequently include thorough biographies and customer feedback of Mexican software development companies, making it simpler to evaluate their qualifications and popularity.
Social Media Platforms: Use professional social networks like LinkedIn and other online resources to look for companies that develop software with offices in Mexico. Through these channels, you may interact with professionals, view company profiles, and learn more about their experience and market presence.
Testimonials: Request testimonials from coworkers, business partners, or professionals who have knowledge of Mexico's nearshore software development. Referrals can provide important information about the caliber of a potential partner's work and expertise.
Review Case Studies and Portfolios: Invest some time in going over the case studies and portfolios of possible partners. You may see their technological stack, past projects, and industries they have worked in from this. Examine whether their prior work complies with the demands of your project.

Experience and Expertise: Evaluate each prospective partner's experience and knowledge. Look into the company's history and track record for completing tasks effectively. Look for businesses with expertise in the particular topic or technology stack that you need. Look through their portfolio to discover if they have finished any tasks that are similar to yours.
Client Reviews and References: Ask former and present clients for client reviews and recommendations. This might offer insightful information about the caliber of their work, communication abilities, and dependability. Asking about their experiences working for the company from their references is a good idea. Inquire about the project schedule, adherence to the budget, and general satisfaction.
Cultural Fit and Communication: Successful collaboration, especially when working with an overseas partner, depends on cultural fit and efficient communication. Take into account elements like language ability, cultural compatibility, and time zone compatibility. Engage in preliminary discussions with the businesses that made the short list to evaluate their responsiveness and communication abilities.
Get in touch with offices: Arrange a visit to the offices of your top candidates if at all possible. This enables you to interact with the team more effectively and have a better understanding of their working environment. Although this step is not always possible, it can offer insightful information and foster trust.
Legal and Contractual Matters: Carefully examine and bargain the contract's provisions. Make sure that any legal considerations, such as intellectual property rights, privacy, and liability, are defined and acknowledged.
Begin with a Small Project: Before committing to a long-term relationship, think about beginning with a smaller project or a pilot phase to reduce risks. This enables you to assess their functionality and compatibility on a more intimate level.
Scalability and Long-Term Vision: Assess the scalability and long-term vision of the software development partner. Ensure they can accommodate your future needs and grow with your business if necessary.
Quality Assurance and Testing: Inquire about the partner's quality assurance and testing processes. Quality assurance is essential to ensure that the software meets your requirements and functions reliably.
Continuous Communication and Collaboration: Maintain open and regular communication with your software development partner throughout the project. Establish clear communication channels, regular status meetings, and a feedback mechanism to address issues promptly.
Best Practices for Successful Nearshore Collaboration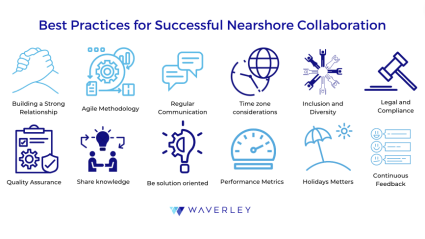 Getting your dream development team is essential for your project success, so, if you've ever wondered how to hire a dedicated development team, let us share with you some practical tips to ensure successful nearshore collaboration with a Mexican team:
Building a Strong Relationship: Spend some time learning about Mexican culture, beliefs, and business manners. Trust can be established by building rapport and demonstrating respect for cultural differences. Visit the headquarters of your Mexican team whenever you can. Relationships can be strengthened and trust can be built through face-to-face conversations.
Agile Methodology: Embrace agile project management techniques like Scrum or Kanban. Regular communication, transparency, and adaptability are encouraged by these frameworks. Additionally, hold daily stand-up meetings to keep everyone in sync. To overcome geographic distances, use video conferencing tools.
Regular Communication: Create lines of communication that are trustworthy and straightforward. For seamless communication, make use of apps like Slack, Microsoft Teams, or Zoom. Make sure to reduce linguistic hurdles. Even though many Mexicans speak English well, any gaps can be filled by offering resources or instruction in the language.
Time zone considerations: Plan your workday in such a way that it substantially overlaps with the time zone of your Mexican team. This enables problem-solving and real-time communication When setting deadlines or meetings, be flexible to account for both time zones.
Inclusion and Diversity: The backgrounds and viewpoints of Mexican teams are frequently different. To encourage innovation and creativity, embrace variety. Encourage a diverse workplace where each team member feels appreciated and heard.
Legal and Compliance: Learn about the rules and legislation governing employment in Mexico. Make sure that your partnership complies with these regulations. Address privacy and data security issues. To protect sensitive data, put strong data protection procedures in place.
Quality Assurance: Place a strong emphasis on quality assurance and testing. Ensure that the deliverables meet high-quality standards and are thoroughly tested.
Share knowledge: Encourage comprehensive process, code, and project documentation. This guarantees knowledge transfer and makes it easier for new team members to catch up fast. Give Mexican squad members the chance to receive training to improve their abilities and skills.
Be solution-oriented: Promote honest and productive conversation to resolve issues or differences quickly. If disputes continue and cannot be settled internally, think about engaging a neutral mediator.
Performance Metrics: Establish precise KPIs to gauge how well the Mexican team is performing. Review these indicators frequently and make necessary strategy adjustments.
Holidays Metters: Recognize and observe Mexican traditions and holidays. This can encourage cultural interchange and foster a positive environment.
Continuous Feedback: Create a feedback loop for continuous development. Get input from both parties, then make adjustments to improve cooperation.
Real-Life Examples
Take a look at the following showcase success stories table of companies that have chosen Mexico as their outsourcing destination and let's explore the challenges they faced and overcame in their pursuit of success.
| Company | Challenge | Solution | Outcome |
| --- | --- | --- | --- |
| IBM | With a client who had a strict timeline and limited funds, IBM was faced with the difficulty of creating a complicated software solution. To successfully complete the project, they required a knowledgeable team with experience in a variety of technologies. | IBM contracted a Mexican software development company to work on a component of the project. This gave them access to expert Mexico software developers , particularly in the fields of Java and.NET technologies. The worldwide IBM team and the Mexican team collaborated and communicated with one another without any issues. | IBM was able to complete the project on schedule and within budget with the aid of their Mexican business partners. Through the agreement, IBM was able to maintain high standards and cut costs, creating a standard for all future outsourcing projects. |
| Dropbox | In order to maintain its position as a market leader in cloud storage, Dropbox sought to improve its mobile application. They needed a group of capable mobile app developers who could quickly change their approach to meet the changing needs of their projects. | Dropbox decided to hire a Mexican software development business to develop its mobile applications. This choice gave them access to a pool of knowledgeable iOS and Android developers who had the technical know-how and inventiveness required for the project. | Dropbox enhanced the usability and efficiency of its mobile app by working with Mexican engineers. As opposed to attempting to hire and train in-house developers, the project was finished more quickly and at a lesser cost. |
| Oracle | Oracle had to quickly expand its development staff to keep up with the rising demand for its cloud services from customers. They needed a cost-effective solution because it was difficult for them to find enough experienced developers in their local market. | Oracle opened an offshore development center in Mexico to take advantage of the tech talent there. They developed a talent pipeline to assist their expansion by collaborating with nearby institutions to hire and train aspiring software engineers. | Oracle's development center in Mexico has been instrumental in hastening the creation of their products, enhancing time-to-market, and cutting costs. They were able to effectively turn a potential talent gap into a competitive advantage. |
These success tales show the advantages of hiring a trained workforce, cutting costs, and speeding up project delivery when outsourcing software development to Mexico. While issues like cultural disparities, linguistic obstacles, and time zone differences do occur, these businesses have been able to overcome them via excellent communication, teamwork, and strategic planning. Mexico's status as a key location for software development around the world is growing as more businesses see the benefits of outsourcing there.
Waverley's Nearshore Development Services in Mexico
At Waverley, we're always delighted to give companies wishing to outsource their software projects a free, no-obligation consultation. We build top-notch software engineering teams across the whole of LatAm, giving our US clients access to excellent engineering talent in their timezone, which is only a couple hours of travel away. Our teams span across Mexico, Bolivia, Colombia, Costa Rica and other countries in LatAm, allowing us to not only tap into the full potential of all of these markets, but also consult you on the best choice of your software engineering destination.
Conclusion
For companies looking for effective and affordable solutions, the benefits of nearshore software development in Mexico are abundantly evident and compelling. Mexico and LatAm overall is a top choice for outsourcing software development needs due to its strategic position, cultural affinity with Western markets, trained labor, and strong technical infrastructure.
Selecting Mexico as your nearshore development partner gives you access to a talent pool as well as less time zone variations, simpler communication, and financial savings. Your software development initiatives can be considerably improved by this synergy between quality and affordability.
Our team of qualified experts is prepared to help you take full advantage of Mexico's nearshore advantages. Please feel free to get in touch with us right away to discuss how working with Mexican talent may improve your custom software development efforts and advance your company.
Use the form below to contact us if you have any queries about outsourcing software development to Mexico or if you need technical advice for your project.
FAQ
What is nearshore software development, and how does it differ from offshore development?
The process of outsourcing software development teams work to a neighboring or close-by nation, usually one with a comparable time zone and close proximity geographically, is known as nearshore software development. Compared to offshore development, when work is outsourced to farther-flung, frequently foreign locales, this strategy has benefits like faster communication, fewer cultural and linguistic obstacles, and tighter collaboration. Nearshore development is a favored option for businesses trying to balance cost-effectiveness with effective collaboration and quality control in software development projects since it may promote real-time interactions and project management.
Is Mexico a good choice for nearshore software development outsourcing?
Yes, due to its closeness to the United States, similar time zones, rising talent pool of competent software engineers, cultural affinity, and cost-effectiveness compared to onshore development, Mexico can be a good candidate for nearshore software development outsourcing. Businesses looking to outsource software development while keeping tight collaboration and quality control will find it to be an appealing alternative because it strikes a suitable mix between cost savings and efficient communication. To guarantee a fruitful cooperation, particular elements like project criteria, vendor selection, and the overall outsourcing strategy should be carefully evaluated.
How does intellectual property protection work in Mexico?
Mexico has intellectual property protection laws in place that are in line with international standards. Intellectual property rights, including patents, trademarks, copyrights, and trade secrets, are legally protected. It's advisable to work with legal experts or consult with local authorities to understand and ensure proper protection of your intellectual property when outsourcing to Mexico.
What industries or types of businesses typically benefit the most from nearshore software development in Mexico?
A number of industries gain a great deal from Mexico's nearshore software development. These industries include telecommunications, finance, healthcare, manufacturing, e-commerce, and logistics. Each of these industries makes use of Mexico's talented labor supply, economical labor costs, and close proximity to create software solutions that are tailored to their particular requirements.
How has the talent pool for software development evolved in Mexico in recent years, and what types of technical skills are readily available?
Mexico has seen a significant evolution in the quality of its software development talent pool in recent years. The nation today has a highly skilled labor force with proficiency in a range of technologies, frameworks, and programming languages, such as Java, JavaScript, Python and mobile development technologies. A consistent stream of tech-savvy graduates from universities and tech education programs has helped to build a strong and flexible talent pool to satisfy a variety of software development needs.
Ready to partner with Mexico's experts?