Waverley Pulse Report 2020: How We Made It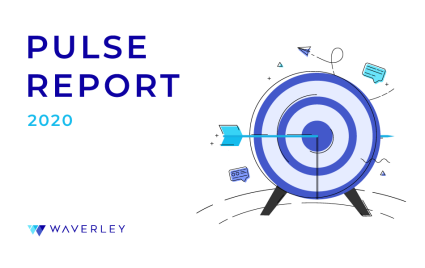 2020 was full of events, some pleasant and some truly awful. The coronavirus pandemic was the most influential factor, stirring up all kinds of havoc in the global economy. Some sectors fared well (makers of plexiglass and sanitizer saw exponential growth, while non-essential businesses were devastated by lockdowns. The tech industry adapted quickly with advancements in many spheres. Changes in our daily routines caused major shifts in the way we communicate, prioritize, and plan. A disruption of this scale makes everyone rethink their values, including our team at Waverley Software. We have undergone many changes to adapt to the new reality. In some areas, we had to abandon our well-worn track and look for new opportunities and ways of conducting our business. Stepping back and taking a look at 2020 in review, the crisis gave us a unique opportunity to see our strengths and focus on developing them further. In this Pulse Report for 2020, we review what was clearly one of the toughest years in the company's history but, at the same time, quite rewarding in surprising ways. Here is a summary of the main events.
How our Company Has Changed During This Year
We collected some data to see what numbers can tell about the life of Waverley this year.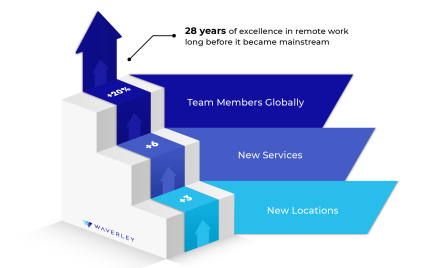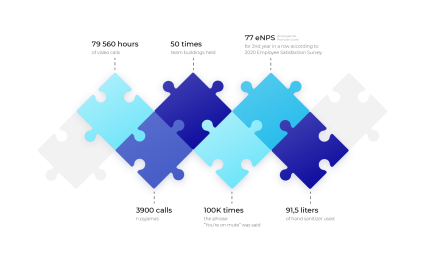 In 2020, we launched a range of initiatives to help our team members develop professionally:
Waverley started an English Program for team members that includes English Speaking Clubs with native speakers, English Thursday when all work-related discussions are spoken in English, and the English channel in the corporate chat with useful grammar tips and vocabulary. To track and reward the team members' achievements, we also launched the English Testing process.
We announced the start of the CTO Value Points initiative at Waverley. Value Points are Waverley's internal conventional units that measure how much value and benefit the team members' extra activity adds to our operations and, ultimately, to the success of Waverley.
We introduced The Guide on Communication Rules with our standards as well as rules and tips for improving interpersonal communication at work.
We continue to encourage and financially support team members willing to upgrade their technical skills and take all the necessary certifications.
2020 was also the year of growth for Waverley: we expanded to Latin America and opened a nearshore development center in Cochabamba, Bolivia. Now we can better cater to the needs of our US-based clients, offering more mixed teams and true round-the-clock support. You can also now find our representatives in Canada and Australia.
In 2020, we amplified our services menu with a brand new Startup Package to help our customers better understand their business needs and make the right decisions regarding the best technology stack to use, the amount and tier of specialists to get involved, and the exact steps to facilitate an efficient product development process. Now, our customers can also count on us to conduct the product discovery phase, business analysis, even marketing campaigns.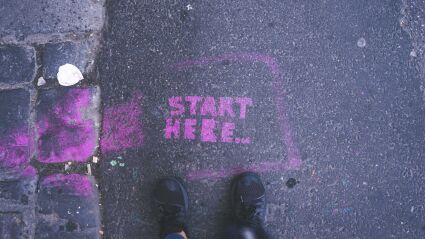 Waverley has also expanded its expertise, adding knowledge base and experience in Salesforce development, 3D modelling, and handling Digital Transformation to our arsenal. You can find out more in the Services section on our website.
Waverley Speakers Rock!
Despite the lockdown and shifting into work-from-home mode, we managed to keep up the tradition of holding regular internal tech talks to give our specialists the opportunity to share their knowledge and experience while the rest of the team learns something new.
In his presentation "Introducing JavaFX: Alternative UI Framework for Java Developers", Roman Panov shared the experience of working with JavaFX on his project.
At "The Culture of a Technical Interview," Anastasia Poltavska provided useful tips for the team on carrying out technical interviews so that they go on as planned.
Serhii Kostyrko shared his experience and gave useful advice when he spoke on "Getting Ready for AWS Certification."
"Introduction to Automation Testing with JS tools" by Artem Bashlak was a presentation for newbies who were visiting JS automation courses and having with no prior programming experience.
Alexander Subota shared his experience with architectural patterns in Flutter, providing application examples from his project in a talk titled "Flutter: Architectural Approach."
Anton Sokolchenko gave a tech talk "Audio/Video Calls: What Can We Propose to Our Clients?" presenting secure ways of communication, WebRTC technology for secure communication, as well as some useful tips.
Iryna Balva delivered a great presentation about the importance of Emotional Intelligence.
Mike Laptiev did a deep dive into the manual testing process setup describing the procedure based on the experience of the three biggest (in terms of QA) projects of the last year at Waverley.
Mykola Gladchenko shared his experience in test automation on his current project.
Waverley Events
In the beginning of the year, long before the lockdown, Matt Brown visited our Kharkiv office. He commented on his experience saying, "It was great to see everyone for the first time in 2020. The office has grown so much with many new people. Lots of pizza boxes at the welcome event for one more new team member."
In winter, Serhii Korol, our technical QA lead, once again took part in Selenium Camp, as a member of the Program Committee and speaker on February 21-22. Serhii gave a speech for an audience of 250+ on the topic "Endless Metamorphoses of Consciousness or The Saga of a Transformer Man." He shared his insight into 1) how a QA engineer can transmogrify into SDET / Dev / Metahuman, 2) the potential development vectors of hard & soft skills at various transformation stages, 3) the backstory on all the hype around SDETs and T-Shapers, and 4) how to constantly hold yourself to a high standard.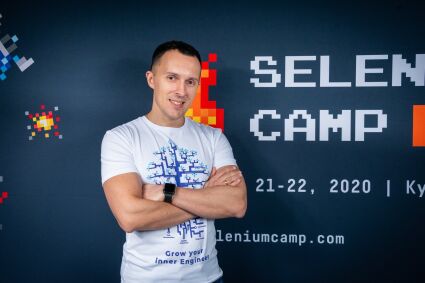 Alyona Marshavina, one of our Project Managers, was also fortunate to speak on the PM Day that took place just a couple of weeks before quarantine started. She spoke on "How to build a strong relationship with difficult clients", sharing her best practices on defining various types of clients, finding common ground with them, and building successful partnerships. At this conference, Waverley got acquainted with a number of talented Project Managers.
On March 11-15 Matt Brown together with Tanya Ivanova (VP of Delivery) and Mariya Roy (Business Development Director) were just in time to visit Waverley Lviv Office and conduct strategic planning for Sales and Marketing activities for the upcoming year.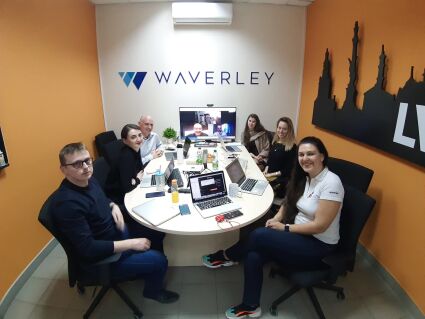 Right after that, the global lockdown set in and we held the first completely online All-Hands Meeting. The team agreed to move all our operations and communication online and make sure all team members would be able to do their job efficiently from home. Remote work wasn't new for Waverley Software, as it has been common practice for our team members to work from home from time to time. Long before what was once called a "distributed team" entered the mainstream, Waverley has held the principle of responsible freedom as one of our core values. To that end, we:
We made sure all necessary information security measures were in place and created a check-list that we put on our website to inform visitors new to remote work of best practices.
We didn't shut down our offices but instructed team members to 1) coordinate office visits so as to avoid crowding, 2) strictly observe all the quarantine recommendations, and 3) make sure they commute safely if they do have a need to work from the office.
We maintained protocols for quarantine but marathoners on our team weren't about to miss the Kharkiv International Marathon in April. Likewise, the Kharkiv Marathon in October. After weeks and months of preparation and training with a professional trainer, Waverley runners were ready to compete for awards in three categories: A Running Company (the most company team members running the marathon); The Fastest Team Member; The Fastest Company (rated by the average running speed of the top five runners of the company).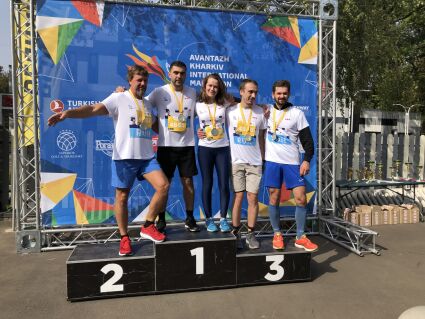 The Waverley Team in Ukraine was glad to release their pet project Na Rover for early access on mobile devices on Android and iOS. This is a mobile application for cyclists that shows cycle paths, service points, parking spots, and other elements of cycling infrastructure on a city map. It currently supports several cities of Ukraine.
Despite the squeeze of Covid, we celebrated both company and national holidays by gathering as many people as possible for online video chats. For example, a part of the Ukrainian team met for a group call on the Day of Embroidered Shirt (Vyshyvanka. In attendance were, of course, wearing their favorite embroidered shirt. A part of the Vietnam team recorded and shared a video of a sing-along to celebrate the Mid-Autumn Festival. Of course, we all got together online to celebrate and greet each other on Waverley Company Day in August.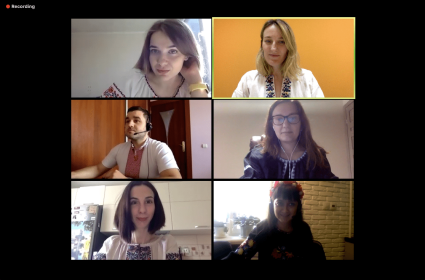 Also, as summer began and quarantine guidelines relaxed a bit, we jumped at the chance to finally see each other offline again. A number of team building events were organized so team members could meet face-to-face and enjoy a bit of live communication and outdoor activities. Our Vietnam teams spent a weekend at the seaside, Kharkiv team had a kayaking trip with barbecue and morning yoga, Lviv team climbed Mount Khomiak in the Carpathians. All had a memorable time.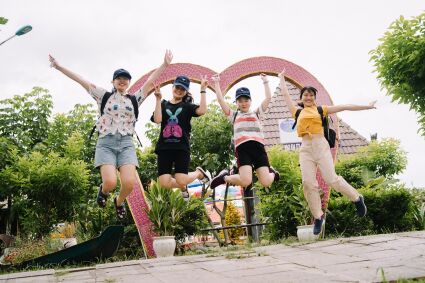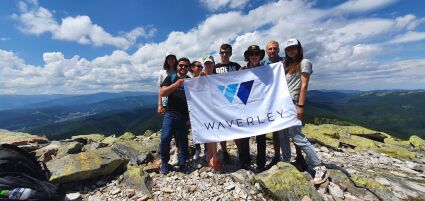 Our team members also kept being active in terms of external knowledge sharing:
In October, our Data Science expert Andriy Osertov spoke at 2020 IEEE KhPI Week with a presentation focused on Deep Convolutional Neural Networks (CNNs) application to predicting the natural frequency of composite plates.
The same month Sergey Korol, our QA tech lead, gave an interview on the Ukrainske Radio about Smart Home. Now, we are happy to present the radio podcast with his speech about the common benefits of the Smart Home technology, reduction of energy consumption, voice control of home equipment, and–perhaps most important–the capacity to warn occupants of possible dangers.
In December, one of our Software Engineers, Alexandr Subota conducted an online workshop for the entire company on mastering Flutter and creating an application with it.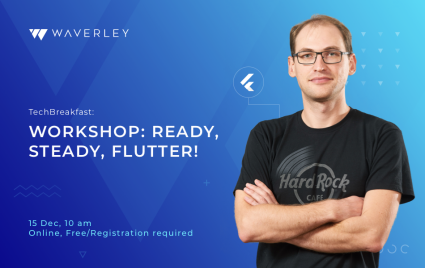 As the winter holiday season approached, our team got involved in volunteering for The Deer of St. Nicholas – a charity organization taking care of the 14,000 children in the area of Ukraine affected by the war conflict.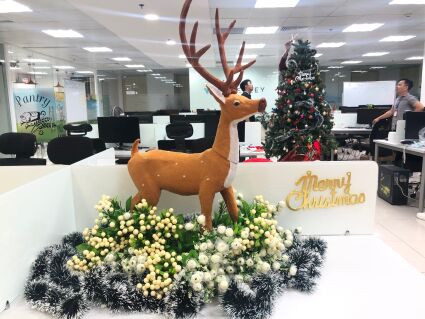 Waverley in Press
The year 2020 of Waverley in the press started with Eugene Bogatyrov's interview in "The Ukrainians" as a part of a project called "Technology of Success." In this series of interviews with leaders of the most ambitious IT companies in Ukraine, Eugene told his professional success story, gave an overview of our company's most interesting projects, explained Waverley's core value of responsible freedom, and discussed the importance of stepping outside one's comfort zone.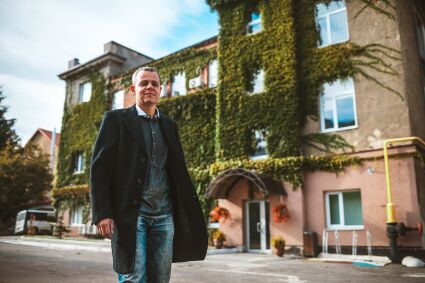 In March, Alexander Subota reviewed and compared the two popular cross-platform app development frameworks and explained their advantages and disadvantages on Waverley's Blog with the article "Flutter vs Apache Cordova: Developer Experience."
After the lockdown started, Waverley appeared in the DOU's Photo Review "How IT specialists Work Remotely" during the quarantine. The editorial collected not only fun WFH photos from different IT specialists but also some very useful advice. For example, how to avoid going to your fridge every 30 mins, share working space with your spouse and children, and even gather your own outsourcing team.
DOU.UA also published an interview with Serhii Korol titled, "How I Work" in which he talked about his career, workflow, and remote work arrangements.
Later on, Waverley posted its own issue of interviews in which team members shared tips on how to make remote work more effective and maintain a work-life balance while they stay at home.
In April, Lviv ITID Magazine published an article about our company titled "How To Manage A Company With Over 60% Of Senior Engineers." The piece gives an inside look at what it's like to be a company of Senior Engineers. You can see a summary of the article on our blog.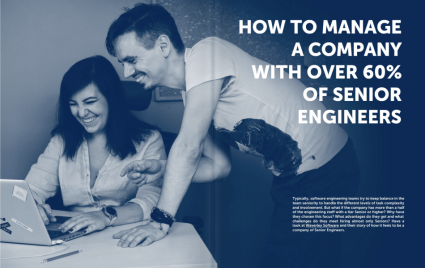 "An Introduction To Google IoT Cloud For IoT Projects" by Dennis Gubskiy appeared on our blog in May. It gives readers an inside look at the advantages of IoT device integration with Google IoT Cloud, including a tutorial on how to use software engineering skills to integrate IoT devices.
Hackernoon published an interview with our client, Matt Kursh, CEO of Oji Life Lab. In "How To Create Personal Breakthroughs By Mastering EI," Kursh shares insights about his company's Emotional Intelligence platform, speaks about the collaboration with the Waverley team in Ukraine, and reveals his plans for the future.
Waverley Software started the summer of 2020 with an ambitious creative project: to develop a dynamic brand profile on Medium that would allow us to connect more closely with our readers. Our first Medium story was dedicated to efficient communication and was written by someone who knows all about it, Mike Laptyev, Head of QA at Waverley, who shared his golden communication rules, which help him (and Waverley) successfully deliver products and keep our clients happy.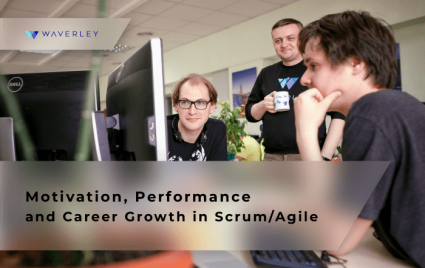 In July, we published another Medium article "Motivation, Performance and Career Growth with Scrum/Agile" by Tania Ivanova in which she shares the best practices for effective teamwork using Scrum/Agile.
On the Waverley blog, our Head of QA Mike Laptyev, explained the advantages of opting for a software engineering company rather than an independent testing agency.
The July issue of ITID Lviv explored how local tech companies and professionals were dealing with the COVID crisis. In the article "Is the Future of Work Remote?" Waverley shared its experience of remote work before and during the lockdown.
In another blog article "The Benefits of Python for Software Projects," we explained the main features of Python, and how they influence a project. The article also lists the top applications for this programming language.
In September, Mike Laptyev published another article that can be useful for clients on the difference between outsourcing and outstaffing for IT projects.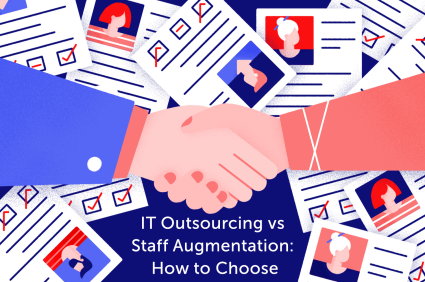 The Waverley blog finished 2020 by summarizing the results of our work this year in "Top Staff Augmentation Companies in Ukraine" and "Top Custom Software Development Companies." We also got ready to start the new year with an article titled "20 Retail Tech Trends in 2021: Digital Transformation in Retail."
How Quarantine Changed Our Lives
Starting March 17, our offices switched to "Work from Home by default" mode to ensure that all of us stay safe and healthy during the virus outbreak in Ukraine, which is ongoing. At the same time, we never forget our commitment to our clients: to work effectively. We saw the opportunity with this situation to demonstrate our commitment to our value of Responsible Freedom in the fullest capacity. The Vietnam office continued in their usual fashion (work from home at your discretion) due to more favorable circumstances in Vietnam.
In March, we held the first completely online All-Hands Meeting with the report on Q1 2020, and will continue to hold virtual company-wide meetings until the pandemic is over and it's safe to return to the office.
To keep up the friendly and informal atmosphere of daily office life, we created a special chat for our team members – Waverley Kitchen in Meet. Any team member can join the chat whenever they feel overwhelmed with work in isolation and have a conversation with colleagues who are there at the same time. It's the virtual version of the watercooler conversations.
We held an Insta Challenge #WaverleyFromHome to relieve the stress of isolation with a bit of gamification! From the general table of tasks, team members could pick a starting point and post a video/photo to their stories on Instagram. The participants were as creative as possible, using personal style and approach, spicing it with a bit of humor and a pinch of insanity. And, of course, we had a winner – the one (and only) person who completed all the tasks and got a prize.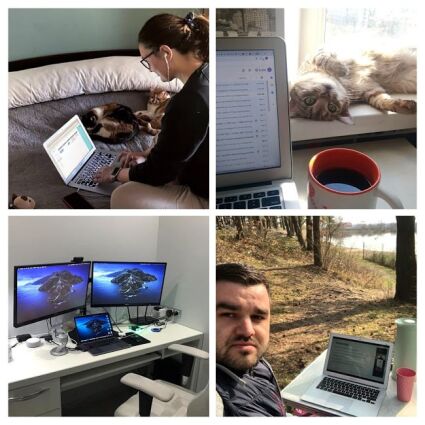 Thanks to Lviv IT Cluster, Waverley purchased 700 express-tests for COVID-19 Screening for team members and their families.
We issued a Waverley Remote Work Guide with tips to make our work even more comfortable, productive, and pleasant.
We launched a series of online Non-Tech Talks so our team members could spend quality time together and share their out-of-work experience to maintain the sense of community that is so valued in our company. We learned quite a bit from each other about a variety of topics, including: zero-waste lifestyle, interesting board games, social dance, the secrets of making an impact on stage, the ins and outs of working with a financial consultant, safe travel during a pandemic, and how to prepare a great cup of coffee at home using a wide array of methods and gadgets. (Who knew there were so many ways to brew your java or froth your oat milk?)
To sum up, we are grateful for all the challenges of 2020, and feel we came out the other side stronger, more experienced, and a whole lot smarter. We would like to thank all our new and existing customers for your trust, and for choosing and staying with us during the worldwide crisis. Despite the difficulties, we managed to start something new, to grow and open new offices, to embark on many exciting projects, and to deliver many successful products.
We wish everyone good health and hope 2021 is full of new ideas, enthusiasm, and energy to build and create the world of innovation! May you feel complete and inspired by what you do and realize your potential to the fullest! Waverley will always be your reliable partner in every beginning.